Each week we collect all the MBA news that's fit to print and provide a quick overview of the latest trending topics from top business schools around the world.
Here's your MBA News You Need digest for the week of May 13, 2019.
NYU Stern Announces $300K Entrepreneurs Challenge Winners
After an eight-month competition, NYU Stern announced the six winners of its annual Entrepreneurs Challenge. Spearheaded by the W.R. Berkeley Innovation Labs, the venture competition offered more than $300,000 in cash prizes and pro-bono startup services to the most promising innovators at the school. In total, 243 teams and 500 students, faculty, and alumni participated in three competition tracks.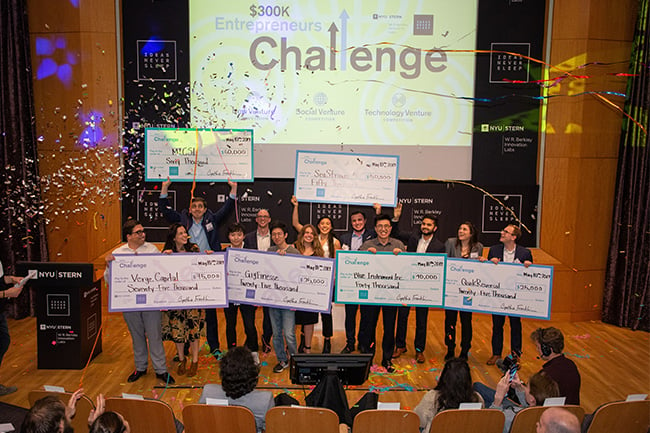 Here are the winners in each category:
$100,000 New Venture Prize:

Verge.Capital ($75k) is a pan-European credit score provider founded by Stern alumnus Yiannis Giokas (MS'16).
GigFinesse ($25k) is an online platform that connects artists to their fans and patrons, founded by undergraduate students Mir Hwang and Jong Wook Kim.

$75,000 Social Venture Prize:

SeaStraws ($50k) is a sustainable products company selling disposable single-use paper products founded by Antonio DiMeglio, Caitlyn Lubas, Nisarg Patel, and Sophie Kennedy.
QuikReversal ($25k) is a wearable intranasal medicine patch that detects opioid overdose founded by Asher Varon and Morgan Cambareri.

$100,000 Technology Venture Prize:

MICSI ($60k) is a medical imaging software for radiologists founded by Benjamin Ades-aron and Gregory Lemberskiy.
Blue Instrument ($40k) is an IP-protected fiber-optic sensing system offers real-time abnormality detection founded by Skandh Garg and Yi Yang.
Yale Class of 2019 Makes Record-Breaking Donation
The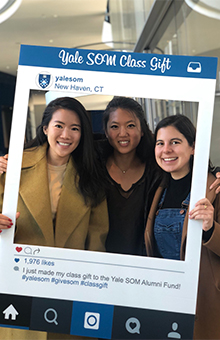 Yale SOM Class of 2019 has shattered records with this year's Class Gift.
92 percent of graduate students have pledged an astounding $550,676 with an average contribution of $1,169. Pledges came from all programs including the full-time MBA, Master of Advanced Management (MAM), Master of Management Studies (MMMS), MBA for Executives (EMBA) programs, and more, with MMS and EMBA student cohorts posting 100 percent pledge rates.
"Gifts from graduating students are the most important financial support our school receives, and this year's efforts and outcomes were astounding," said Dean Edward A. Snyder in a school press release. "Our students should be proud Yale SOM has the sixth largest endowment among global business schools—not bad for a school in its fifth decade!"
The pledges support the school's flexible funding, meaning the donations will be used as needed by Yale SOM. Read the official press release here.
Lessons from Two Global MBA Conferences
In March and April, two Global MBA conferences took place in Sydney and Paris, respectively. One student from the Indian School of Business (ISB), Sandeep Ganesh was privileged to attend both events and share his experiences on the ISB blog.
First, in April, he attended the MBA World Summit with 100 other rising international MBA students. He discovered we were in the midst of the fourth Industrial Revolution, in which data, robotics, and AI shape the underlying structures of our world.
He also learned that developing countries need to invest in new jobs, new skills, and new industries to stay relevant. In April, at the Graduate Business Conference in Paris, Sandeep delved deep into diversity. He participated in dialogues revolving around common problems that student leaders face and best practices for promoting diversity.
"From both these conferences, it was exciting to observe that though we were from different countries, the topics, and interests that we all had were very similar," Sandeep wrote in his blog.
"It was a great platform to form networks with peers from other top schools, and this becomes important as we all move towards a more globalized world."
Mothers and Daughters with Columbia MBAs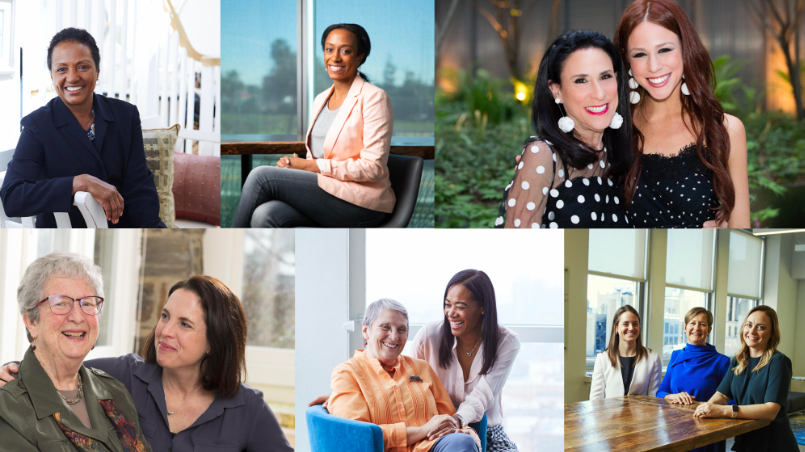 In honor of Mother's Day, Columbia Business School interviewed five mother-daughter pairs who had earned their degrees from Columbia Business School.
The goal was to explore how mothers had inspired their daughters to follow in their footsteps and earn their own degree from Columbia. In each case, the daughter grew up seeing how her mother's Columbia MBA had paved the way for her success.
Here are a few insights from the article, which you can read in full here.
Dana Weeks Ugwonali '03 followed in her mother's footsteps because she saw the role Columbia played in her mother's professional success and within the community.
Emma Reilly ('15) and Allie Reilly Strack ('11) both chose Columbia after seeing how many doors Columbia opened for their mother.
Kourtney Simons ('12) decided on Columbia after seeing her mother in an executive role and realizing she wanted to be an executive herself.
Heidi Kestennaum White ('00) was inspired by her mom's professional choices and fell in love with the business world.
Jenny Friedman ('17) was inspired to meet her mom's high standards by attending Columbia but also sought to carve out a niche for herself.
Duke Fuqua Dean Offers 5 Pieces of Advice for Graduates
To inspire upcoming graduates and future business leaders, Bill Boulding, the Dean of Duke University's Fuqua School of Business, offers five simple pieces of advice.
Work hard; that's what the best leaders do.
Understand that things will go wrong and you need to be resilient.
Be positive even when you're dealing with setbacks. The wrong attitude will make you miserable.
ALWAYS pursue knowledge and remain humble. You should never stop learning.
Permit others to tell you the truth, particularly when it comes to your blind spots. The key is the be self-aware.