As MBA hopefuls consider their chances at the leading business schools, many are posting to Clear Admit's ApplyWire, an admissions tool for feedback on candidacy, school choice and more.  This week, we shine the spotlight on two candidates. The first has some room for improvement with their academic stats while applying to Berkeley / Haas, Columbia, Michigan / Ross, NYU Stern, UCLA Anderson, USC / Marshall, and Yale SOM.  Read on for the details.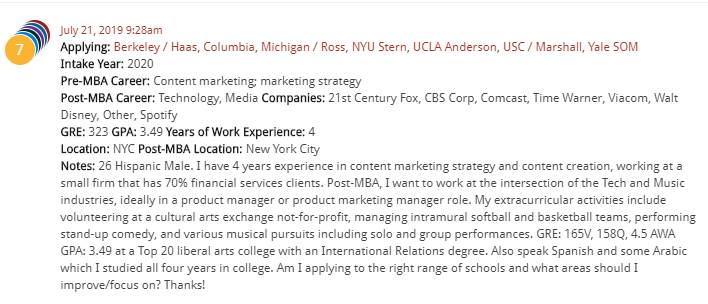 Resident expert, Alex Brown, took the stage, so to speak:

The original poster then returned to acknowledge potential room for improvement:

Alex wrapped up the conversation:

We now turn to another MBA candidate, who has the right numbers, but still needs to consider more to be successful at their target programs, which include Harvard Business School, MIT Sloan, and UPenn / Wharton.

Alex as well as Graham Richmond expanded on admissions considerations:

And the original poster returned to say:

Best of luck with your applications!  And if you want more about MBA ApplyWire and admissions profiles, check out our podcast!
Readying your applications? Do you know which business schools you will be applying to? Share your story on ApplyWire. It's completely anonymous and only takes a minute to complete.