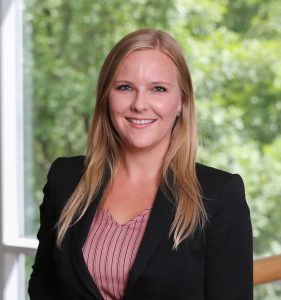 Whitney Meyer, Vanderbilt Owen MBA Class of 2021
Age: 31
Hometown: Lake Crystal, MN
Undergraduate Institution and Major: University of Minnesota, Twin Cities; International Business & Marketing
Pre-MBA Work Experience (years, industry): Prior to joining Owen, I worked at Starkey Hearing Technologies, the largest hearing aid manufacturer in the U.S., for six years. I managed strategic marketing initiatives for the European region, including leading non-domestic product launch efforts and developing integrated marketing plans for global branding campaigns.
Why business school? Why now?
In my time at Starkey, I wore many hats in my various international and medical marketing roles. This consistent exposure to a wide range of marketing projects shaped my career goals and helped me realize that my passion in marketing lies in the brand management space.
These same experiences also revealed areas of needed development, and I found myself wishing several times each week that I had more opportunities for structured learning. My refined career goals combined with a need for continued self-improvement and growth led me back to business school.
Why Owen? What factors figured most prominently into your decision of where to attend?
Location and reputation were the main factors for me in narrowing down my choices for business school. I wanted a program that had a collaborative spirit, where I could learn from not just my professors, but also my peers.
My classmates at Owen have such a vast range of past experience and learning from their unique perspectives has already been a benefit. In the end, my final decision truly came down to culture, and I felt most energized by the opportunities at Vanderbilt and the lifestyle in Nashville.
What do you think is your most valuable or differentiating contribution to the Class of 2021?
I have six years of full-time work experience and have worked closely with a wide variety of cultures in my previous International Marketing role. I also lived in Germany for a year-long fellowship post-undergrad, where I held a German-language marketing internship.
I bring a lot of diverse experience to the classroom setting, which I can share with my classmates to provide real-world context to the topics we're studying.
Fun fact that didn't get included on your application?
I grew up on a small hobby farm in rural Minnesota, and have showed both sheep and cows through 4-H. My hometown is too small to even have a stoplight!
Post-MBA career interests?
Post-MBA, I'll be going into brand management. I really enjoy understanding the personality and values behind a brand and working to consistently promote that in all customer interactions.
I love the strategic focus of this area, as well as the broad exposure to functions throughout the company. I'm currently most interested in the med device space, with my background in hearing aid manufacturing, but am excited about the opportunities business school offers to explore other industries.
Advice to current prospective applicants:
–One thing you would absolutely do again as part of your application process?
Visiting each campus and making a real effort to speak with current and other prospective students. It's the very best way to get an understanding for the culture of the school and was one of the biggest factors for me in my final decision. The students are always happy to discuss their own experiences and challenges, and answer questions very candidly to help you navigate your own decision.
–One thing you would change or do differently?
I would have started studying for the GMAT earlier and applied for schools in Round 1 instead. I regret not having the opportunity to attend any of the Discover Weekends that many schools host in the fall because of my later decision; Vanderbilt hosts a spring Discover Weekend & Women's Symposium, and it was my favorite event throughout this process.
–Part you would have skipped if you could—and what helped you get through it?
I hated waiting! As soon as I submitted my applications, I was ready to head off to business school – having to wait another seven months to start orientation was excruciating for me. I used that time to visit all of the schools I was considering and to ask questions of current students, and it helped me feel better prepared coming into the program.
What is your initial impression of Owen's students/culture/community?
The Owen culture is incredibly welcoming and supportive, and I've immediately felt at home at Vanderbilt. The 2020 class has gone out of their way to help all the new MBA students feel comfortable, both in navigating an unfamiliar recruiting process and adjusting to a new way of life.
I've been very pleasantly surprised at how close-knit my class is just halfway through Mod 1, and how much I've been able to lean into their expertise in all areas.
One thing you have learned about Owen that has surprised you?
Vanderbilt is incredibly supportive of our active military and veterans, and I was surprised by how many of my classmates have served. It's been incredibly beneficial having these unique perspectives in our class discussions and I've learned a lot about the leadership style in a structured environment like the military. It's not something I've had previous exposure to, and I find their stories and contributions fascinating.
Thing you are most anxious about in your first year?
I've been out of the classroom for quite a bit longer than many others in my program, and I was a bit anxious about getting back into school/study mode. Luckily, the transition hasn't been too tough, and my classmates have been a huge source of support through group work and shared study sessions. Especially helping me re-learn how to use my graphing calculator!
Thing you are most excited about in your first year?
I'm most excited to be surrounded by such a great group of driven, interesting individuals – business school provides such a unique environment, where everyone has self-selected to return to school for their own personal and professional growth. Everyone is excited to learn and make new friends and connections, and I'm already looking forward to seeing the amazing things my class will do after graduation.