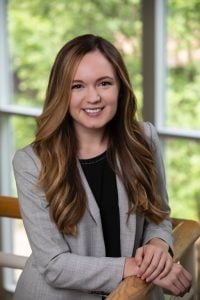 Victoria (Tori) Mitchell, Vanderbilt Owen MBA Class of 2021
Age: 24
Hometown: Raleigh, North Carolina
Undergraduate Institution and Major: UNC-Chapel Hill, Management and Societies Major
Pre-MBA Work Experience (years, industry): 2 Years – The Home Depot Corporate Office, US Retail Operations
Why business school? Why now?
I always knew I wanted to attend graduate school, but it took me a few years to decide on an MBA. My mom was a first-generation college student and made sure I knew from a young age that getting an education is vital, but not possible for everyone. She made sacrifices to ensure I could go; gaining a higher degree is my way of showing my family how grateful I am for the opportunity to continue my education.
I decided on an MBA because I wanted a combination of both hard and soft skills. I needed the accounting and finance classes, but in an environment that would push my communication and leadership skills simultaneously.
I'm a bit younger than the average student, but I knew that this was the right time for me to return to school because I loved my work and I knew it would only be harder to leave as I continued to progress in my career. I could see my path for one or two positions in the future, but I felt I would not be a competitive candidate for those higher executive positions without an MBA.
Why Owen? What factors figured most prominently into your decision of where to attend?
I love when people ask me why I chose Owen. The answer is so simple, but so important. I genuinely felt at home and comfortable from the moment I stepped foot on Owen's campus. Current students and other applicants were welcoming and warm from the beginning. I think many applicants can become consumed in rankings and they lose sight of what these two years are really all about.
We're here to grow both analytically and personally and you need to feel at home to truly get the most out of this experience. My final decision came down to Owen and another program that was higher ranked. I inevitably chose Owen because it felt "right," and I am so thankful that I did.
What do you think is your most valuable or differentiating contribution to the Class of 2021?
I think my most valuable contribution to the Class of 2021 is my experience working on a cross-functional employee satisfaction/loyalty committee while at The Home Depot. This committee was comprised of two members of each department that reported to a singular SVP. We discussed topics that were affecting our associates including wellness, work effectiveness, and development.
Unsurprisingly, we use case studies quite frequently in class to discuss business issues and the different solution frameworks. I've been able to use my experiences from that committee to provide different perspectives in class because I've learned how associates of various levels and status interpret and react to policy changes within the company.
I think the experience of voicing employee concerns to a higher leader is invaluable at business school because I can understand and respect differing opinions on many topics.
Fun fact that didn't get included on your application?
My dream job is to work for the NBA on the production of their annual draft. I've never been a true basketball fan, but the NBA Draft is my favorite day in professional sports each year. I love to see the young athletes as their wildest dreams come true and I would love to part of the event in some capacity.
Post-MBA career interests?
After graduation I hope to return to Retail Operations in an operations/strategy position within a large retailer. I gained a genuine love for retail while working for The Home Depot and I hope to continue that passion moving forward.
Advice to current prospective applicants:
–One thing you would absolutely do again as part of your application process?
I would absolutely recommend attending the Discover Weekend event that Owen hosts twice a year. Truly any opportunity you have to be on campus with current students is extremely valuable. It's the best opportunity to see the program's community in action.
–One thing you would change or do differently?
If I could do one thing differently, I would have done a mock interview prior to my first MBA interview. I was so nervous walking into my first interview, and I think I could have been more confident had I gone through a full mock interview in the weeks prior.
–Part you would have skipped if you could—and what helped you get through it?
I wish I could have skipped the video essay included in most of the applications. Even though I love to present, I was incredibly nervous to record a video. To get through it, I tried practicing in front of the mirror to watch my facial expressions and improve my impromptu speech skills.
I also made sure to set-up my video in a quiet, clean space so there wouldn't be any distractions or noises in the background. I also recorded all of my video essays on the same day so that I didn't have to worry about video coordination multiple times.
What is your initial impression of Owen's students/culture/community?
I felt at home as soon as I arrived at Owen for Discover Weekend in November. I was surprised that when visiting other programs, I really didn't have much interaction with current students. At Owen, it was immediately warm and welcoming. Owen does a wonderful job with their Campus Visit Coordinators to create an environment that make strangers into instant friends.
I think it's also important to note that I brought my significant other along to Discover Weekend, and Owen made sure that he was just as welcomed as I was. If you have a partner or children, they're just as much part of the Owen community as the Owen students.
One thing you have learned about Owen that has surprised you?
I was surprised to learn how many resources we have available to us from day one. Your first few weeks of business school are intense, and they're purposefully designed that way. What's different about Owen, is that as the intensity rises, so do your number of resources.
I was able to connect with my Career Coach prior to the first day and was given a 2nd Year Peer Coach within my first week on campus. As part of the Women in Business Association, I also received an additional 2nd Year Peer Mentor. Having support from the start is a huge bonus and it takes much of the anxiety of business school away.
Thing you are most anxious about in your first year?
I am most anxious about surviving the core accounting courses because I only took one course in undergrad. Luckily, I have a great study team to help me along the way! I often hear the Owen community described as "Collaborative, not cutthroat" and I would absolutely agree with that. My classmates never hesitate to help one another.
Thing you are most excited about in your first year?
I am most excited about getting into my elective courses in "Mod 2," or the second eight weeks of our program. Owen is set up in a way that allows us to front load most of our core classes, which opens up our schedules to start taking electives earlier than other programs.