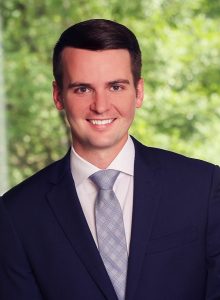 Ben Peterson, Vanderbilt Owen MBA Class of 2021
Age: 28
Hometown: Savannah, GA
Undergraduate Institution and Major: United States Air Force Academy, Bachelor of Science in Management
Pre-MBA Work Experience (years, industry): 6, United States Air Force

Why business school? Why now?
I always planned to build upon my undergraduate education with an MBA. After a few moves and deployments with the military, I was looking for a change of pace and decided that now was the time to utilize graduate school as a transition from military service to the private sector. I knew that by pursuing an MBA I would have the opportunity to enhance my business knowledge and build an invaluable network of ambitious professionals.
Why Owen? What factors figured most prominently into your decision of where to attend?
The Owen community, its commitment to Veterans, and the school's location were three prominent factors that contributed to my decision to attend. After meeting the admissions staff and participating in a campus visit, it was clear to me that Owen is a special place.
You hear a lot about "personal scale" here and I experienced that very early on. My admissions experience stands out in particular. Although I was 8 hours ahead and on a different continent at the time, I was able to consistently reach out to a current student or admissions staff member who was excited to speak with me and answer any questions.
Their willingness to work with me solidified what I had already known about Owen and proved that the school's commitment to Veterans, and to all students, is unmatched. Lastly, I knew that I wanted to return to the Southeast. As one of the fastest growing cities in the country, Nashville has much to offer and is centrally located to other major business hubs.
What do you think is your most valuable or differentiating contribution to the Class of 2021?
During my time in the military I was fortunate to gain a number of different experiences. I hope to use those experiences to bring a unique perspective to the Owen Class of 2021.
Fun fact that didn't get included on your application?
One of my GMAT tests was taken in Djibouti, Africa. Suffice it to say that score was cancelled.
Post-MBA career interests?
Post-MBA, I plan to seek a career in management consulting.
Advice to current prospective applicants:
–One thing you would absolutely do again as part of your application process?
I would absolutely reach out to current students early and often. One place to start is through the school's website, as most business schools have student points of contact listed.
Those students want to help prospective candidates, so definitely utilize them. Doing so will give you great insight into the program and its culture, and the students may be willing to offer their assistance during the application process and connect you with other current students.
–One thing you would change or do differently?
I would have visited more schools as early as possible. Visiting the campus and school in-person will help in the decision-making process regarding which schools you ultimately apply to.
If you don't visit, you risk wasting time completing the application process for a school you wouldn't have attended in the first place or accepting an offer of admission for a school that isn't the right fit for you.
If you're unable to visit in person, I would recommend focusing on reaching out to current and former students in order to gain their perspective.
–Part you would have skipped if you could—and what helped you get through it?
I probably would have skipped applying to some of the schools that I did. It can be tempting to apply to numerous schools, but I would encourage prospective applicants to be honest with themselves and with which schools they would truly consider attending if they were accepted. Narrowing your list of target schools will likely save you significant time and money.
What is your initial impression of Owen's students/culture/community?
Something that made an immediate impression on me is how helpful everyone is. The admissions staff, professors, current students, and alumni have been quick to answer questions, provide insight, and offer guidance. They seem to genuinely care about helping you succeed as a student and in reaching your post-MBA career goals.       
One thing you have learned about Owen that has surprised you?
After arriving at Owen, I was surprised by the number of MBA students who are career-switchers. If you plan on using business school to transition into a different industry or role, you will not be alone.
Owen does an excellent job of preparing you for success in whatever industry you choose and you'll find that the diverse professional experiences of your class are great resources. Whatever your desired post-MBA career goals may be, it is likely that someone in the program has pre-MBA experience in that industry and will be more than willing to share it with you.
Thing you are most anxious about in your first year?
The academic year at Owen is broken into four intensive seven-week modules. As a first-year student, the first semester primarily includes core courses designed to build a foundation in business and management. This can be a hectic time for most students.
Combined with beginning the recruiting and networking process for upcoming summer internships, it can be easy to feel overwhelmed. Fortunately, Owen gives you the tools to do well and sets you up for success by assigning you to a small team of other first year MBA students for collaboration.
Thing you are most excited about in your first year?
I'm most excited about getting to know my classmates and learning from their backgrounds and experiences. Owen does an excellent job of recruiting a diverse group of intelligent, driven MBA students each year. Classes are intentionally small so over the two-year program you'll undoubtedly get to know mostly everyone on a personal level and develop life-long friends.