Each week we collect news from the MBA space to give you a quick overview of the latest trending topics.
In this week's MBA News You Need digest, the GMAC CEO looks back at the state of graduate management education throughout 2019; HBS interviews three students from the PRIDE community; a Stanford GSB alumna offers networking advice; Wharton discusses seven opportunities for social impact; and UCLA Anderson offers MBA interview tips.
GMAC CEO Reflects on Graduate Management Education
The conversation surrounding graduate management education has been focused on the change in supply and demand for the last few years. This isn't the whole story, according to GMAC CEO Sangeet Chowfla.
While U.S. applications may be down, top business schools are still accepting highly qualified applicants, firms are still hiring MBAs, starting salaries are at an all-time high ($115,000), and recent MBA graduates still value their degree
According to a recent GMAC survey, 79 percent of graduates report that their experience was outstanding or excellent. 93 percent reported that they would do it again.
So, why is the news so focused on the decline in applications? According to Chowfla, it's about perception, choice & location, and cost.
Perception: Selectivity at top business schools yields mistaken perceptions. Chowfla says, "Leading GME programs have built selectivity as a proxy for quality…This scarcity effect is reinforced by the rankings that use selectivity ratios as an indicator of program quality. Once on this treadmill, it's hard to get off and schools are concerned about drops in application volumes even if, as the data shows, there is no impact on their ability to admit a class of equivalent quality."
Choice & Location: Ten years ago, 68 percent of candidates wanted to study in the U.S. compared to just 15 percent in Europe. Now, that's shifted to 53 percent in U.S. and 28 percent in Europe.  Related, international schools caught up in quality with U.S. ones, so students have more choice.
Cost: For a long time, students had to pay the inflated cost of tuition for a top program—there was no other choice. Now there are more affordable European options and less costly online programs from premier schools that are changing the game.
Continue reading Chowfla's full in-depth look at graduate management education here.
HBS MBA Students Discuss PRIDE Experiences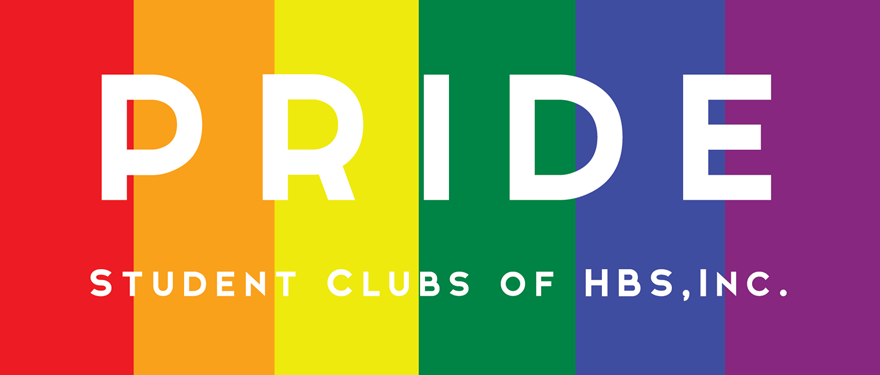 Harvard Business School has a large and active LGBTQ+ community. For MBA students and their partners, that community has a safe and supportive environment dedicated to social and advocacy programming through PRIDE.
In a recent blog, HBS interviewed three current MBA students who are part of PRIDE and the LGBTQ+ community to hear about their experiences. Here's a little about what they had to say.
Mindy Huynh (MBA '21): One of Mindy's most memorable experiences at HBS so far has been focused on telling her coming out story to strangers. Not only did she share her story during National Coming Out Day but also as part of MyTakes, a student-run PRIDE event.
Soltan Bryce (MBA '21): For Soltan, their experience at HBS has been highly influenced by their identity as a trans individual. It's been a long journey that first began at a Reaching Out MBA (ROMBA) conference years ago and has continued with the very welcoming HBS community.
Carter Frazee (MBA '21): Carter's experience as an LGBTQ+ community member at HBS began with a trip to Cape Cod for the annual PRIDE retreat. Carter credits this trip with helping build the community and family he's relied on ever since.
You can read their full stories here.
Stanford GSB Suggests How to Make the Most of Your Network
It's a lifelong practice to build, maintain, and leverage one's professional network. Rebecca Zucker, an alumna from Stanford Graduate School of Business and a partner at Next Step Partners, feels that building personal and professional relationships is a critical life skill that one must always work on. Zucker recently offered eight best practices for developing your network.
Keep an open mind. You never know who will be helpful to you in your career or life, so take a broad approach to meeting people.
Start by getting the ball rolling. Meeting just one new person can open the door to meeting more new people and expanding your network exponentially.
Remember that acquaintances can be just as valuable as friends. Don't be afraid to reach out to weak ties to help you move forward.
Don't let lack of contact stop you from reaching out. You can reconnect with a friend even if you've lost touch.
When trying to build relationships, make sure you introduce and identify yourself so they recognize you.
Don't blindly introduce two people in your network without providing a context that makes sense.
Focus on connecting with a diverse group of people from different backgrounds, industries, functions, and geography.
Don't just focus on what people can do for you; think about what you can do for other people. Generosity is critical to networking.
For more insight, you can find the original Stanford GSB blog here.
7 Opportunities at Wharton for Social Impact
Wharton offers many opportunities for students to get involved in programs that maximize social impact. In a recent blog post, Wharton offers seven different ways to get involved with the Wharton Social Impact Initiative:
WISE Fellowship: You can apply to become a WISE Fellow, which will allow you to work on a range of social impact projects, including paid research and consulting.
Jacobs Impact Entrepreneur Prize: If you're a first-year Wharton MBA, you can apply for the Jacobs Impact Entrepreneur Prize for a chance to receive $5,000-$50,000 in funding for your social enterprise.
Social Impact Courses: Wharton offers numerous courses on social impact, including the popular Knowledge for Social Impact course taught by Professor Katherine Klein.
WSII Bendheim Fellow: For one exceptional graduate student, Firework Ventures offers the opportunity to help build its fund by focusing on the "human side" of future work.
Nazarian Social Innovators: Each year, a social impact leader comes to the Wharton campus to engage in a wide range of activities, including coaching, small group events, leading discussions, and workshops.
Events: Throughout the year, Wharton hosts a range of pop-up lunches and events with special guest speakers dedicated to social impact.
Dollars and Change Podcast: Listen to the Dollars and Change podcast to hear from leading social impact experts on investing, social responsibility programs, research, and more.
Find more ways to get involved in social impact at Wharton by visiting the school's website here.
UCLA Anderson Offers MBA Interview Tips
To help prospective students put their best feet forward, Vickie Euyoque, the associate director of MBA admissions at UCLA Anderson, offered insights into how to make a positive impression during the interview.
UCLA Anderson MBA interviews are invitation-only, which means that your application has already been evaluated to see if you are a good fit before the interview. Second-year student ambassadors serve as interviewers; the adcom see them as partners in the admissions process who provide valuable insight into selecting the next class of Anderson students.
For the interview, here are five tips Euyoque says you should follow:
Treat your interview as a professional appointment. Show up on time, dress well, and treat everyone with respect.
Be confident throughout your interview by keeping your shoulders back and maintaining eye contact.
Engage with the interviewer and make it a conversation instead of a one-sided question-and-answer session.
Be clear about your goals for not only your MBA, but for your future career.
Be genuine and be yourself. This is your chance to showcase your personality.
You can read the original blog on the UCLA Anderson website here.