Jessica Prellberg, Carey MBA Class of 2022
Age: 31
Hometown: Chandler, AZ
Undergraduate Institution and Major: Arizona State University – Computational Mathematical Sciences
Pre-MBA Work Experience (years, industry): 7 years – Residential Property Management/Real Estate and Help Desk Support
Why business school? Why now? 
I felt that I was lacking growth opportunities in property management and wanted to get my MBA to open more doors and expand my professional experiences.
Why ASU Carey? What factors figured most prominently into your decision of where to attend? 
The Executive Mentor program was a huge draw for me, I love the idea of being able to connect with successful business people and learn from them. ASU also has a course where you work with other degree programs to solve real-world problems, such as designing the garbage truck of the future or developing a sustainability plan for the city of Tempe.
What do you think is your most valuable or differentiating contribution to the Class of 2022? 
I think the most valuable thing about the class of 2022 is our resiliency. The global pandemic has brought a new set of challenges to the graduating class of 2022, but it doesn't feel like we've skipped a beat in learning how to be both virtual and in-person simultaneously.
Fun fact that didn't get included on your application? 
I feel like I've had to answer so many fun fact questions that it's hard for me to come up with a fresh one, but I am pretty competitive when it comes to board games (and other things) and for a while, I was considered the Settlers of Catan champion in my friend group.
Post-MBA career interests?
I am fairly undecided about exactly where I want to be after my MBA, but right now I am thinking that I want to be involved in technology as it's a very relevant industry. I am also thinking about healthcare because I want a fulfilling career that I know I'm making a difference.
Advice to current prospective applicants:
–One thing you would absolutely do again as part of your application process? 
Go to campus for an interview if they give you that option. I interviewed right before everything shut down for the pandemic, and I really valued being able to connect with current students to get a feel for the culture and environment of the program.
–One thing you would change or do differently? 
I wouldn't have waited so long to take this step. If you are thinking about getting an MBA, go for it! I kept putting off taking my entrance exams which delayed my admission timeline. Remember, the exams are good for 5 years, but if you have them done you have the freedom to apply.
–Part you would have skipped if you could—and what helped you get through it? 
I don't think there is anything I would have skipped, take advantage of every opportunity to connect with schools you are looking into, including info sessions and connecting to current students.
What is your initial impression of ASU Carey's students/culture/community?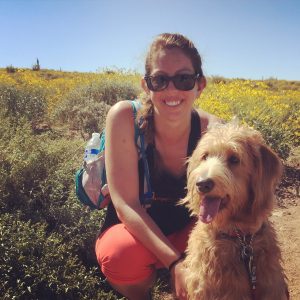 W.P. Carey has a very welcoming culture. The second-year students are so willing to help the first years in career advice, the internship hunt, or even tutoring. The program staff and faculty are also very helpful and want to see everyone succeed.
One thing you have learned about ASU Carey that has surprised you? 
Because I did my undergraduate degree at ASU I already knew a lot about ASU's culture, but I was surprised at how at W.P. Carey "business is personal". I regularly have lunch with the dean and can tell how invested the faculty is in each student.
Thing you are most anxious about in your first year? 
Initially, I was anxious about making the transition from working full-time to going back to school full time but that was actually easier than I thought. Now, the only thing I'm anxious about is finding a new career path and being able to market myself in a new industry and function.
Thing you are most excited about in your first year? 
Taking business-related courses that I didn't take as an undergrad like Supply Chain, Marketing, and Finance.