Andrew Logan, Carey MBA Class of 2022
Age: 26
Pronouns: They, them
Hometown: Othello, WA
Undergraduate Institution and Major:  Eastern Washington University, BA Business Management & Administration
Pre-MBA Work Experience (years, industry): International Development & Global Health and Technology, 3 years
Why business school? Why now?
After working abroad for 3 years, I developed a passion for work in healthcare though seeing the impact that improving health services had on people's lives. I strive to create a lasting impact so that people can live as the best versions of themselves. After working for several years I realized I wanted to grow in my knowledge of the business of healthcare to work at a higher level to make that lasting impact so transitioning into my MBA felt like the best way to do that.
Why ASU Carey? What factors figured most prominently into your decision of where to attend?
I loved that ASU was a small program. I wanted to go to a school where I could get to know all my classmates and know my professors well. I also loved that ASU was the #1 in innovation and that we have such a strong focus on making an impact through our work.
What do you think is your most valuable or differentiating contribution to the Class of 2022?
Being a gender non-conforming person, I bring a perspective to the class that no one has. I am proud to be able to have conversations with others in the class about queer experiences to bring a perspective that other people may not have been aware of. I think this perspective allows people to understand what it means to be inclusive of other queer people and can take that perspective with them into their careers.
Fun fact that didn't get included on your application?
I spent a month living in Zanzibar.
Post-MBA career interests?
I hope to work in marketing for a biotech/medical device company to innovate disruptive technologies that save lives and center people.
Advice to current prospective applicants:
–One thing you would absolutely do again as part of your application process?
Talk with as many students from the program to get a thorough understanding of the culture of W.P. Carey and why you want to attend this program.

–One thing you would change or do differently?
Get a better perspective of what it's like as a queer person in business school. More generally, get a perspective of the experiences of someone who shares a similar identity as you.
–Part you would have skipped if you could—and what helped you get through it?
Taking the GRE/GMAT. I hated studying for it but it helped to hyper-focus and study a ton in just 4 or 5 weeks and just take it rather than study until I felt like I was ready.
What is your initial impression of ASU Carey's students/culture/community?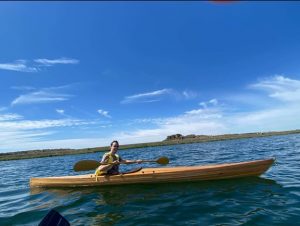 ASU is a community of people who care about one another. The other students/staff/faculty want to see you succeed. If you need help with a job application, class assignment, or just need a pep talk you know the entire community is here to support you. There are always resources for you to succeed and truly it is a community that gives back to one another.
One thing you have learned about ASU Carey that has surprised you?
The program is intense. I knew it would be a lot of work but I did not expect that it would take up so much time.
Thing you are most anxious about in your first year?
Getting an internship.
Thing you are most excited about in your first year?
Getting to build relationships with my classmates and staff at ASU!