Saumya Gupta, Carey MBA Class of 2022
Age: 24
Hometown: Scottsdale, Arizona
Undergraduate Institution and Major:  Barrett, the Honors College at Arizona State University. Majoring in Chemical Engineering.
Pre-MBA Work Experience (years, industry): 3 years in semiconductor manufacturing and process engineering
Why business school? Why now? 
As an Asian child, society lets you be anything you want to be, as long as you pick between an engineer or a doctor. Jokes aside, I believe I am in a sweet spot with my experience as a chemical engineer. With societies increasing dependence on technology, I believe businesses will actively seek leaders that can leverage a science/technology background with effective soft skills and business acumen to lead the companies of the future.
Why ASU Carey? What factors figured most prominently into your decision of where to attend?
Arizona State University consistently ranks #1 in Innovation. Innovation is a byproduct of a community mindset to always further the human condition and challenge the status quo. ASU's W.P. Carey is led by a trail-blazing visionary, Dean Amy Hillman, who embodies every aspect of innovation. Dean Hillman and the WPC professors and staff are some of the best, and the amenities provided to MBA students are top-notch.
In addition, ASU's Carey provided a full-ride tuition sponsorship, monthly stipend, and semester stipends to all students who are admitted into the program. Leaving the workplace is an incredibly high opportunity-cost, and not having to worry about loans or finances is the cherry on top.
What do you think is your most valuable or differentiating contribution to the Class of 2022?
I am a people person. Creating intimacy through a tight-knit community is something that I am passionate about and is a role that I enjoy fulfilling. To me, the benefit and success of my community is my number 1 priority. I was recently elected as the first-year representative for the social chair in the MBA Association at W. P. Carey and look forward to continuing to create opportunities and events for my peers to get to make stronger bonds with each other.
Fun fact that didn't get included in your application?
I purchased my first home at the age of 21 and have a passion for investments.
Post-MBA career interests?
I want to be the bridge between technical and non-technical teams. Leveraging my chemical engineering education and my process engineering experience will be beneficial to my success in whichever role I end up accepting.
Advice to current prospective applicants:
–One thing you would absolutely do again as part of your application process?
Reach out to WP Carey staff early on – they are incredibly helpful and admissions are on a rolling basis!
–One thing you would change or do differently?
If I could go back, I would have started my application earlier.
–Part you would have skipped if you could—and what helped you get through it?
I found out about the program deadline a few hours before the last round of applications was due. I found out about the application at 3 pm, and by 11:56 pm, I had the letters of recommendations submitted, the essays completed, and finished the rest of the application.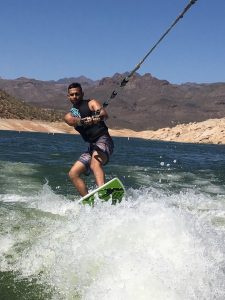 What is your initial impression of ASU Carey's students/culture/community?
As a #DoubleDevil, I knew exactly what I was signing up for in terms of W. P. Carey's campus culture and community. What I did not anticipate was how diverse the MBA Cohort would be in terms of personal and professional experiences. I learn just as much from my fellow students on a daily basis as I do from the educational curriculum. The opportunity to be a part of such a tight-knit community is a blessing I do not take for granted.
One thing you have learned about ASU Carey that has surprised you?
The amount of investment by ASU's W. P. Carey in each individual student astounds me.
The thing you are most anxious about in your first year?
Making the right career pivot decision… There are so many options and opportunities and narrowing the scope down to just one or two options is difficult, to say the least.
The thing you are most excited about in your first year?
Internship acquisition season is firing on all cylinders and I can't wait to pick a company that I see myself working for post-graduation!