Courtney Robertson, Carey MBA Class of 2022
Age: 25
Hometown: Phoenix, AZ
Undergraduate Institution and Major: Arizona State University, Marketing
Pre-MBA Work Experience (years, industry): I spent almost four years at a marketing agency in Tempe, AZ. My last role was as a Senior Manager of Influencer Marketing at August United
Why business school? Why now? 
When W. P. Carey reached out about applying for the MBA program, I was in a season of life in which I was very open to change and new ways to grow in my career. The MBA program was the perfect opportunity to reflect on my experiences up to this point and invest in education that could help guide me to the next step in my career.
Why ASU Carey? What factors figured most prominently into your decision of where to attend?
My undergraduate career was at W. P. Carey, so the idea of being a Double Devil and spending more time at the school that had provided me with so many opportunities and lasting friendships were the driving factors. The philosophy of "business is personal" is truly present through every interaction with W. P. Carey faculty, students, and alumni.
What do you think is your most valuable or differentiating contribution to the Class of 2022?
My career experience has been at a fast-paced marketing agency where I consistently managed 5+ clients at a time. The ability to look at a new project and understand what is needed to execute on time and on budget is critical. Project management and organizational skills are valuable assets that I am excited to bring to my teammates during this program.
Fun fact that didn't get included on your application?
I have a performing arts background specifically in competitive acting and musical theater. I was actually cast in my first film role in 2018!
Post-MBA career interests?
I will be pursuing an emphasis in marketing and I am interested in exploring careers in brand management. I definitely gravitate towards brands that focus on consumer packaged goods. Helping craft the high level strategy of a brand to meet the needs of the customer is very exciting!
Advice to current prospective applicants:
–One thing you would absolutely do again as part of your application process?
Talking to candidates currently in the program was very helpful. It gave me a realistic idea of the expectations as well as all of the opportunities for involvement.
What is your initial impression of ASU Carey's students/culture/community?
The culture is very inclusive and welcoming at W. P. Carey. Even though Arizona State University is a very large school, the graduate program at W. P. Carey feels very close-knit and everyone truly cares about the success of the class.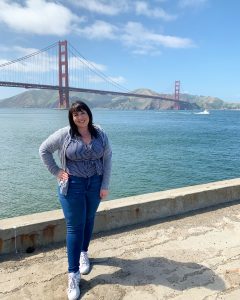 One thing you have learned about ASU Carey that has surprised you?
The opportunities for mentorship have been outstanding! For example, W. P. Carey has a program called Executive Connections where each candidate is paired with a seasoned professional with incredible career experience. While it is only required to meet once per quarter, my mentor offers monthly meetings and has developed an amazing plan to help me with my career goals.
Thing you are most anxious about in your first year?
Since my focus has been in marketing, I was most anxious about some of the core curriculum areas such as finance and statistics that I haven't had much exposure to since my earlier days as an undergraduate business student. However, from excellent teaching assistants to informal study groups, there are so many resources that helped me feel equipped to learn the material and feel confident in applying the key elements that could benefit my future career.
Thing you are most excited about in your first year?
I am most excited about getting involved in student organizations. I am a first-year representative for the Strategic Marketing Club and I can't wait to work with the team on fun events and workshops. I am also looking forward to getting more involved with the Golf Club and participating in the lessons for beginners.