Noor Aftab, Carey MBA Class of 2022
Hometown: Murree, Pakistan
Undergraduate Institution and Major: Curtin University, Australia and Bachelors in Business and IT
Pre-MBA Work Experience (years, industry): I worked in three industries: investment banking, general management, and non-profit. I worked on some of the largest financial deals in Pakistan, headed operations of global accounting business ACCA in Pakistan, and started an NGO for women development that has helped 200,000 women find access to employment.
Why business school? Why now?
I was at a critical juncture in my career, where I had held leadership positions and operation roles, and increasingly the need was to scale the businesses to the regional level and deal with issues of the global workforce. I took some time off to reflect, connect with industry leaders, and find a career path for myself. MBA was the result of the yearlong self-reflection.
Why ASU Carey? What factors figured most prominently into your decision of where to attend?
I come from a very humble background. My grandfather was born in extreme poverty in a remote Pakistani village in the Murree district. He walked 18-miles to school every single day despite the responsibility of a mother, six sisters, and a mentally challenged brother. The first to graduate from the entire Murree region, he landed a job as an accounting clerk. And once he became established, he returned to our village to teach them his education-to-employment model. As a result, every family in our village has at least one educated son.
My grandfather taught me value education and service. In his words, in a world where you can be anything, choose to become established and serve the communities. I looked for a school that would push me to my limits and hold me accountable to serve the communities. And Carey fit the bill. It is the only school in the world, that used the gift of an endowment to invest in future generations with its forward focus scholarship so that 40% of incoming classes are first-generation college students.
What do you think is your most valuable or differentiating contribution to the Class of 2022?
Hands down I am a certified feminist. I was born as the eldest girl in a family of 15 cousins. I got married on International Women's Day, and when I had twins, even they were daughters. It was God's plan for me. On a slightly serious note in Pakistan, a country the World Economic Forum ranks 144/145 in the global gender gap, my parents invested in my education their retirement savings, delayed my marriage, and allowed to work in male-dominated industries. I am an IT graduate, an investment banker, founded a woman NGO- Shahina Aftab Foundation, and run a women-centric platform that aims to increase the number of women in business, IT, finance, management, and leadership positions.
I approach all matters from equity, equality and as the president of finance club says, "that finance background"- eye on cash flows, returns, and risks.
Fun fact that didn't get included on your application?
My first internship was in billionaire investor Warren Buffet's company World Book International.
Post-MBA career interests?
I am interested in the technology industry. And am looking at product management roles in technology and also exploring investment banking deals in technology.
Advice to current prospective applicants:
–One thing you would absolutely do again as part of your application process?
Business is personal at WP Carey. Please reach out – via email, Zoom, or phone to adcoms, current students, and even faculty. I attended preview day at Carey in 2016 but it wasn't until 2020 that I joined.
–One thing you would change or do differently?
Find your fit and start early. I started my application in December, and it was ready for submission in February because some of the documents weren't complete in time. My IELTS score expired and I had to retake it. I ended up waiting for that year applying the October in R1 because Carey was my top choice- ahead of Columbia and Yale.
–Part you would have skipped if you could—and what helped you get through it?
Perfection. I wanted to get a letter from Australia High Commissioner in Pakistan. She had awarded me the Alumni Excellence Award. But given her position, she was always traveling. It took me 20 days to move from her to another person in the office of Australia High Commission. To my delight, his letter of recommendation was even better since he was able to provide more concrete details to my work.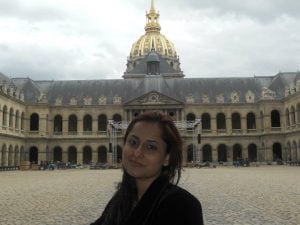 What is your initial impression of ASU Carey's students/culture/community?
I thought Carey was going to be easy given my background in financial markets, nonprofits, and general management. It is not. Every single day, I am pushed to the limits of my potential- learning, exploring, and collaborating. Carey is certainly a unique place, but if it is a fit- there is no place like Carey. Business is personal at Carey. Everyone is invested in your success. The cohort is amazing, diverse, and inclusive. The hidden gem of Carey is its formal mentoring program called Executive Connections. My mentor is a tech industry CEO, an ivy leaguer, started 5 companies successfully, and failed at one venture. And he is my personal advisor from now till I graduate.
One thing you have learned about ASU Carey that has surprised you?
If Carey was a stock, I would recommend a "buy". I think Warren Buffet would agree with me. Because Carey is based on strong fundamentals, it is constantly innovating and growing. The program rigor, the intensity of learning, and constant support. It brings out the best in us through mentoring, coaching, endless support. You feel the entire Carey Community is conspiring to bring your dreams to reality.
Thing you are most anxious about in your first year?
My impact footprint. As a sun devil, I am always thinking about my impact on the community. Carey is a place of sharing, of giving, of contribution. I am most anxious about whose life did I improve today, whose burden did I share, whom did I make happy.
Thing you are most excited about in your first year?
I am most excited about the journey ahead. I am totally looking forward to my leadership role at the Women Leadership Association, my product management classes, and the Student Investment Fund.