Each year, MBA students along with marketing professors, Tim Calkins and Derek Rucker, at Northwestern Kellogg evaluate the commercials during the NFL Super Bowl—easily the most expensive air time of the year.
Out of all of the ads during Super Bowl LV, the Cheetos commercial, which featured Shaggy, Mila Kunis and her husband Ashton Kutcher in a playful take on the bright orange snack, took home the trophy. Michael B. Jordan as Amazon's Alexa ranked highly as well. Tide also delivered a memorable ad and Seinfeld fans may have recognized George Costanza's voicemail theme as Jason Alexander's face morphed on a heavily used sweatshirt.
"Cheetos is the winning ad this year with its 'It Wasn't Me' spot because it had very strong branding and played off its known attributes to leverage its equity in a simple and clear message," said Derek D. Rucker, Sandy & Morton Goldman professor of entrepreneurial studies in marketing at the Kellogg School of Management at Northwestern University. "A lot of money is on the line for any brand who advertises in the Super Bowl and they put themselves in position to benefit from the exposure."
Others failed to score any touchdowns, just like the Kansas City Chiefs. Based on Kellogg's review, Skechers, DraftKings and Squarespace were among those that flailed on the field, as desperate to make purchase as Mahomes.
The reviewers also considered what was missing after a tough year. Most brands avoided touching on the Covid-19 pandemic, social justice or politics. However, Jeep, NFL, Bass Pro Shops and Indeed did extend messages of unity.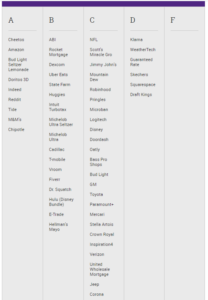 "Overall, this year's Super Bowl featured safe ads with light humor. But, it was good to see some brands aim for more empowering messages. Still, we didn't see any major breakthroughs or ads that we'll be talking about for years to come," said Tim Calkins, clinical professor of marketing at Kellogg.
How the Evaluation Worked
To determine the rankings, the Kellogg MBA panel applied the strategic ADPLAN framework.
A—Attention: Did the commercial engage the audience?
D—Distinction: Was the execution unique in delivery?
P—Positioning: Did the commercial represent the appropriate category and feature a strong benefit?
L—Linkage: Will the benefit and brand be remembered?
A—Amplification: Were viewers' thoughts favorable?
N—Net Equity: Was the commercial consistent with the brand's reputation and history?
From here, the MBA students came up with the final 2021 rankings.