This week, Alex and Graham tackle a number of key admissions questions, ranging from the importance of GMAT/GRE 'recency' to potential hurdles candidates may face when coming from 'back office' roles. Along the way, our hosts also counsel an early bird applicant thinking of applying in 2024 and a recently admitted applicant weighing offers from UCLA Anderson (with $100K) vs. UT Austin McCombs (with $30K). Other topics in this jam-packed episode include R3 applications and the state of the waitlist at top schools this season.
Preview the featured posts from MBA ApplyWire and MBA DecisionWire that Graham and Alex discuss below, then tune in!
To start, a newly-minted graduate is already looking years ahead to MBA programs: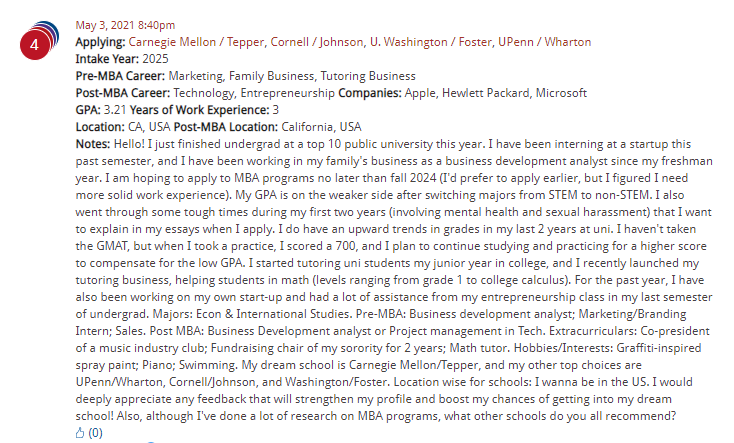 An Indian applicant is looking to work in strategy or product management post-MBA:

Finally, an accepted candidate is torn between Texas McCombs and UCLA Anderson for tech: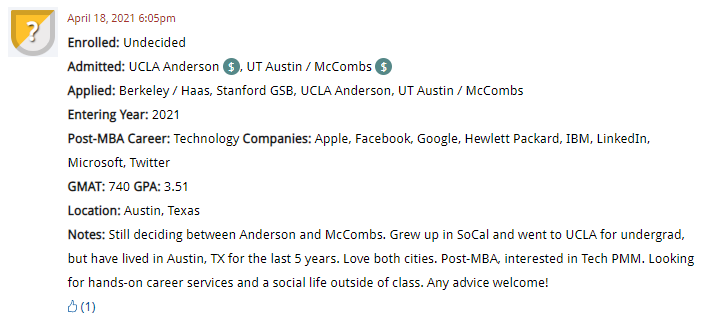 Happy listening!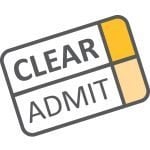 Be sure to post to MBA ApplyWire or MBA DecisionWire if you'd like Graham and Alex to offer admissions advice.
If You Like What You've Been Hearing, Please Subscribe and Rate Us on Apple Podcasts!
It's been wonderful seeing the audience for our podcast series continue to grow! Please, if you have enjoyed what you've heard, could you rate and review the Clear Admit MBA Admissions Podcast in Apple Podcasts? This is the best way to help more listeners find us. Also, to ensure that you never miss an episode, please subscribe to the podcast on whatever platform you use.
This episode was hosted by Graham Richmond and Alex Brown, and produced by Dennis Crowley. Thanks to all of you who've been joining us!