This week's episode of the podcast kicks off with Graham and Alex discussing the latest activity on MBA LiveWire which included interview invites from Berkeley / Haas and Stanford. Graham then highlighted his recent tour of leading MBA programs on the east coast, including Harvard, Dartmouth / Tuck, MIT / Sloan, Yale SOM, NYU / Stern, and Wharton; he noted the energy and diversity of the student bodies he observed on the campuses. Graham and Alex also reviewed the employment reports for Harvard and Duke / Fuqua. Both programs released strong numbers, including increases in average starting salaries. Your hosts then discussed the potential  impact from employment contraction in the tech sector. Graham also mentioned the Real Humans pieces recently published, for HEC / Paris and Washington / Olin.
As usual, this episode features three profile reviews, taken from ApplyWire entries:
First up, Alex selects a female attorney from Asia, who relocated to the United States for her undergraduate degree. She's just received a 720 on the GMAT and is exploring her options for Round 2. Likely she will be a decent candidate for top programs, Alex and Graham just worry a little about the late start in the application process. There might be an argument to target few top programs this season, for a second opportunity next season. This week's second candidate appears to have really strong work experience, having moved from investment banking into private equity. They are Hispanic, and also have a good GPA from an engineering discipline. They will need to ace the GMAT, but given that they are targeting next year, there's a lot of time and potential.  The final candidate for this week has a focus on living in Phoenix post-MBA. This led to a conversation about whether that makes Arizona State / Carey a better option than programs that are ranked higher, especially if this would mean greater access to scholarship.
Female Asian attorney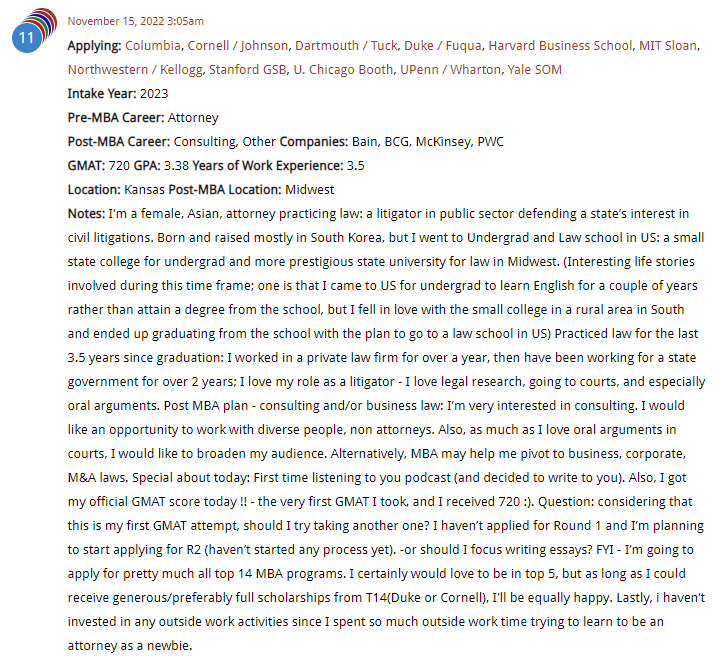 Hispanic in Private Equity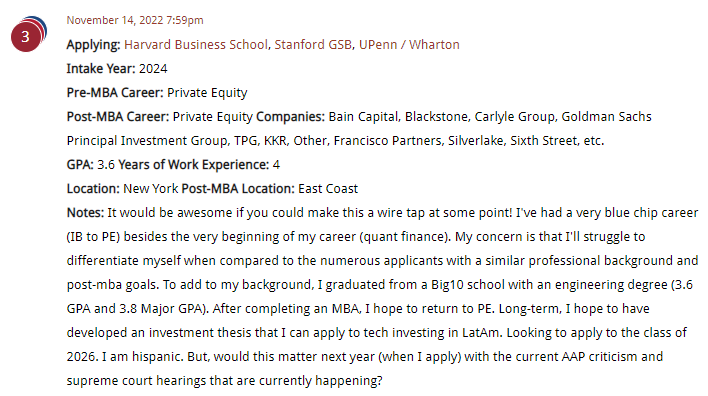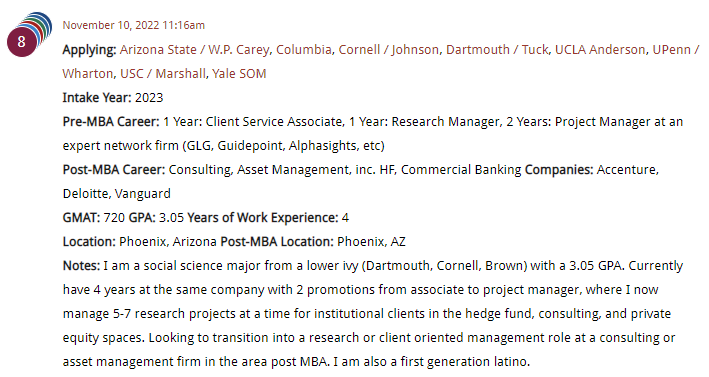 Happy listening!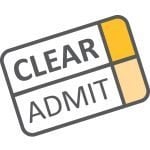 Be sure to post to MBA ApplyWire, MBA DecisionWire or MBA RankingsWire if you'd like Graham and Alex to offer admissions advice.
If You Like What You've Been Hearing, Please Subscribe and Rate Us on Apple Podcasts!
It's been wonderful seeing the audience for our podcast series continue to grow! Please, if you have enjoyed what you've heard, could you rate and review the Clear Admit MBA Admissions Podcast in Apple Podcasts? This is the best way to help more listeners find us. Also, to ensure that you never miss an episode, please subscribe to the podcast on whatever platform you use.
This episode was hosted by Graham Richmond and Alex Brown, and produced by Dennis Crowley. Thanks to all of you who've been joining us!