Ninad Sanjeev Rasal, Manchester AMBS MBA Class of 2024
Age: 29
Hometown: Mumbai, India 
Undergraduate Institution and Major: Veermata Jijabai Technological Institute- B.Tech in Production Engineering
Pre-MBA Work Experience (years, industry):  7 Years, Manufacturing Industry – Business Development and Product Management Function 
Why did you make the decision to attend business school? Why now?
Before I was studying an MBA, I was working in the manufacturing industry in India. I was one of the youngest members of the team working to develop the business in advanced manufacturing across South Asia. Through this opportunity, I was able to work with leaders in Indian manufacturing ecosystems. I believed from this experience, an MBA at this point in my career will be a great chance for me to add to my skill set and learn further about global business practices with a diverse cohort. I knew the cohort made up of people from different industries and also cultural backgrounds would broaden my perspective to lead in a continuously evolving business environment. I knew studying at AMBS will allow me great networking opportunities through continuous interaction with globally based alumni and will help me to learn how to communicate effectively and develop the know-how to solve the practical challenges in business.
Why did you choose Manchester AMBS? What factors figured most prominently into your decision of where to attend?
I chose Manchester for my MBA as I believed they would give me the opportunity to experiment while learning based on my end goal. The live consultancy projects based on current business challenges will give me exposure to the real-life strategic decision-making process. The opportunity to work with companies through internships will boost my outlook to resolve challenges that impact the business. I am looking forward to working with leading not-for-profit organisations in the UK and their real business problems, giving me the opportunity to learn from the organisations and also give back. I also like the idea and method the MBA in Manchester use of experimental learning, helping students like me to develop practical business and management skills in a different country. AMBS also offers continuous interaction with industry experts and inspirational alumni through the guest speaker series. This series helps me understand practical challenges in the rapidly changing business world. 
What do you think is your most valuable or differentiating contribution to the Class of 2024?
Peer-to-peer learning is at the heart of the AMBS MBA.I believe that my skillset from my pre-MBA role will enable the cohort to absorb the transferable skills and consider a career in similar industries. As a part of the projects team, I have delivered a unique value towards developing a business for a leading Not-For-Profit organization.
Tell us a fun fact about yourself that didn't get included on your application:
As an inspired engineer, I have volunteered with Seniors-On-Call for last 4 years. Seniors-On-Call is a startup,  passionate about mentoring graduate engineering students and preparing them for on-campus job placement interviews
Post-MBA career interests:
My short-term goals align with my current experience and interest. I want to grow professionally by joining a leadership rotation program or a strategy role in a leading manufacturing conglomerate shaping technology of the future. Revolutionary technologies are bringing change to product lifecycles and supply chains. Manufacturing innovations need to keep pace with digital transformation. Hence, I would like to be an indispensable part of forming and implementing innovation strategies for startups, large organizations and the government. 
In the view of long-term strategy, I hope to develop my niche expertise in manufacturing and business strategy, and thereby naturally progress to a leadership role.
Advice for Current Prospective Applicants:
–What is one thing you would absolutely do again as part of your application process?
I would do lots of research into the MBA programme and I would make sure I have lots of good conversations with current students to understand the programme in more detail. I would also make sure I apply as early as possible.
–What is one thing you would change or do differently?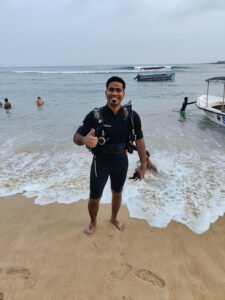 I was anxious about the application process, if I were to have my time again, I would enjoy this process.
–What is one part you would have skipped if you could—and what helped you get through it?
I would have skipped rushing the completion of the application. I procrastinated on the finalization of the essay and finalized it very close to the deadline. Many of the senior students helped me proofread the MBA application essay from the school's perspective. This helped me complete my application before the deadline.
What is your initial impression of the Manchester AMBS students/culture/community?
Manchester, I find to be a student-led city. The overall infrastructure of the city facilitates the student experience in a specific way.  The major share of students coming to Manchester study at The University of Manchester. Alliance Manchester Business School is one of the leading schools of the university and resources one of the most experienced faculties for the MBA Program.  Overall diversity in the students, faculties and residents of Manchester has enhanced the overall rich culture of the community. This culture has helped students from different countries move to the UK and feel at home. 
What is one thing you have learned about Manchester AMBS that has surprised you?
AMBS organizes an excellent and useful set of activities to make all the students get comfortable with each other. AMBS has a dedicated Career Service team that helps you decide and follow your career plan. The dedicated team of career consultants helps each student explore career opportunities across different industries and across different parts of the world. As a student of AMBS, you can schedule 1-to-1 sessions with each career consultant specific to the industry to review your CV and interview approach for the target employer. Weekly sessions and events organized by the Postgraduate Career Services Team have helped us plan and visualize our way forward after the MBA.
What is one thing you are most anxious about in your first year?
During the first few months of the study, I was anxious about coping with the cultural differences. I am a part of students from 27 different countries.  Different experiences through the activities and projects at AMBS have evaporated the fear of differences. The overall feeling of a family has enriched the friendships formed here at AMBS.
What is one thing you are most excited about in your first year?
As a first-year student, I am most excited about my contribution to the live consultancy projects with my team of students from different countries and experiences.