Jamie Bending, Manchester AMBS MBA Class of 2024
Age: 24
Hometown: Hereford, United Kingdom
Undergraduate Institution and Major: Durham University – English Literature
Pre-MBA Work Experience (years, industry): Entrepreneur, 3 years
Why did you make the decision to attend business school? Why now?
After University, I returned to Herefordshire to launch a company named Ergrownomics, an eco-centred start-up manufacturing bespoke growing systems. I learnt a huge amount by launching and growing this business, and it was a really exciting space to operate in, but ultimately I often found that I was becoming quite reactive, learning by doing more than having a clear strategy planned well in advance. There's a lot you learn in running a small business that can't be taught, but after three years, I wanted to step back and develop my holistic knowledge!
Why did you choose Manchester AMBS? What factors figured most prominently into your decision of where to attend?
Manchester was the only Business School I considered for a full-time MBA, due largely to two reasons. The first was that the school has a very strong ESG focus, promoting the development of sustainably minded business leaders that go further than the corporate bottom line, and even offers an elective on making the business case for sustainable practices. Moreover, in 2021 it was named the best university in the world for Social and Environmental impact. Secondly, the school has an extremely practical approach to assessments and learning, and given my background, the Manchester Method really appealed to me!
What do you think is your most valuable or differentiating contribution to the Class of 2024?
The class has quite a strong interest in ESG-aims, particularly in relation to product development, so I'm often fielding questions based on my experiences as an entrepreneur, and the decisions I made in that role.  
Tell us a fun fact about yourself that didn't get included on your application:
I really enjoy bike-packing, and have cycled the length of France, Portugal and Spain with my dad, Nigel. We had plans to attempt Switzerland in 2020, but something got in the way…
Post-MBA career interests:
Currently, I'm really interested in sustainable strategy, by helping businesses improve their practices to become more environmentally conscious, and align with climate goals. I'm unsure exactly how I'd like to pursue this, but reading 'Let my People go Surfing' (Yvon Chouinard) was a huge source of inspiration to me, so I'd love to chat with Patagonia!
Advice for Current Prospective Applicants:
–What is one thing you would absolutely do again as part of your application process?
I had a lot of conversations with recruitment staff during my process. Seriously, a lot. This was really helpful in terms of aligning my own goals and passions with the opportunities presented by the school, and gave me the confidence the experience would offer the sort of development I was after. 
–What is one thing you would change or do differently?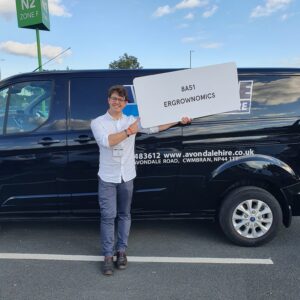 I had originally applied for the Global MBA course, studying alongside my business. The school actually contacted me to chat about this, and made the case that the full-time course would add more transformative value, which was exactly what I wanted. Unfortunately, this did mean I had to apply for a scholarship overnight, before a 9am assessment… Yes, it was worth it, but I'd certainly do it differently if I had the time again!
–What is your initial impression of the Manchester AMBS students/culture/community?
It's a really great environment, with a strong culture of knowledge-sharing and mutual support. Yes, it's competitive, but I'd say it's certainly healthy; you lift your level to compete against others, rather than try to hold them down behind you! It definitely offers the kind of relationships I wanted to forge.
What is one thing you have learned about Manchester AMBS that has surprised you?
The workload is intense, which I expected, but it also manages to balance this with a considerable social/cultural scene, which I don't think I'd anticipated (but certainly love). The class is also 95% non-british, so a great boiling pot of different attitudes, experiences and perspectives.
What is one thing you are most anxious about in your first year?
As the youngest in the year group, I was slightly nervous my experiences would be out-matched by others (many of whom have had well over a decade in big business), but this hasn't been the case. Everyone has knowledge to share, and I certainly feel I've grown in these first few months, as well as helping others to do the same! 
What is one thing you are most excited about in your first year?
The course has a huge amount of focus on consultancy practices, which is something I'm really enjoying. The different frameworks for problem-solving, decision making and managing complex, critical-thinking are also really helpful, and are already beginning to feed into my own approaches. Developing these further with the coming Commerical Business clients is something I'm really eager to do!