Get a closer look into MBA admissions at the University of Toronto Rotman School of Management with Director of Recruitment and Admissions Imran Kanga in this edition of our Admissions Director Q&A series.
Imran's motivation to join Rotman stemmed its culture of community and collaboration inherent in the students, faculty and staff there. Rotman's focus on students' academic and career success as well as being a catalyst for positive change is what drew Imran to Rotman. With almost a decade of experience in higher education, Imran has held several international roles in marketing, recruitment and admissions with a focus on high-growth markets like Latin America, South East Asia, and India. 
Read on for Imran's insights into admissions this year, including essays, interviews, the "Spike factor" and more.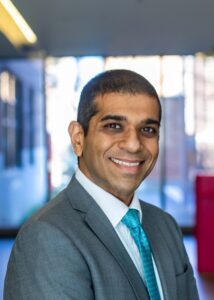 Clear Admit: What is the one aspect of your program that you wish applicants knew more about?
Imran Kanga: The Rotman School of Management is a research-intensive institution. There are numerous labs, research centers and institutes at Rotman which are actively working with the public and private sectors on a wide variety of projects. These hubs also create numerous experiential learning opportunities for students that give them the opportunity to gain hands-on experience in an area or industry of interest, while developing their strategic thinking mindset and leadership skills in the program. From setting up hospitals in Africa in partnership with the UHN to sitting on the board of an organization, Rotman students have an incredible opportunity to not only develop as a leader but also make a positive impact in the community and beyond.   
CA: Walk us through the life of an application in your office from an operational standpoint. What happens between the time an applicant clicks "submit" and the time the committee offers a final decision?
IK: When a candidate submits a completed application, it will be initially assessed by an Assistant Director on the Admissions team. The Assistant Director would then review all components of the application and if the application is deemed competitive the application would go to Admissions Committee for review. Once that review is completed, the applicant would receive the Admissions decision and if admitted, they would receive their scholarship offer along with the offer of Admission. 
CA: How does your team approach the essay portion of the application specifically? What are you looking for as you read an essay? Are there common mistakes that applicants should try to avoid? What is one key thing they should keep in mind as they sit down to write?
IK: At Rotman, we have moved away from the typical "Why should we admit you" question and we ask our students to explain what life experiences, values, hobbies, or interests make them unique, what they believe differentiates them from other applicants and how will their unique perspective contribute to the experience of their peers in the Rotman Community. This is something we like to call "Spike Factor," and we truly believe that this essay forces applicants to really think outside the box, be creative, and have fun with the process! A common mistake applicants make is to use the "one size fits all approach" with their essay. It is very easy to determine when an applicant is using the same essay for multiple applications because the content of their essay is not really addressing what we are asking of them. When starting the Rotman MBA application, I would encourage applicants to spend time to self-reflect, to really think about their personal and professional journeys and craft a personal and memorable essay. The essay is the one place in the application that an applicant can use to elaborate on additional strengths, experiences or personal accomplishments that may not come through in their resume, transcripts or test scores. 
CA: Could you tell us about your interview process? Approximately how many applicants do you interview? Who conducts the interview (students, admissions officers, alumni) and what is the nature of the interview (resume-based, application-based, behavioral)? Will your admissions interviews be in-person or virtual for the 2023-2024 admissions season?
IK: Once the Admissions team completes the initial assessment of all applications that have been submitted, the strongest or most competitive applications are invited for the admission interview. The interview is conducted by an Assistant Director on the Admissions team and is a combination of resume-based and behavioral questions testing for key competencies for success in the business school environment and the workplace. We prefer doing in-person interviews whenever possible, but we will continue doing virtual admission interviews if we are unable to meet our international applicants in person. 
CA: What is your testing policy? Do you offer exam waivers? Why or why not?
IK: We require that all applicants submit either a GMAT or a GRE test score. Applicants who have completed CFA 2, CFA 3 and CFA Charterholders are exempt from taking the GMAT or GRE. We have not waived the GMAT requirement or made it optional because our research has shown a strong positive correlation between an applicant's test score, their academic performance in the program, and their post-MBA employment outcomes so it is a good predictor of how an applicant would do in an academically rigorous and quantitatively heavy program, and often it informs our student support staff of additional resources, courses or boot camps that students have access to if required prior to the start of the program. 
CA: Could you tell us about the waitlist? What can waitlisted applicants do to maximize their chances of being accepted to your program? Does your office allow for waitlisted applicants to submit additional materials (e.g. letters of support, job updates, new test scores, etc.)?
IK: Definitely! We encourage candidates on the waitlist to continuously try to improve their application in order to increase their chances of being admitted into the program. An improved GMAT score, increased responsibilities at work or a job promotion, additional extra-curricular activities, courses, certifications or designations can significantly improve an applicant's chances of being taken off the waitlist and admitted into the program. 
CA: Tell us briefly about two popular courses at your institution.
IK: Catastrophic Failure in Organizations taught by Prof. Andras Tilcsik. This course is for students interested in understanding what makes modern business organizations vulnerable to catastrophic failure and how strategic and organizational design choices can mitigate the risk of such failure. The course is particularly suitable to those with an interest in consulting, general management, leadership, and change management.
Sustainable Finance taught by Prof. Jan Mahrt-Smith. This course prepares students for emerging jobs where future leaders must apply their commerce training together with a deep understanding and appreciation for sustainability issues and goals. Examples of these jobs range from finance roles in asset management, where ESG/CSR and other sustainability objectives and measures (e.g. fossil fuel divestment, social justice, development etc.) are fast becoming required currency, to roles inside large and small non-financial corporations and non-for-profit institutions where financial literacy and finance skills are required in the pursuit of goals related to sustainability.