Weekly Roundup for Clear Admit's MBA Podcast
In this week's MBA Admissions podcast we began by discussing the MBA application deadlines and interview releases for this week. The past week has seen Round 1 interview invites on MBA LiveWire for UPenn / Wharton, Columbia, UCLA / Anderson, Georgetown / McDonough, Emory / Goizueta, as well as Berkeley / Haas, Stanford, and Cornell / Johnson.
Graham highlighted two upcoming events that Clear Admit is hosting. Our monthly Clear Admit+ event is on Wednesday at 12 pm ET; we also have two events for candidates who are targeting deferred admissions, featuring Berkeley, Columbia, Chicago, Carnegie Mellon, Harvard,  Stanford, Wharton, UVA Darden, and Yale.  Signups for these deferred admissions events are here: https://bit.ly/declearadmit
Graham then highlighted recently published stories from Clear Admit's new sustainability series, featuring Yale SOM and Duke / Fuqua. He then noted the publication of an admissions tip that focuses on video-based interviews, and a schedule for Round 2 deadlines. The majority of those deadlines fall on three consecutive days after the new year, making things challenging for candidates targeting those programs.
We then discussed the recently published employment report for NYU / Stern. Like other recent employment reports, the numbers are impressive, with an average starting salary of $175,000. Consulting is the largest employer, moving ahead of finance, which was a little surprising.
Finally, we discussed two Real Humans pieces, one from INSEAD and one from Cornell / Johnson.
As usual, for the candidate profile review portion of the show, Alex selected three ApplyWire entries:
Three MBA Admissions Candidates Reviewed.
This week's first MBA admissions candidate appears to have very decent work experience in consumer packaged goods. They also have a very solid GRE score of 331. Their GPA is a little lower than the medians of the programs they are targeting. They did undertake lots of extra-curricular activities while at university. They applied to several programs in Round 1, with interview invites to all their targets except for Wharton.
This week's second MBA candidate is a mechanical engineer with only one year of work experience. They are hoping to apply next season, with two years of experience. They still need to take the GMAT. We had a good discussion on whether two years of work experience will optimize their opportunities in terms of MBA programs.
The final MBA candidate is a first-generation immigrant, based in Philadelphia. They have had a very unorthodox career, to date, and are now completing their undergraduate degree. But we think they have a very interesting story to tell. Their GPA is outstanding. They still need to take the GRE. And we think they should broaden their list of target programs.
331 GRE, CPG candidate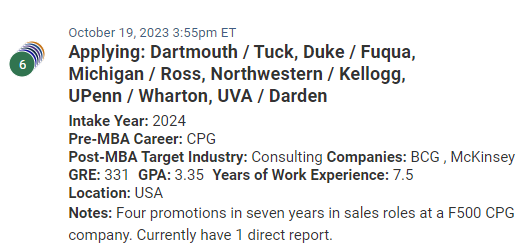 Mechanical Engineer, two years of experience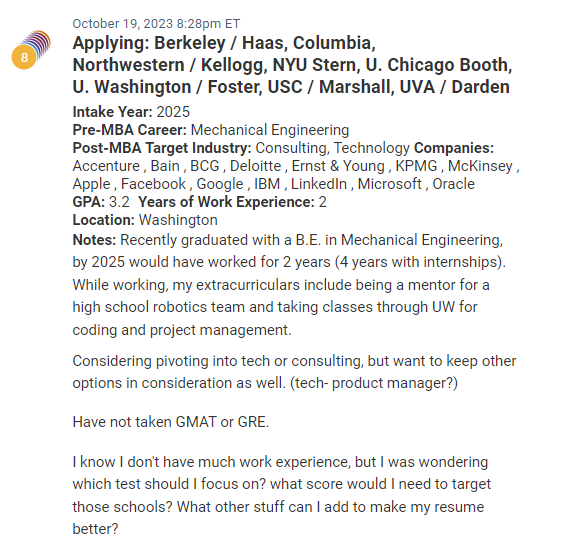 First-generation immigrant, IT experience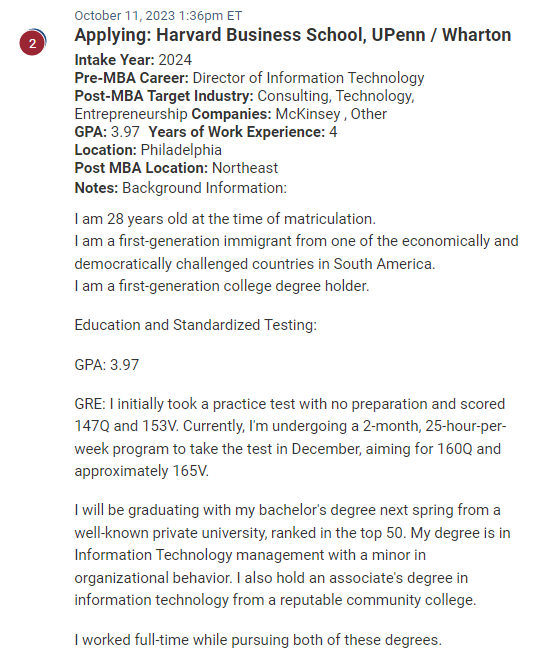 Happy listening!
---
This episode of Wire Taps is brought to you by Emory Goizueta.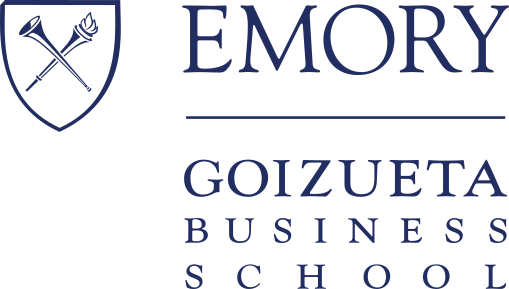 For more than 100 years, Emory University's Goizueta Business School has been a training ground for principled leaders and a laboratory for powerful insights. Whether you're looking to accelerate your career or make a career pivot, Emory's One-Year and Two-Year Full-time MBA programs prepare you for a lifetime of career confidence. Learn more about Emory's top-20 MBA with top-5 career outcomes offering world-class academics and small-by-design classes delivered in a dynamic, global city. Learn more.
---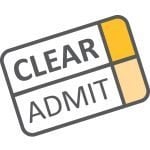 Be sure to post to MBA ApplyWire, MBA DecisionWire or MBA RankingsWire if you'd like Graham and Alex to offer admissions advice.
If You Like What You've Been Hearing, Please Subscribe and Rate Us!
It's been wonderful seeing the audience for our podcast series continue to grow! Please, if you have enjoyed what you've heard, could you rate and review the Clear Admit MBA Admissions Podcast wherever you listen? This is the best way to help more listeners find us. Also, to ensure that you never miss an episode, please subscribe to the podcast.
This episode was hosted by Graham Richmond and Alex Brown, and produced by Dennis Crowley. Thanks to all of you who've been joining us!