Weekly Roundup for Clear Admit's MBA Podcast
In this week's MBA Admissions podcast we began by discussing the MBA application deadlines and interview releases reported over the past week. We are seeing Round 1 interview invites on MBA LiveWire continuing to roll out for Berkeley / Haas, Stanford, Cornell / Johnson, and several other programs.
Graham highlighted the deferred admissions events that Clear Admit is hosting, which begin this Wednesday, with Harvard, Stanford, UPenn / Wharton, Chicago / Booth, and UVA / Darden. Signups for the two deferred admissions events are here: https://bit.ly/declearadmit
Graham then mentioned a recently published story for Clear Admit's sustainability series, from Berkeley / Haas, as well as Clear Admit's "spooky" admissions tips. He then asked listeners for some help with our fall survey for MBA applicants, which will allow MBA programs to better understand candidates' communications preferences. You can access the survey here: https://bit.ly/clearadmitfallsurvey
We then discussed two Real Humans pieces, one from Emory / Goizueta and the second from Boston College / Carroll.
As usual, for the candidate profile review portion of the show, Alex selected three ApplyWire entries.
Three MBA Admissions Candidates Reviewed.
This week's first MBA admissions candidate has super numbers, a 770 GMAT and 3.94 GPA. But they only have two years of work experience. We discussed the advantages of applying now, versus waiting for another year, with more work experience.
This week's second MBA candidate also has a great GMAT (760). They have 10 years of experience, and are now based in Australia. They are of Indian heritage, but with Australian citizenship. They are debating whether to target Round 2 with additional applications (they applied to a couple of programs in Round 1) or wait until next season. We suggest they target Round 2 as a first step.
The final MBA candidate comes from the military and speaks fluent mandarin. They are also seeking a joint degree with International Relations. We are very interested in their long term goal, and how that fits their narrative. But their overall profile could be very appealing to MBA admissions committees.
770 GMAT, 2 years of experience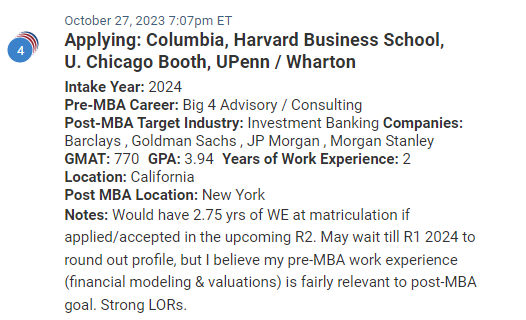 Indian, moved to Australia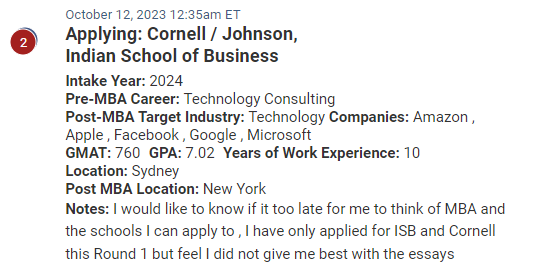 Army, speaking fluent Mandarin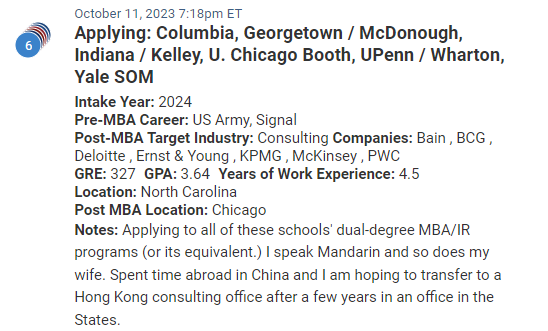 Happy listening!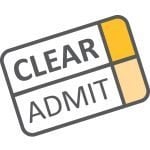 Be sure to post to MBA ApplyWire, MBA DecisionWire or MBA RankingsWire if you'd like Graham and Alex to offer admissions advice.
If You Like What You've Been Hearing, Please Subscribe and Rate Us!
It's been wonderful seeing the audience for our podcast series continue to grow! Please, if you have enjoyed what you've heard, could you rate and review the Clear Admit MBA Admissions Podcast wherever you listen? This is the best way to help more listeners find us. Also, to ensure that you never miss an episode, please subscribe to the podcast.
This episode was hosted by Graham Richmond and Alex Brown, and produced by Dennis Crowley. Thanks to all of you who've been joining us!