Hello and welcome to Fridays From The Frontline, Clear Admit's weekly blog post that follows the frenzied lives of MBA applicants and student bloggers. This week newly admitted students and those targeting the 2013-2014 cycle elaborated on school choice and studied for the GMAT. Many current students wrote on the topics of travel and recruiting.

MBA Over 30 got a taste of the Wharton community's sense of humor when he was "roasted" for declaring the CBS Follies performance funnier than Wharton's own event by current Wharton students. Sassafrass thought it might be worthwhile to reiterate his reasons for choosing to pursue an MBA given his non-profit background.  HammO continued to discuss additional schools he plans on targeting for the 2013-2014 application season. The Poetic Quant took advantage of free software and practice tests to begin his GMAT prep, which resulted in a base GMAT of 640 but confidence that with additional study that score would increase.

Tepper '14 Ccatcher described the change in her 'internship weather,' noting that it simply "rained" recruiting interviews. Manchester '14 Manchester Blog began his third term and commented on the absence of recently graduated second year students. Ross '14 Aren wrote about his MAP experience in India, sharing photos of a rather unique animal and of other fun activities he took part in during his time in the country. McCombs '14 Kurt "learned from geeks."

LBS '13 Sarfraz fully enjoyed his LBS social Trek with fellow classmates and reported 40 new Facebook friends as just one of the results of the trip. Kellogg '13 Rakesh attended an event featuring the Vice Chairman of Tata Steel. Tepper '13 Julianne continued her search for the perfect post-MBA position and reviewed her interview notes in order to ensure she was sharing the most interesting and current elements of her candidacy. Darden '13 Jeff reflected on the transformational process his Darden years have been.
And that's a wrap for this week's Fridays From The Frontline. Until next week, have a wonderful weekend and enjoy the spring weather!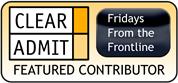 Want to join the Fridays From the Frontline community and see your blog featured regularly in this column? Just follow this link and add the FFF badge to your blog and then  email us at [email protected] with your URL so we can make sure to add you to our weekly roundups.