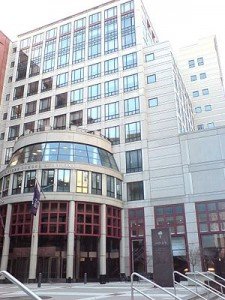 As part of its Short List series, U.S. News & World Report today took a closer look at the student debt load incurred by full-time MBA students graduating from top business school programs. According to data provided by schools as part of its annual ranking, U.S. News found that full-time MBA graduates in 2012 emerged with an average of $49,619 in debt. At the 10 schools where graduates incurred the most student debt, the average per student was $97,154.
Graduates of New York University's Stern School of Business top the list in terms of average debt. There, the average graduate has a debt load of $105,782. Six figure debt is also the norm for graduates from the University of Virginia's Darden Graduate School of Business Administration, the Fuqua School of Business at Duke University and the Massachusetts Institute of Technology's Sloan School of Management, U.S. News reports.
Notably, all but one of the top 10 schools in terms of student debt load are also among the top 16 business schools in U.S. News annual ranking of top MBA programs. "Students at the highly rated schools are often destined to make high salaries, which may be why students are able to take on such substantial debt," the Short List article points out. For example, NYU Stern graduates report an average starting salary and bonus of $133,919, according to U.S. News data.
Here are the top 10 schools in terms of average student debt load, as compiled by U.S. News:
NYU's Stern School of Business: $105,782
UVA's Darden School of Business: $105,490
Duke's Fuqua School of Business: $102,054
MIT Sloan School of Management: $100,212
UMichigan's Ross School of Business: $95,720
Cornell's Johnson Graduate School of Management: $95,600
Yale University School of Management: $95,235
Dartmouth's Tuck School of Business: $94,512
Northwestern's Kellogg School of Management: $88,740
Thunderbird School of Global Management: $88,195