Fridays From the Frontline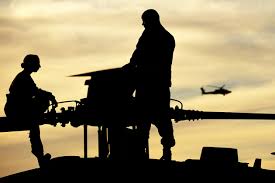 Hello and welcome to Fridays From the Frontline, Clear Admit's weekly roundup of the ruminations of the b-school blogosphere. This week, several of our 2016 applicants weigh in with  recommendations, from audio books to MBA programs, while current students take stock of the MBA experience, including the challenges and rewards of transitioning from the military to pursuing an MBA.
MBATheNonProfitWay has made a resolution to switch her audio-book listening habit away from fiction to various business related books. The first selection, "The McKinsey Mind" did not fare so well in review. JourneyOfaGMATer took some time to share insights on the definition of 'problem', while Sarah'sMBAJourney hasn't given up on the idea of pursuing the MBA, and is now looking at a Cranfield MBA, although she does have some concerns and is open to other options as well. 

Trey House, INSEAD '14D has a thoughtful post on takeaways from P2; central to his post was the realization that the charisma of his professors and the camaraderie of his team were essential factors for his success thus far at INSEAD.  Paul Escajadillo Fuqua '15 discusses his experience transitioning from a soldier to MBA student, and building on his seven years of military experience to become a student leader for Fuqua's China Global Academic Travel Experience.  In that same vein, MilitaryToBusiness has a guest post from a Wharton '14 student, outlining his journey leaving the military after ten years of service.  As he's finishing his final year at Wharton, he considers the path he's taken, and relishes the opportunity he's had to 'start again with a little more wisdom'.
And that's all the news for this week's edition of Fridays From the Frontline. As the East Coast of the United States finally welcomes the merriment of May,  we hope to enjoy pleasant weather ahead. We  also hope that applicants continue to update us with information about statuses and future plans, and that current students also update their blogs with the latest from their campus and classroom lives.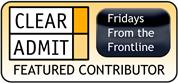 Want to join the Fridays From the Frontline community and see your blog featured regularly in this column? Just follow this link and add the FFF badge to your blog and then  email us at b[email protected] with your URL so we can make sure to add you to our weekly roundups.