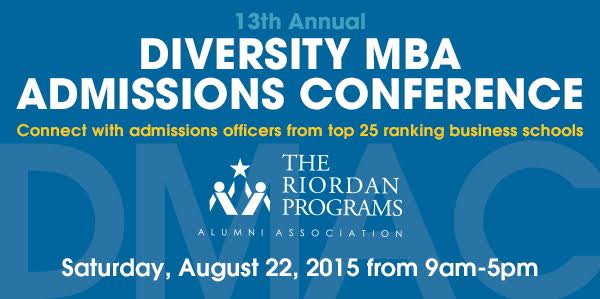 Admissions representatives from 25 leading business schools meet with prospective business school applicants today in Los Angeles as part of the 13th annual Diversity MBA Admissions Conference (DMAC). This annual event is organized by the Riordan Programs Alumni Association (RPAA), a Los Angeles‒based organization devoted to helping prepare high school and college students and recent college graduates from diverse backgrounds and underserved communities for careers in management.
Admissions team members from Columbia Business School, Cornell's Johnson School, Dartmouth's Tuck School, Harvard Business School and the Stanford Graduate School of Business are among the more than two dozen slated to attend. Prospective MBA applicants who attend will get to interact directly with admissions directors from top schools face to face as part of small-format roundtable sessions, learning about the schools' curriculum and student culture as well as each school's admissions process.
In addition to meeting with admissions staff, participants will also take part in workshops and panel discussions designed to help craft competitive applications as well as learn about scholarship, fellowship and grant opportunities. Billed as the "only event of this kind on the West Coast," DMAC attendance is purposefully limited to allow for quality personalize interactions.
Learn more about the annual Diversity MBA Admissions Conference and the Riordan Programs Alumni Association.