London Business School (LBS) kicked off the week with an announcement that it will have a new dean beginning a year from now. François Ortalo-Magné, currently the dean of the Wisconsin School of Business at the University of Wisconsin-Madison, will serve as LBS's ninth dean starting August 1, 2017, succeeding Sir Andrew Likierman, who will return to the faculty after his serving in the role since 2008.
"I am delighted to be joining London Business School, an institution with an enviable reputation as one of the world's leading business schools," Ortalo-Magné said in a statement. "It has achieved so much in its short 50-year history, and I'm excited by the prospect of leading the school to even greater success as it embarks on its next 50 years."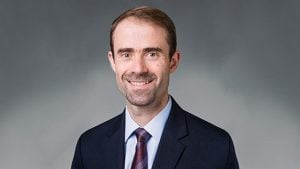 An expert in the economics of real estate and land use, Ortalo-Magné chaired the Wisconsin school's Department of Real Estate and Urban Economics before being named dean in 2011. He also helped develop a partnership between the U.S. school and three leading international business schools—HEC Paris, Hong Kong UST School of Business, and INCAE Costa Rica—to establish a new Global Real Estate Masters (GREM) degree program.
Ortalo-Magné is no stranger to London, having spent more than seven years as a lecturer at the London School of Economics at the start of his career. The 48-year-old father of twins also advised the French government on land use and housing policy issues as a member of the Conseil Economique du Dévelopement Durable and was awarded the distinctions of Counselor of Real Estate (United States) and Fellow of the Royal Institution of Chartered Surveyors (United Kingdom).
"We are thrilled that François will be joining us next year," Apurv Bagri, chairman of LBS's governing body, said in a statement. "During his time at Wisconsin he has demonstrated an ability to grow and strengthen faculty, raise substantial funds improve the student experience and enhance the organisation's brand. He is ideally placed to take us forward and build on the great work that Sir Andrew Likierman has achieved. London Business School goes from strength to strength and I'm confident that François will continue to enhance its reputation for academic excellence and the delivery of world class degree and executive education programs."
Indeed, Ortalo-Magné joins LBS at an exciting time. Just days from now, on July 31st, the school will end a campaign launched in 2013 to raise £100 million. With more than £125 million ($177 million) pledged to date, the five-year goal was surpassed in just three years' time. This was thanks in part to a generous £25 million gift from alumnus Idan Ofer, an Israeli billionaire, followed by a second £25 million just last month by alumnus Jim Ratcliffe, chairman of chemicals business Ineos.
Of the funds raised, £40 million have gone toward renovations of Old Marylebone Town Hall, a landmark building LBS acquired in 2012. To be named the Sammy Ofer Centre, after alumnus Ofer's late father, it will expand the school's teaching space by 70 percent when it opens later this year. The remainder of the funds raised are earmarked for 800 additional scholarships, three new research centers and the hiring of new faculty, which as dean, Ortalo-Magné will certainly play a hand in.
In an email to Clear Admit, David Simpson, who heads admissions for LBS's MBA and Masters in Finance programs, echoed the excitement around the naming of a new dean at a momentous time in the school's history.
"We are very excited by the announcement of a new dean for next year," Simpson writes. "Having worked at London Business School for many years I have had the pleasure of working for some outstanding leaders, each of them taking the school to the next level. Sir Andrew Likierman led us through a very successful fundraising campaign, enabling us to expand our campus. So with a fantastic new building and a new dean these are exciting times ahead for London Business School."
Summer is the season of deans' comings and goings. Ortalo-Magné's appointment follows announcements of Sunil Kumar's departure from Chicago Booth to serve as provost of Johns Hopkins University, Mark Nelson's appointment as the new dean of Cornell's Johnson Graduate School of Management, and David Thomas's departure from Georgetown's McDonough School, all also made this month.