If you're a Round 1 applicant to Harvard Business School (HBS) crossing your fingers for an interview invitation (slated to go out in batches starting next week) or even if you're working toward a later round deadline, what better time to get to know more about the school's new head of admissions? Chad Losee, 32, joined HBS last May as managing director of MBA admissions and financial aid, succeeding 10-year veteran director Dee Leopold.
Losee still vividly remembers his own journey through the HBS admissions process—not surprising given that it was a mere six years ago. After earning his undergraduate degree in International Relations at Brigham Young University (BYU) in 2008, Losee set off to work in the Dallas office of Boston-based management consulting firm Bain & Company. A couple of years into the job, in part inspired by the many talented MBAs he worked with, he began to feel the pull of business school himself.
As an applicant, sitting in on a class at HBS and witnessing the case method first hand dramatically narrowed his list of target schools. He applied to HBS and just one other program, Dartmouth's Tuck School of Business, also known for its focus on the case method.
His time at HBS helped him develop what he today believes is one of the most important skills a leader can have—the ability to listen well. "In the case method there are 90 people in a classroom, and I have never more actively listened in my life," he told us. Upon returning to consulting at Bain after completing his MBA, he was a better listener and therefore an entirely better leader, he says.
But he didn't return to Bain immediately upon graduation from HBS. He first spent a year working as a fellow for HBS Dean Nitin Nohria. This stint was the outgrowth of an interest in higher education that dates back to Losee's undergraduate years, one that resurged when he got back onto campus at HBS. This interest spurred him to work as an admissions ambassador while a student and also to spend the summer between his first and second MBA years working as an associate in the office of former HBS Dean Kim Clark, who was then president of BYU-Idaho.
His time with Clark motivated him to seek out a similar opportunity with Nohria before returning to Bain, and what was initially intended to be a few months stretched into a full year as a leadership fellow and later assistant director of HBX, HBS's unique digital learning platform. He got to work on the HBX platform and launch and also co-led the exam and credential strategy of CORe (credential of readiness), a set of three fundamental courses in accounting, business analytics and economics that form the HBX foundation. He also sat on the HBS Board of Admissions during that time, providing an up-close look at what has now become his every day.
"Coming out of a year spent in the dean's office after I graduated from HBS, I felt really strongly that at some point in my career I wanted to get back to higher education," he says. That said, he never dreamed that day would come so soon—just a year and nine months into his role as a manager at Bain.
But despite the fact that he was really enjoying his work at Bain and had planned to stay longer, there was no passing up this opportunity. "This role is one where I feel like I can make a difference," he says. "Those earlier experiences taught me I would find meaning in a role in higher education and that HBS was a place where I feel like I can really make a difference."
It's also a role he says he feels extremely grateful to have been chosen for, although he beat out more than 100 other candidates in a search process the school described as "open and competitive." "Chad's credentials as a strategic problem-solver and his grasp of the challenges and opportunities in management education today helped him stand out among the finalists," Senior HBS Associate Dean Felix Oberholzer-Gee said in a statement at the time he was hired. Of course, Losee also was a Baker Scholar at HBS, graduating in the top 5 percent of his class, and he clearly made a favorable impression in his time working for Nohria.
We're very grateful to have had a chance to speak with Losee as he settles into this new role—amid his hectic schedule of recruiting trips to every part of the globe and the (digital) stack of Round 1 applications he is making his way through.
Read on to learn from Losee himself about what's been most daunting about stepping into Leopold's shoes, his commitment to continued transparency in the admissions process and what he sees as some of the greatest challenges facing the HBS MBA program today when it comes to educating the next generation of leaders to shape the world.
Clear Admit: You were an admissions ambassador while at HBS. Did you ever imagine then that you'd be in this role now?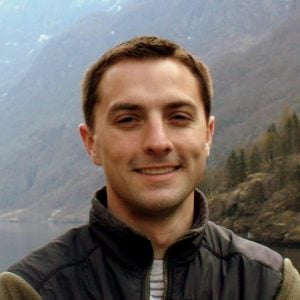 Chad Losee: Laughs. No, I didn't. It is a dream opportunity for me. That experience was my first entree into admissions, and as an admissions ambassador my role was to meet with prospective students, introduce them to current students and bring them to class. I found that I really loved meeting with people who were eager to learn what I was getting out of an MBA. It was very easy for me to put myself in their shoes—coming to HBS and sitting in a case method class changed my whole experience in terms of the research I was doing regarding potential business schools.
I especially enjoyed talking with prospective applicants, understanding their background and aspirations, and then bringing them to class. Afterwards I would ask them, "How did it go? What did you think?" to hear their genuine reaction to the case method and gauge how excited they were to be at HBS.
In fact, my interest in higher education was pretty longstanding. It was born in my undergrad years, and then it was revived when I got back on campus at HBS, which is why I wanted to be an admissions ambassador. I wanted to understand what that interest was about.
In addition to being an admissions ambassador, I also got the chance to work for Kim Clark, who used to be the dean here [1995-2005]. Going into that experience, I really looked at it as a way to test out what it would be like to have a job in higher education. I was trying to learn about the experience but also about myself, and I came away just so enthralled by the process of working in higher education.
I got to work on a bunch of different projects for Dean Clark, and that turned into an opportunity to work for the current dean, Nitin Nohria, after I graduated. Coming out of a year spent in the dean's office after I graduated from HBS, I felt really strongly that at some point in my career I wanted to get back to higher education.
But I never thought it would come as soon as it has. This role is one where I feel like I can make a difference. Those earlier experiences taught me I would find meaning in a role in higher education and that HBS was a place where I feel like I can really make a difference.
CA: What has felt most daunting to you stepping into the role? Most exciting?
CL: I have just been reading Round 1 applications, and frankly I am just so inspired. I just sit back, and I am inspired by the stories or the aspirations people have in ways both big and small—the ways they are showing leadership and the ways they are making a difference in the world. But having to choose who out of this incredible pool will come to HBS—that is also daunting and very hard. What I have been trying to use as my guiding light is this: The people we are looking for are the people who are looking to become great leaders, but also to give back to the community and not just take from the community.
In my mind's eye, I am also trying to imagine what this person will bring to a class discussion. The case method is really the core of Harvard Business School and its general management program. So it's hard, but what we all try to imagine is what would this applicant bring to class discussion, to the HBS community, and to the world after they graduate.