In the wake of police shootings in Tulsa and Charlotte—leaving two fathers dead—African-American business school students and their allies have come together at leading MBA programs to grieve the loss of life and invite discussion around issues of race and policing.
A small group of students at the University of Pennsylvania's Wharton School gathered Tuesday evening (Sept. 20th) following the release of video of Terence Crutcher, 40, being shot in Tulsa, Oklahoma, on September 16th. In the video, Crutcher appears to be walking away from police with his hands in the air.
Crutcher, African-American, was killed by white Officer Betty Shelby, re-igniting ongoing distress across the nation stemming from the seemingly ceaseless death of innocent black citizens at the hands of police. The Tuesday evening gathering of Wharton students included leadership from the African-American MBA Association (AAMBAA), Return on Equality (ROE)—a coalition of student groups advocating for diversity and inclusion—and several allies representing other groups on campus.
Together, they arrived at a plan designed to help engage the Wharton community in dialogue. Just hours later, news about the shooting death of Keith L. Scott, 43, by Officer Brentley Vinson, in Charlotte, North Carolina, came through, reinforcing the need for action.
Hopes of Opening Dialogue Across Group Lines
"Issues of race and policing are incredibly complicated and important to discuss but those conversations rarely happen where they should—across group lines," says Dimia Fogam (WG '17), AAMBAA president. "In response to the shootings in Tulsa and Charlotte, the African American MBA Association, in the hopes of opening that dialogue, invited our classmates and friends at Wharton to wear black as an indication of their willingness to engage in those conversations."
The small group of 10 or so who arrived at the plan got word out via Facebook, GroupMe and text message, and on Wednesday (Sept. 21st) at 12 p.m., more than 300 members of the Wharton community turned out, dressed in black, both to grieve and to invite classmates to engage in discussion. African-Americans currently account for between 3 and 5 percent of the Wharton MBA student body.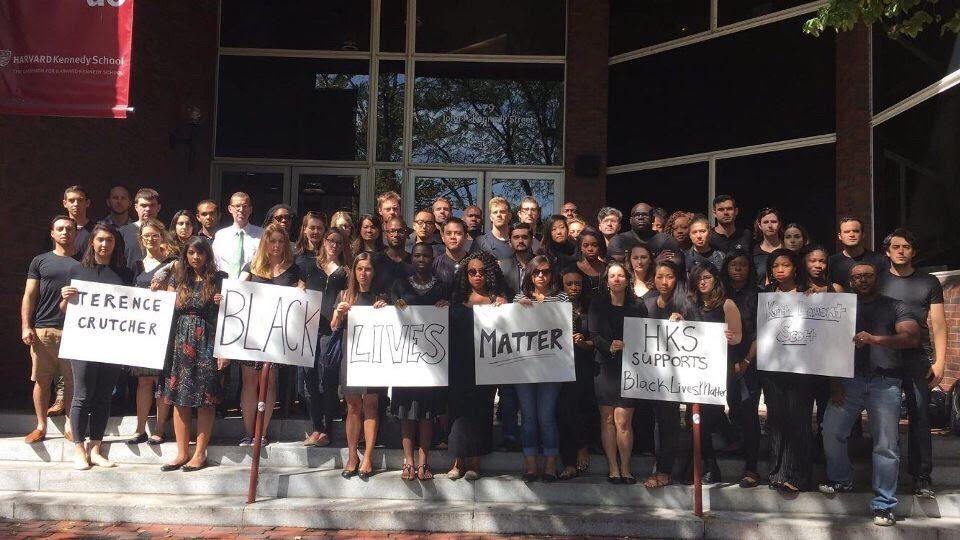 The message sent out across the Wharton community:
"I am wearing black this week. I will be doing so along with AAMBAA and allies in the Wharton community. I will be wearing black because I am mourning the unjust loss of another black human being—Terrence Crutcher—at the hands of law enforcement. I am also wearing black to encourage you to engage in a conversation about issues of race and political violence in the U.S. When you see me, please ask me about this. I would also love if you would join me in solidarity by wearing black as well.

Tomorrow at 12 p.m., join us to take a picture outside the MBA café to demonstrate the commitment of our Wharton community to these issues."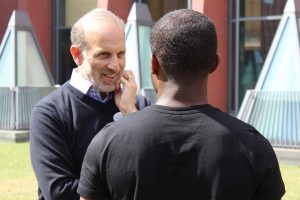 Some professors and administrators who heard of the plan through word of mouth also joined the gathering, including Vice Dean Howard Kaufold. Wharton students at the Semester in San Francisco, as well as those in a dual-degree program at the Harvard Kennedy School, also assembled to show solidarity on the West Coast and in Boston.
On Thursday (Sept. 22nd), meanwhile, MBA students at leading business schools around the country joined in. NYU's Stern School of Business, Columbia Business School and Northwestern's Kellogg School of Management took part, Dean Nitin Nohria stood with students at Harvard Business School, and the entire student body of the UC Berkeley Haas School of Business, minus students studying abroad, stood together to show their support.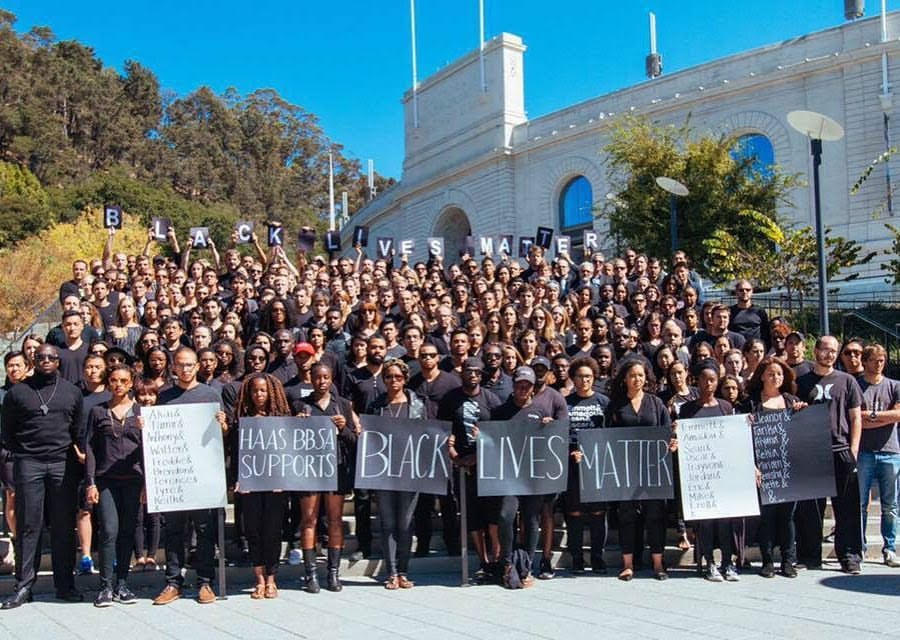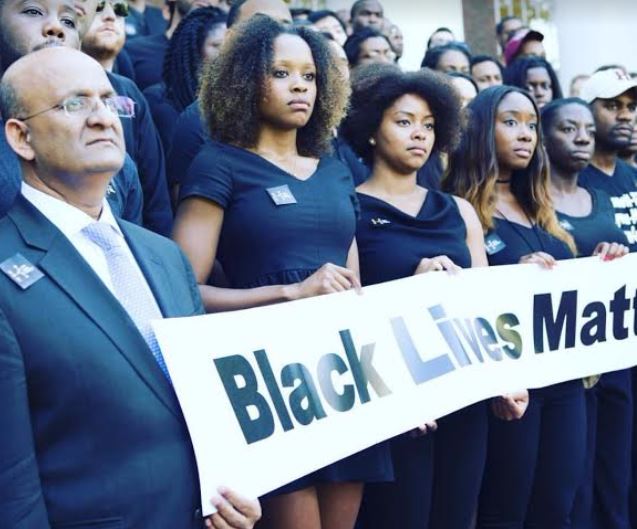 "It was an amazingly impactful show of solidarity that started conversations across campus, and that spread to similar initiatives at many of our peer schools," Fogam says. "It is our hope that this was just a spark in a bigger and deeper dialogue among future business leaders that leads us all to be more informed, empathetic and open to difficult conversations."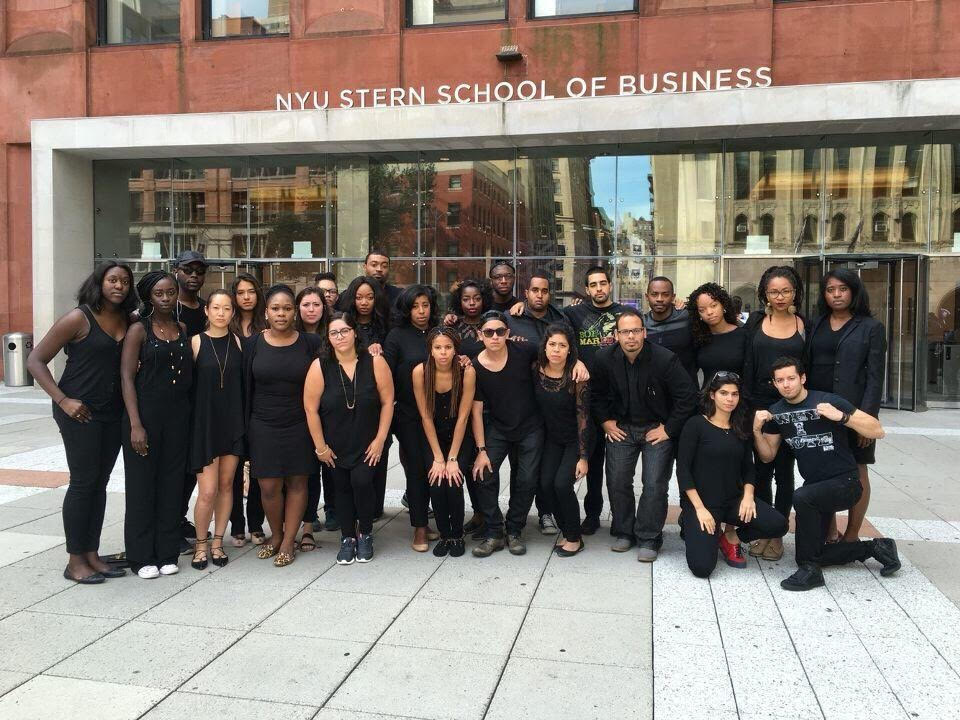 Divinity Matovu (WG '17), one of the Wharton students involved in the initial planning stages for Wednesday's gathering, notes that an important part of this effort has been educating her international classmates, many of whom don't fully understand the complexities of race in the United States. She also has been especially struck by the responses of some of her white classmates. "They have been amazing," she says.
Classmates Take to Social Media to Urge Understanding
One, Jeffrey Ellington (WG '17), took to Facebook to share his perspective. As an undergraduate at Boston College, he minored in African and African Diaspora studies. (A major was not offered.) He chose this focus of study, he wrote, "because I thought the best thing I could do in college was to step into someone else's shoes and build a foundation to navigate the world with empathy for all people."
He went on to challenge others to seek to develop the same empathy:
"Today, if you're white, put your hands up and realize that often isn't enough. Look in the mirror and say 'that's a bad dude.' Think about the last time you pre-judged someone unconsciously for being black and challenge yourself to figure out why. Building empathy is the only way forward. We don't choose our skin, but we can choose what meanings we are going to ascribe to skin color. All of this can change, and it is not an exaggeration to say it changes one person at time. If this matters to you, start making that change.

Say something, share something, do something—just don't be quiet."
Another student, Alex Kubo (WG '17), also took to Facebook to take part in the dialogue. "This week I wear black in solidarity with the dissolution of generalization and with the disassociation of race and risk," he wrote. "I encourage you to have a conversation with me about it."
Kubo, who is biracial, encouraged others to fight the dangerously prevalent tendency toward stereotype and prejudice. "As a society we are so quick to generalize a population by the individual extremist acts of the smallest faction within them," he continued. "There are evil people in the world. There are evil black people, there are evil police, there are evil white people, there are evil Asian people, there are evil racially ambiguous people. But there are so, so many good people, of every race, religion, profession and sexual orientation that risk their innocent lives because of a predisposition that infests the weakened minds of people flogged by sensationalist generalizations."
At the same time, he praised the courage, commitment and decency of many members of law enforcement. "I also feel sympathetic for the vast majority of police officers that put their lives on the line each and every day to protect citizens who rarely make their gratitude known," he wrote. "Perhaps because their gratitude has been dulled into an expectation after taking dutiful protection for so long. I've personally known several police officers, and count some as good friends. I've met kind and gentle men and women who quietly brave the streets every day, kissing their families goodbye each morning knowing full well that the job that provides an income for their families to live can be the same job that breaks their family apart forever. I've also met horrible people who wear the same badge."
A Continuing Conversation
Encouraged by these messages on social media as well as multiple private messages of support, Matovu, like Fogam, is hopeful that this week's events are the beginning of a discourse that will extend beyond Wharton and beyond business school campuses as it shapes and expands the horizons of tomorrow's business leaders.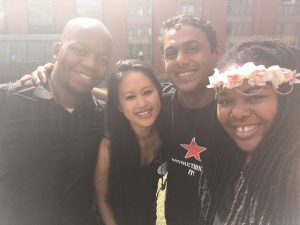 "What we are trying to do is have a coordinated, strategic effort by black students and their allies across the business schools to engage people in discussions about race in the United States—about how it impacts business and about how police violence affects us in our communities," Matovu says.
The ultimate trajectory of these most recent police shootings is unknown. As of this writing, Shelby has been charged with first-degree felony manslaughter. If convicted, she could face a jail sentence of between four years to life. In Charlotte, police claim that Officer Vinson, who is also African-American, shot Scott because he was holding a gun, but family and friends say he was holding a book as he waited for his son to be dropped off from school. Police say they do not plan to release video of the incident to the public. A citywide curfew was put into place in Charlotte Thursday evening in response to three consecutive nights of sometimes violent protests.
At Wharton—as the facts of the cases unfold—the conversations will continue. Next Wednesday, September 26th, Wharton AAMBAA and ROE will host a forum called "Why Wharton Wore Black." Organizers hope the conversation will continue on other business school campuses as well.
Pictured at top: Wharton first-year MBA students Simone Thomas and Yolanda Walker embrace; Photo credit: Ashtynn Baltimore (WG '18)