As the new year approaches, those of us here at Clear Admit can't seem to resist getting on the "Best of 2016" list bandwagon. Forgive us! Looking back on the year, we thought we'd take this opportunity to highlight some of the best conversations that have ensued between applicants on MBA LiveWire. Though not immune to occasional trolling, the activity on LiveWire has been overwhelmingly positive, with applicants from all over the world asking one another for admissions intel and decision advice or simply commiserating about how torturous it can be waiting to hear word from your top choice school.
Our thanks to the MBA LiveWire community. Your thoughtfulness and compassion toward one another make us proud of the kinds of users our forum attracts. Wishing lots of good news for you all in 2017. And for those of you who've already received good news from your top schools and made a decision of where to attend, don't forget to share your choice on MBA DecisionWire!
Top 10 MBA LiveWire Threads of 2016
(For corresponding full MBA LiveWire threads, click on images below.)
10. A Berkeley Haas applicant offers a bit of self-deprecating humor about obsessive application-status checking behavior.


9. Applicants to H/S/W commiserate about having "all their eggs in the HBS basket" until one user puts things into perspective.   

8. An applicant facing deposit deadlines for another MBA program asks the community if it's acceptable to ask the University of Chicago Booth School of Business admissions committee for an early decision and receives multiple thoughtful responses.

7. Does failing to send a post-interview thank you note hurt your chances of getting accepted? The community weighs in.

6. Two of several recent threads where an applicant facing a difficult decision of where to enroll turns to the community for guidance.
The overwhelming advice on the decision between Kellogg and Fuqua was to attend the school deemed more "prestigious."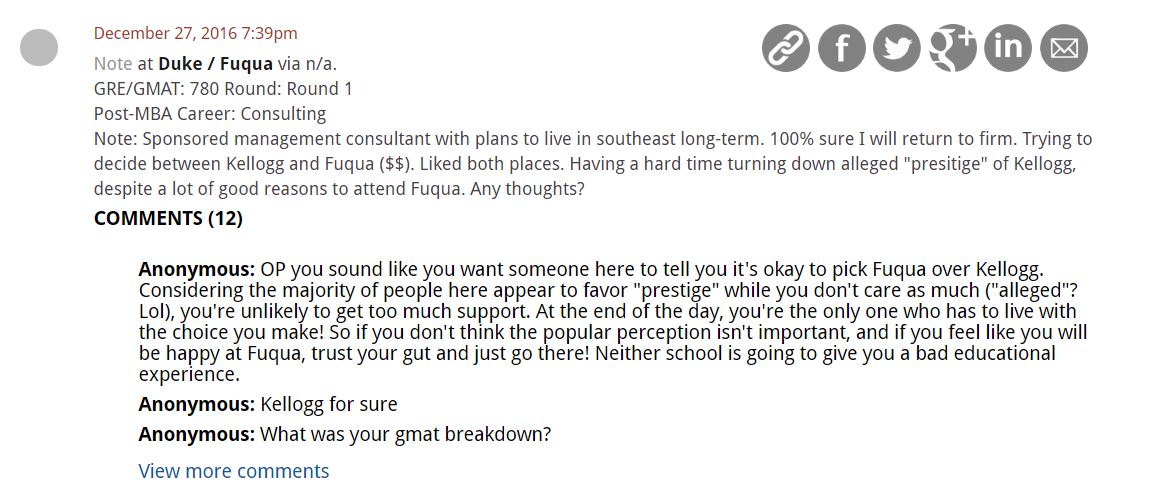 A choice between UCLA Anderson, Cornell Johnson and UW's Foster School for CPG marketing, meanwhile, draws mixed responses.


5. A mini-community of military veterans applying to Stanford GSB counsels each other.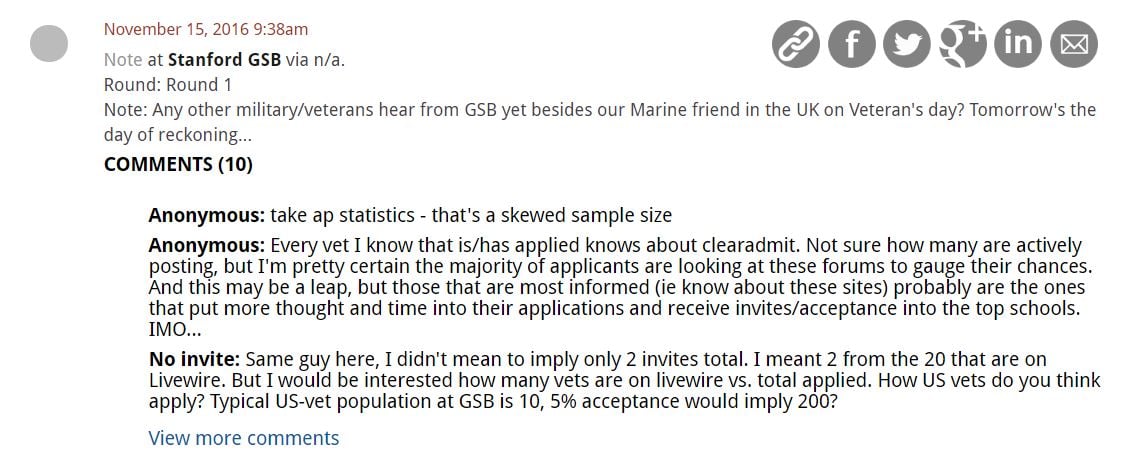 4. The delightful creativity that emerged among Stanford GSB hopefuls awaiting word—with numerous applicants turning to song lyrics to capture their anxiety. Adele's popularity—flat Grammy performance notwithstanding—was clear. But Lionel Richie, Notorious B.I.G., Jack Johnson, Aloe Blacc, Richard Marx, Ice Cube, Drake, Taylor Swift and Warren G lyrics also all provided points of departure for our creative-in-the-face-of-anxiety crowd. Eclectic musical tastes, we'll give you that.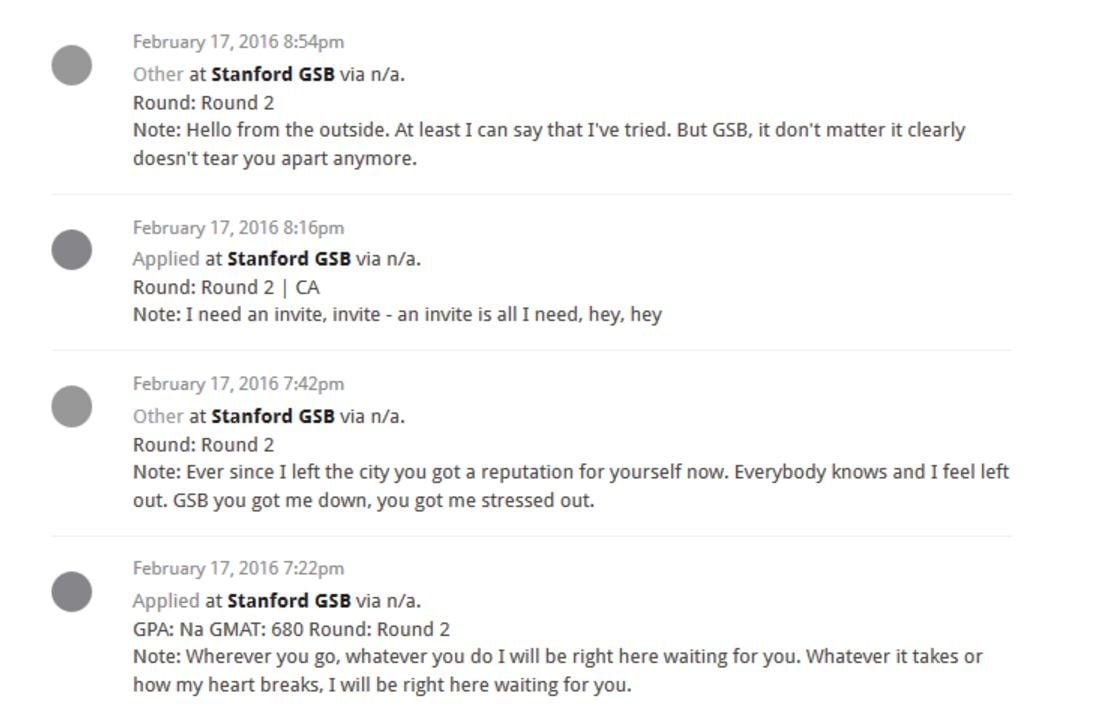 3. A post-U.S. election exchange on how a Trump presidency might impact some international students' decisions to enroll in a U.S. MBA program. (Unfortunately some of the vitriol of a contentious election season spills over into some of the comments.)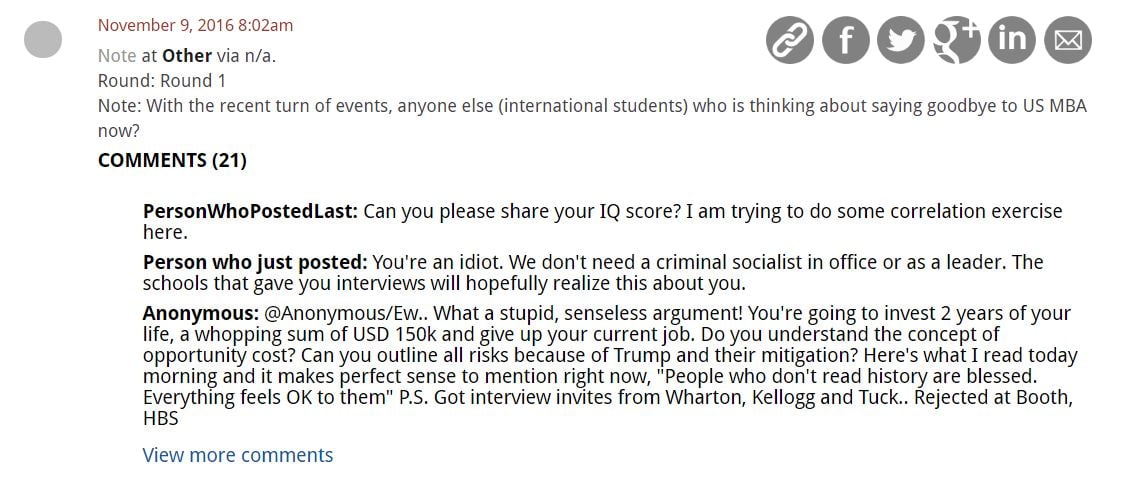 2. An exchange speculating on waitlist acceptance rates at a range of top schools.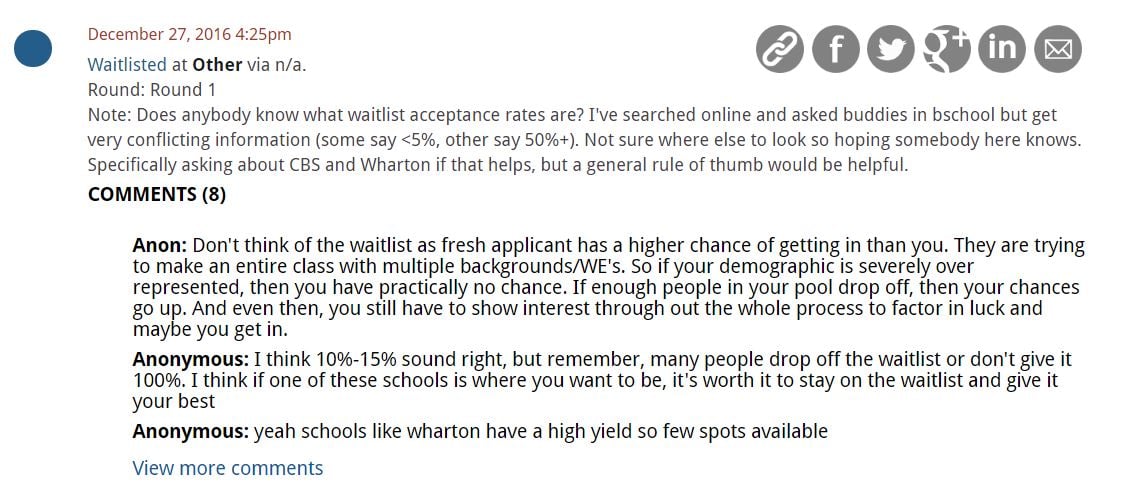 1. A thoughtful response from the community to a request for advice on choosing between Georgetown's McCombs School, UNC Kenan-Flagler, Carnegie Mellon's Tepper School and Indiana University's Kelley School.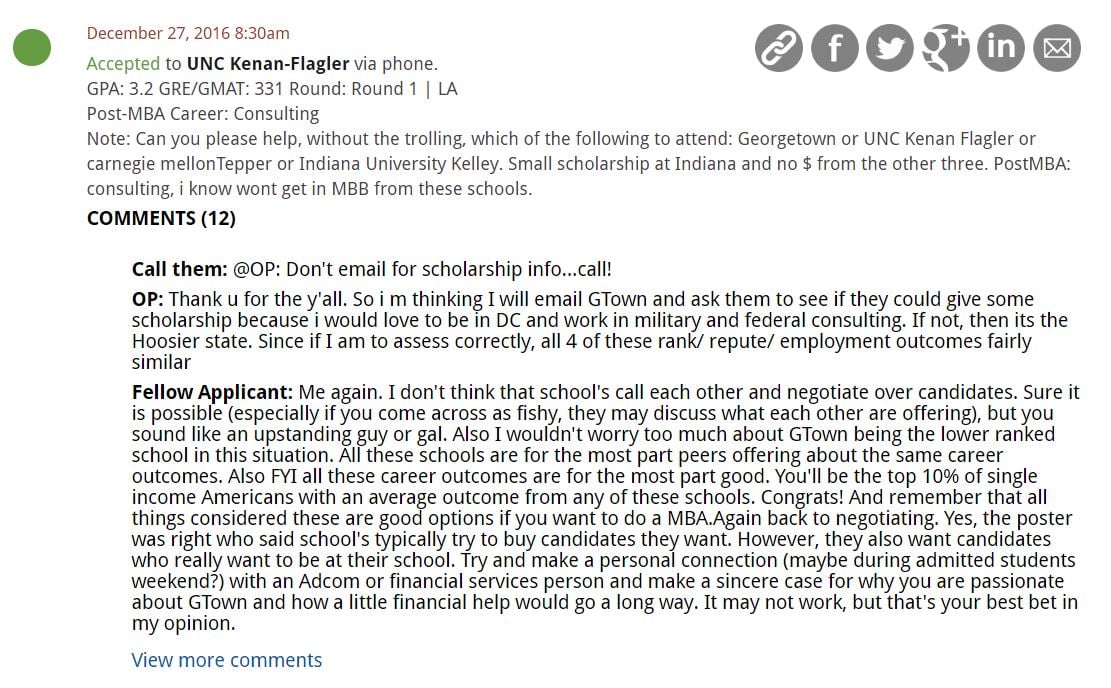 Thanks again for all the great engagement in 2016. Keep it coming in the new year!