Sally Blount, dean of Northwestern's Kellogg School of Management, announced in a video address to the school community yesterday that the coming year will be her last as dean. Her announcement comes seven years after she took the helm, becoming one of the only women to date to lead a top-ranked business school. Her departure will mark 30 years since she first came to Kellogg as a pregnant graduate student.
"Kellogg is in such strong shape, and I am so proud of all we have accomplished together," Blount said. "We are at an inflection point, and it's an ideal moment for a new leader to take the reins."
That inflection point comes in no small part thanks to Blount's leadership over the course of what she termed the school's "seven-year plan for transformation." Highlights of that transformation include exceeding a $350-million capital campaign fundraising goal—capped off by the school's first-ever $10-million annual fund year, which pushed the total raised to a record-breaking $365 million.
Over the course of Blount's tenure as dean, Kellogg has also welcomed record-setting classes across all of its degree programs. This year's incoming MBA class was not only one of its most diverse, but also one of its most highly qualified, with an average GMAT score besting both Harvard's and Wharton's. In just five years, the average GMAT score has risen from 708 to 732, placing Kellogg second only to Stanford Graduate School of Business. Meanwhile, application volume for the MMM program—a dual-degree program that awards graduates with an MBA from Kellogg as well as an M.S. in design innovation from the Segal Design Institute at the McCormick School of Engineering and Applied Science—has also continued to grow, leading to the decision to increase the size of the incoming class by 10 percent this year, with plans to grow it further in future years.
And then, of course, there is the glittering new Global Hub that opened last March—enshrining Blount's legacy and serving as Kellogg's home for decades to come. She played a pivotal role in the successful completion of the $250-million, 415,000-square-foot architectural masterpiece, which was quite intentionally designed to further foster the collaborative culture that helps define the school. Perched alongside Lake Michigan, its undulating exterior reflects the water and sky, and its light-filled interior affords stunning views of the Chicago skyline to the south.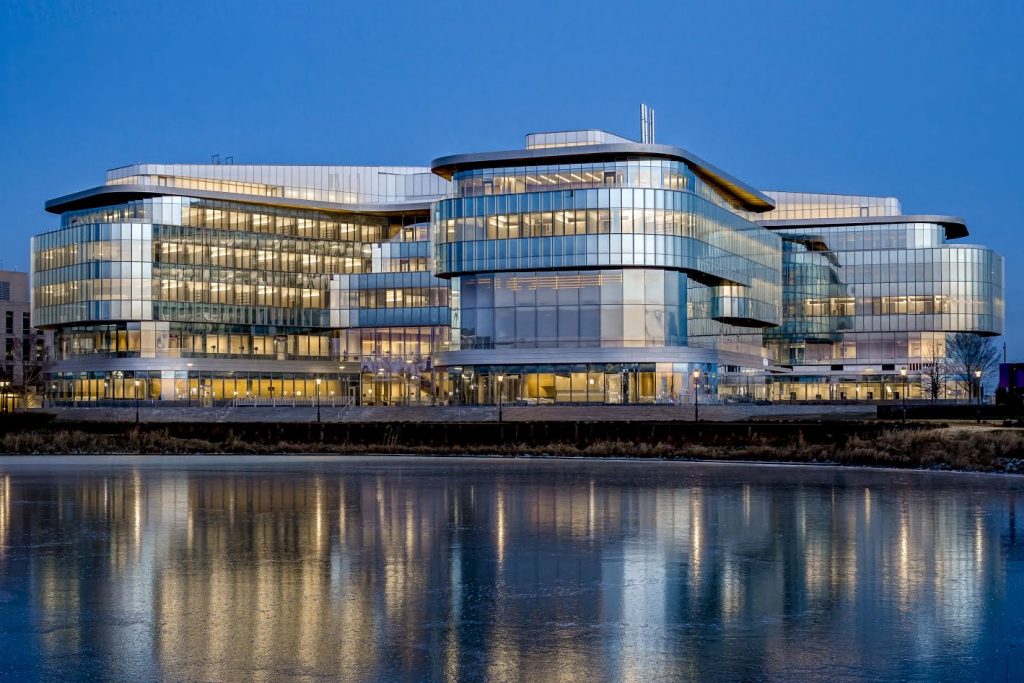 "We did exactly what we set out to in 2010," Blount said, reflecting on these achievements. "We've ensured Kellogg's place on the global short list of premier business schools."
Three Decades, Three Children, Three Schools: A Personal Inflection Point
In her video address, Blount noted that next summer, when she steps down, will mark 30 years since she came to Kellogg as a graduate student in organizational behavior, pregnant with her first child. "During those years, in addition to raising three amazing, now-adult children, and serving on the faculty of three great universities, I will have spent roughly half of those years as a business school dean rallying faculty, staff, students, and alumni to dream big about business education," she said.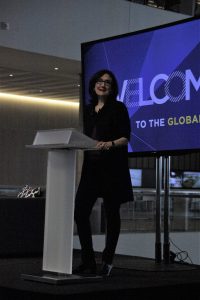 After graduating with a PhD in organizational behavior from Kellogg in 1992, she taught for almost a decade at the University of Chicago Booth School of Business. From there she went on to NYU Stern School of Business, serving first as a professor of management and later as dean of the undergraduate college, vice dean of the school, and advisor to the president and provost. After nine years at Stern, she accepted the invitation to return to her alma mater as its dean. At both Stern and Kellogg, Blount spearheaded massive capital construction projects.
Blount explained that she reached her decision to step down while on retreat this past July. "I realized that this inflection point creates an opportunity for me to start 'thinking bravely' about my own life in the ways that I have about the institutions I have led," she said, quoting the school's tagline. She added that she has long wanted to take a sabbatical year to travel and write and that she wants to spend time thinking about how to best devote the final years of her career in graduate management education.
A Message to Moms and Those Who Take Chances on Them
"As my daughter once said to me long ago, 'This is what the person I want to become would do,'" Blount said of her decision to step down. It was one of several references to motherhood she made in her brief three-and-a-half-minute video announcement. She also said, "I am grateful for the amazing opportunities that I have had these last 30 years because Kellogg took a chance on a pregnant doctoral student."
Through these messages, Blount helped underscore that institutions like Kellogg should take chances on women who are balancing careers and motherhood. And that women can both break barriers and lead path-breaking transformations while also raising children.
Of course, those are messages she has communicated just as clearly in actions throughout her career. And they've had an impact—on the institutions she has served, the faculty and staff she has hired, the students she has taught, and more. During the course of Blount's tenure at Kellogg, it became one of the first schools to make significant gains toward gender equity at the MBA level—welcoming a class that was an industry-leading 43 percent female in 2015 and has remained above 40 percent since. "We continue to have more and more women in the classroom and in the community," Melissa Rapp, director of admissions for the full-time MBA and MSMS programs, told Clear Admit in an interview this past summer.
Rapp herself was drawn to Kellogg in part because Blount was dean. "That there was a female dean was certainly something that attracted me," she shared. After interviewing five years ago, she returned home to share the experience with her then-11-year-old daughter. "I said, 'I got to interview with the woman who would be my boss, her name is Renee, and then I interviewed with her boss, her name is Kate, and then I got to meet Betsy, who works for the dean, whose name is Sally,'" recalled Rapp. To which her daughter replied, "But they're all women. Aren't there any men working there?" Rapp assured her that there were, but her daughter was focused on something else: "That's really cool that all your bosses would be girls," she said.
In conclusion to the announcement of her plans to step down—her voice cracking a bit as she said it—Blount called becoming the first woman to lead a top business school one of her life's greatest honors. "I am grateful to all of you who partnered with me to help Kellogg soar again."