On March 17, UC Berkeley's Haas School of Business hosted its 22nd annual Women in Leadership (WiL) Conference, which Clear Admit covered in depth here. The event was a rousing success that attracted more than 400 students, alumni, and professionals to campus to talk about women leaders and advance the conversation on gender quality and social justice. One of the keys to its success: allyship.
"Allyship is one of the most important themes that underpins this year's conference," Mary Harty, the 2018 conference co-chair, told Clear Admit. "But we don't necessarily mean just traditional male-female allyship," she added.
"The term 'ally' has increasingly become a central concept in diversity education, but what does it really mean to be an 'ally'? Who is one and who is not? Against the social backdrop of the #metoo and #blacklivesmatter movements, we think there is no better time to address these questions with a dedicated workshop: Beyond hashtags and Facebook filters: redefining Allyship," she said.
Manbassadors at Haas
Haas has focused on both men and women striving for gender equity outside of the conference as well. For example, there are approximately 100 manbassadors within the Center for Gender, Equity & Leadership (CGEL). These male MBA students are taking an active part in the gender conversation and are dedicated to fighting gender inequity as students and future workforce leaders.
The Wharton 22s
Haas isn't the only MBA program promoting strong male participation for gender equity. Wharton offers a male ally program known as the 22s whose name references the $0.22 wage gap between men and women. The group wears "22" shirts around campus to advocate equality. Male students who join sign a pledge to fit against gender bias in the classroom and business world.
"I just saw this as a way maybe to raise awareness among people who, if they knew it was going on, would act differently and act more conscious of this issue," Christopher Skayne, a recent Wharton graduate, told Forbes.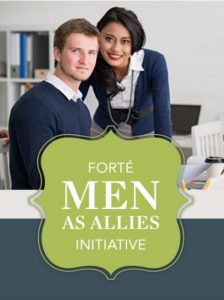 Then there's the Men as Allies initiative spearheaded by the Forté Foundation, in part due to the success of such programs at Haas, Wharton, and other leading business schools. Through this recent initiative, launched in December 2016, Forté hopes to help the concept spread to more campuses and workplaces. London Business School, NYU Stern School of Business, and Stanford Graduate School of Business are just a few of the schools that have taken advantage of the resources offered through Forté, which include an MBA toolkit to help grow male allies as well as a workplace guide.
For Forté CEO Elissa Sangster, the key is in having men truly act as allies, not saviors. "The women are not interested in having men come in and save the day. They are wanting them to be part of the conversation," she told Forbes.
To learn more about initiatives at other schools, don't miss our recent article, How Are Top Business Schools Promoting Women?