Looking to get an early start on your MBA applications for the 2018-2019 application season? Don't miss our latest podcast episode, in which Clear Admit Co-Founder Graham Richmond outlines a 12-step program for early bird MBA applicants.
By getting the ball rolling this far in advance, you're already setting yourself up for success. Richmond's suggested steps can help ensure that you stay on track and take full advantage of your great head start.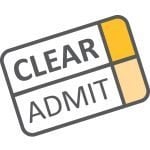 Another terrific resource ideal for early bird MBA applicants is available in our shop. Becoming a Clear Admit: The Definitive Guide to MBA Admissions provides an in-depth overview of the MBA admissions process and then proceeds to break down how applicants can choose their target MBA programs using its novel tiered ranking system. Author Alex Brown, who served for seven years as senior associate director of admissions at the Wharton School and another nine as an admissions consultant with Clear Admit, has compiled his expertise into a concise guide for any applicant targeting top business schools.
New today, we're also offering a reward to the first two listeners who chime in using the comment section below this blog post. Simply share your top two takeaways from this latest podcast to receive a complimentary copy of either the Clear Admit Résumé Guide or the Clear Admit Recommendation Guide.
We're also excited to welcome new guests to the podcast series as part of upcoming episodes. Tune in next week to hear from some of the winners of Harvard Business School's New Venture Competition.
If You Like What You've Been Hearing, Please Subscribe and Rate Us on iTunes!
We're very grateful to our listeners, who have been tuning into our podcast series in growing numbers. Please, if you have enjoyed what you've heard, won't you take a moment to rate the Clear Admit MBA Admissions Podcast in iTunes? Doing so can help even more listeners find us. And to ensure that you never miss an episode, why not subscribe?
The Clear Admit MBA Admissions Podcast is hosted by Editor-in-Chief Jeanette Brown and produced by Contributing Editor Jonathan Pfeffer.