Each week we collect all the MBA news that's fit to print and provide a quick overview of the latest trending topics from top schools around the world.
Here's your quick MBA News You Need digest for the week of May 3, 2018. 
Graduate Students & Student Clubs Recognized for Leadership at Olin
During the 2018 Liberman Leadership Awards, graduate students at Washington University's Olin School gathered to celebrate remarkable leadership. The reward ceremony recognized both graduate and professional students, as well as student organizations. Assistant Dean and Liberman Graduate Center Director Ashley Macrander hosted the event alongside Associate Professor Jessica Rosenfeld.
Among the student clubs honored at the event were the school's Net Impact chapter, which took home the Excellence in Sustainability award, and the East Asian MBA Student Club, which received the Excellence in Diversity and Inclusion award. Ony Mgbeahurike (MBA '19) won the Rising Star award. To view a full list of winners, head on over to the Olin Blog.
LBS Dean: We Can Do Better on Gender Pay Gap
It's been a long time coming but the gender pay gap has finally become a hot button topic that can't be ignored. Perhaps because the issue is so pervasive across all industries, especially academia. The prestigious London Business School (LBS) is ranked fourth in the world by the Financial Times, but it grapples with a huge problem when it comes to paying male and female staffers an equal wage. According to recent data, men at LBS earn on average 23 percent more than their female colleagues. The gap was smaller for academic staff—14 percent—but still well above the U.K. average—9.7 percent. The gap was revealed thanks to new U.K. government legislation focused on closing the gender pay gap.
Dean François Ortala-Magné, who started his career at LBS last August, made it clear that he thinks the school "can do better." He's made equality of opportunity a priority during his tenure and says that the school strives to "pay based on market information." Still, he faces pressure from students and others to follow through on his promises. (Financial Times)
Kellogg Research Ties Peace to Potatoes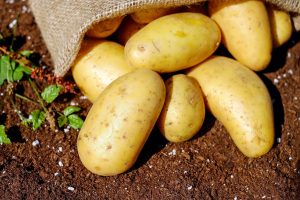 Did the potato usher in an era of peace in European history? According to new research from Northwestern Kellogg Professor Nancy Qian, potatoes were a catalyst for a permanent boost to agricultural productivity starting in the early 18th century. As a result, there was a reduction in global armed conflict over the next 200 years.
Qian found that the change in food supply and increased pressure on farmers to produce more food per area made conflict less appealing. Instead, farmers focused on enjoying the tranquility that harvesting potatoes at home brought about. In her paper, Qian and co-author Nathan Nunn (Harvard Business School) focused on the connection between armed conflict and the increased popularity of potatoes. Explore the full paper at KelloggInsight.
Yale SOM Intensive Dives Deep on Entrepreneurial Experience
Is the professional life of an entrepreneur a straight line ascent or a circuitous path that encompasses triumph and failure in equal measure? That's the question that Yale SOM's newest seminar course, "Start-Up Founder Studies," seeks to answer. Associate Dean Kyle Jensen leads this intensive, which attempts to dive deep into the entrepreneurial experience and offer students a more comprehensive understanding of the startup life.
Each class gleans lessons from a practicing entrepreneur or investor to learn about a range of issues and experiences from ideation to customer discovery, early-stage funding, pitching, scaling, team building, and failure. "Everyone has something to contribute based on their own experiences," says Diwura Oladepo ('18). "That richness was what made the class awesome." Watch the video now.
GMAC Shortens Practice Exams to Reflect New Shorter GMAT
Test-takers will be pleased to learn that GMAT Official Practice Exams are all new and significantly SHORTER! GMAT has moved the practice exams into an online environment that's easier to navigate and access. The new format requires you to create an account at mba.com, but the official practice exams are accessible from any device and available via all web browsers.
In addition, the new GMAT Official Practice Exams and Questions (no longer called GMATPrep) follow the updated GMAT format of 31 Quant questions and 36 Verbal questions. The updated format also includes two free practice exams. You can purchase four additional practice exams as well as additional practice questions as needed. To learn more about the new material, including what will be available to you, visit Manhattan Prep.