Each week we collect all the MBA news that's fit to print and provide a quick overview of the latest trending topics from top business schools around the world. Here's your quick MBA News You Need digest for the week of October 18, 2018.
Tuck Professor Recognized as Top Marketing Scholar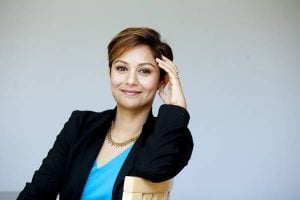 Dartmouth Tuck Associate Professor of Business Administration Eesha Sharma was one of 34 marketing researchers chosen as a 2019 Marketing Science Institute Young Scholar.
The annual Marketing Science Young Scholar award is granted to "leaders of the next generation of marketing academics." Sharma was recognized for her research on how psychology and marketing can be used to better understand and improve consumer financial well-being. She also researches how people react to perceived poverty, scarcity, and deprivation. In addition to conducting research, Sharma also teaches "Introduction to Marketing" and "Consumer Insights" at Tuck.
"I'm thrilled to receive this honor and to join the incredible scholars who are part of this group," Sharma said in a Tuck news release.
Carnegie Mellon Tepper School Rebrands Itself
[youtube https://www.youtube.com/watch?v=grgTWTV2MyY&w=560&h=315]
Carnegie Mellon University's Tepper School of Business has always been at the forefront of business education and research, but now the school is rebranding itself.
"We live forever forward, embrace the breakthrough builders, and fuel them with enterprising ingenuity. Our future is boundless."
In an effort to keep pace with the changing needs of business, the new branding effort reflects the school's strategic direction as the business school of the future. Tepper plans to highlight its interdisciplinary approach to meeting today's business challenges.
The Tepper School sits at the intersection of business, technology, and analytics, which forms the foundation of the new brand story. Also reflecting the updated brand is the school's new location on the Tepper Quadrangle, which is located at the center of campus. This shift is just another manifestation of the school's interdisciplinary nature, which connects the Tepper School to the broader Carnegie Mellon brand and community.
The new brand story was developed with the help of VSA Partners, an integrated marketing and strategy agency. You can learn more here.
What's Behind Amazon's Wage Hike?
Amazon has been receiving intense criticism for its "labor practices and low wages," including as part of Senator Bernie Sanders' Stop BEZOS Act. In response, the e-commerce behemoth recently announced that its minimum wage for all U.S. employees will be $15 per hour, effective November 1st.
Zeynep Ton, MIT Sloan associate professor and founder of the Good Jobs Institute, discussed the political strategy behind Amazon's decision in a TK.
In addition to Amazon's desire to position itself as a "worker-friendly company," Ton explains, "a lot of retailers are finding it difficult to attract people, especially going into the holiday season. [Outlets like] Macy's and Target are looking to hire tens of thousands, and it's going to be harder for them now. They'll have to up their game, not just for the holidays but in general."
Amazon Founder, Chairman, and Chief Executive Officer Jeff Bezos, the world's richest man, has become part of the focus on Amazon's questionable business practices in recent years.
Ton adds, "The investors are very different, and their tolerance for low profitability is much lower for general retailers than for Amazon. It'll be challenging for other companies, and I hope they start to look for ways to make their people central to their success."
You can read more about Amazon's move here. (Republished from MMBA)
Fintech Offers News Funding Models 
Funding an MBA can be difficult, particularly for students from emerging markets who want to study abroad. Often they're unable to get a loan or the barriers to obtain a loan are too high.
That was certainly the case for Cameron Stevens when he tried to get a loan to pay for his INSEAD MBA in 2005. Stevens noticed a unique opportunity in the marketplace, which inspired him to launch Prodigy Finance with two former classmates in 2007.
Originally, the company operated as a peer-to-peer lender helping MBA graduates fund current students. However, it quickly grew into a fintech company that collects data on credit records in different countries and offers mechanisms to conduct compliance checks and enforce debt collection. Prodigy Finance makes risk assessments based on a student's potential for high future earnings, connecting the student with potential peer lenders.
"You have talented people who have proved their potential in receiving offers to business school," explained Stevens. "The only barrier for them is funding, because the banks are still incredibly localized, as they were in the 1500s."
Now, Prodigy has more than $1 billion in funding from institutions such as Credit Suisse, Goldman Sachs, and Deutsche Bank, and has lent $650 million to 15,000 students from 132 counties. Less than .5 percent of borrowers have defaulted. (Financial Times).
Chicago Booth Researchers Examine Why the Glass Ceiling Still Exists, How It Hurts the Economy
In a new working paper entitled "The Glass Ceiling," Chicago Booth Professor Marianne Bertrand outlines three factors "why the glass ceiling persists in excluding women from top-paying jobs."
Women with college degrees often choose to work in fields that offer lower incomes.
Psychological differences between men and women could account for up to 10 percent of the pay gap.
The demands for child care, housework, and other life chores outside of work fall more heavily on women than on men.
She explains, "In a world where talent is distributed equally among women and men, an economy that does not fully tap into the leadership skills offered by women is necessarily inefficient. Talent is left on the table when women are not placed in leadership positions, and the economy suffers."
You can read more from Chicago Booth News here and check out "The Glass Ceiling" here. (Republished from MMBA)