Each week, we collect all the MBA news that's fit to print and provide a quick overview of the latest updates from top business schools around the world.
Here's your MBA News You Need digest for the week of July 22, 2019.
Non-traditional MBA Candidates Should Be Optimistic
Non-traditional MBA candidates without undergraduate business backgrounds are often accepted to leading business schools, according to Vanderbilt Owen's MBA admissions committee.  Whether your background is in the military, Peace Corps, Teach for America, or performing arts, non-traditional candidates have become more commonplace in many MBA programs.
The truth is that business schools want a balance of candidates and appreciate a diverse array of perspectives.  "I think by having people who have not been steeped in in corporate America—it's really helpful to have outside perspectives," said Rob Schickler, Associate Director of Admissions at Vanderbilt Owen. "The more diversity you have, the more groupthink can be avoided."
So, how do you ensure that as a non-traditional candidate you have the best chance of getting accepted into an MBA program?
Focus on your transferable skills and how you'll contribute to the classroom.
Have a clear goal for your MBA, including how your MBA will help you with your career plans.
Format your resume for an MBA program by telling your unique story.
Make sure you have a high GPA and good test scores to showcase your skills.
Berkeley Haas on How an MBA Will Support Your Global Leadership
The world continues to shrink as technology, products, information, and jobs spread across the globe. Now more than ever, it's crucial for leaders to become comfortable working across cultures.
According to Berkeley Haas, the MBA is an opportunity to become better equipped to collaborate with professionals from a diverse range of backgrounds. International and cross-cultural experiences are critical to the success of any modern business leader.
Behavioral sciences are also a major part of any MBA. Understanding why people do the things that they do can be applied to economics, decision research, and consumer research. Other benefits of an MBA in a global economy include participating in global-focus initiatives such as consulting projects, clubs, conferences, and more.
Read the full blog post on the Berkeley Haas website here.
Meet Harvard's LGBTQ+ Student Association: Pride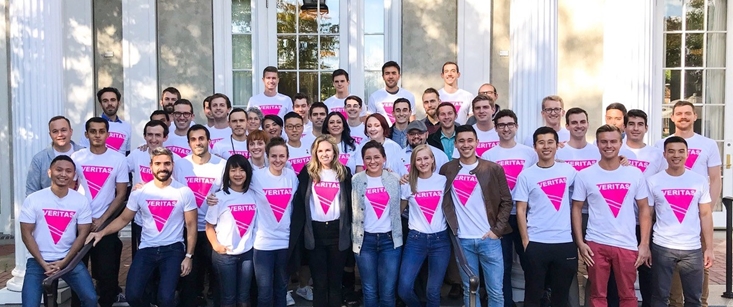 The new school year is just around the corner and Harvard Business School wants you to meet the student organization, Pride: a haven for lesbian, gay, bisexual, transgender, queer, and questioning MBA students. It's a community of individuals dedicated to advocacy and social programming. Pride is a founding member of Reaching Out MBA and has many strong relationships with recruiting firms, alumni, organizations, and industries.
Beyond promoting social justice, Pride is also dedicated to diversity and inclusion across the HBS campus. The organization is well known for rallying students around events such as World AIDS Day, Transgender Day of Visibility, and National Coming Out Day. It also works to increase the representation of the LGBTQ+ community in staff, faculty, students, and across the curriculum. Pride promotes internships and full-time employment opportunities and provides access to events.
UT Austin McCombs Puts the Spotlight on MBA Women
UT Austin McCombs has been empowering women in business for years as evidenced by its long-running partnership with the Forté Foundation, which provides access to education, opportunities, and networking for women in business. Since 2001, Forté has helped nearly 8,000 women earn their MBA, including new McCombs MBA student Elpidia Ellie Gamez.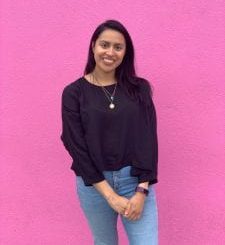 As a current MBA student and Forté Fellow, Gamez has first-hand experience with the many opportunities the Foundation affords. In particular, Gamez shared what it was like to take part in the most recent annual Forté Conference in Chicago, saying it was a great opportunity to meet other Fellows and discuss their post-MBA ambitions and goals. She also had the chance to attend keynotes and discussions with business leaders and network with corporate sponsors.
But one of her favorite parts of the Conference was the Power Pitch Presentations. "I thought it was incredibly brave and empowering to see these ladies present their business plan with so much passion and polish to a room full of strangers who were all there to support with cheers and applause," said Gamez.  "I left Chicago inspired and better prepared to further the progress driven by the women who came before me who are now industry leaders both on-campus and in my future workplace."
To learn more about other MBA women's opportunities at McCombs, including the GWiB, click here.
Cornell Johnson's Big Red Ventures Inspire Park Fellows
Twenty years ago, two Park Leadership Fellows at Cornell Johnson started Big Red Ventures (BRV), a student-run evergreen venture capital fund. Designed to fill a gap in the MBA curriculum by providing practical exposure to venture investing, BRV was a revolutionary organization at the time.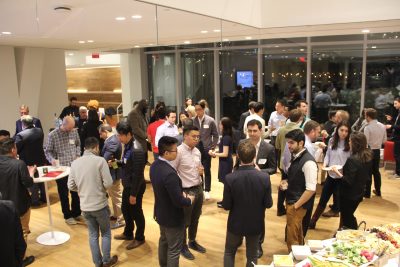 During the 90s and early 2000s, investing in early-stage startups was almost unheard of; the idea of a fund vetting, sourcing, and investing in startups was cutting edge. Now, it's a lasting legacy.
Most remarkable is the idea that BRV was established as a service project, required for Park Leadership Fellows Alex Ivanov (MBA '00) and John Kyles (MBA '00). Now, it's so much more, and this year hosted its first annual meeting.
During the meeting, fund managers reviewed BRV's portfolio of companies, hopeful entrepreneurs pitched their products, and special guests imparted important lessons and motivations. The event wrapped up with a networking session.
To learn more about what other Park Fellows are doing at Cornell Johnson, read the full story here.