Each week we collect all the MBA news that's fit to print and provide a quick overview of the latest updates from top business schools around the world.
Here's your MBA News You Need digest for the week of September 16, 2019.
How Pre-MBA Work Experience is Evaluated at UCLA Anderson

If you're applying to UCLA Anderson, you might have questions about how work experience is evaluated. In the school's latest MBA Insider's Blog, Adrian Aguirre, associate admissions director, delves into the eight things you need to know.
Your overall career trajectory is the most important thing. It's less about length and more about quality—promotions, cross-functional experience, complex projects, etc.
You will communicate your work experience via your essay, resume, and interview, each in unique and different ways.
UCLA Anderson does not require work experience, so whatever experience you have prior to applying can work for you.
Your full-time work experience begins with your first job, post-college.
Switching jobs often is not a detriment if there's a rational reason that you can explain clearly.
Non-traditional work experience (i.e., military service, self-employment, doctor, etc.) is just as valuable as traditional work experience. Just be sure to focus on what you've learned and the skills you've acquired.
If you don't have leadership experience at work, focus on leadership in volunteering roles, clubs, etc. The key is to highlight your ability to work well with others.
Only a few applicants each year are accepted with no work experience. If you want this to be you, you need "stellar academics and leadership potential."
To read Aguirre's full blog and get more insight, visit the UCLA Anderson website.
Berkeley Haas on Conquering Fears in the MBA Application Process
As Clear Admit readers know all too well, the MBA application process is stressful. Many applicants worry about getting in, paying for school once they've been accepted, and employment prospects once they've graduated.
The good news is that Rahul Sampat, MBA director of admissions at Berkeley Haas, has advice to overcome these fears and succeed:
If you're worried about being "good enough," remember not to be overly critical of yourself. Your GPA and test scores are only part of your application, which you can make up with character, qualifications, and experiences.
Not everyone has great quantitative skills and that's okay. You can brush up on your knowledge with free online resources to put you on a level playing field.
MBA degrees are expensive and many applicants worry if it's worth the investment. The good news is that there are many ways to soften the financial blow you'll take through scholarships, loans, and more.
If you're worried about quitting your job for an MBA, you don't have to. There are flexible MBA programs such as the EMBA, as well as evening and weekend MBA programs that are ideal for working professionals.
Don't worry about aligning your passions with an MBA. Instead, look for a program that supports your goals.
Once you overcome your fears, it's time to apply. Head over to the Berkeley Haas blog to learn more.
Tauber Institute for Global Operations Spotlight! Winners (Michigan Ross)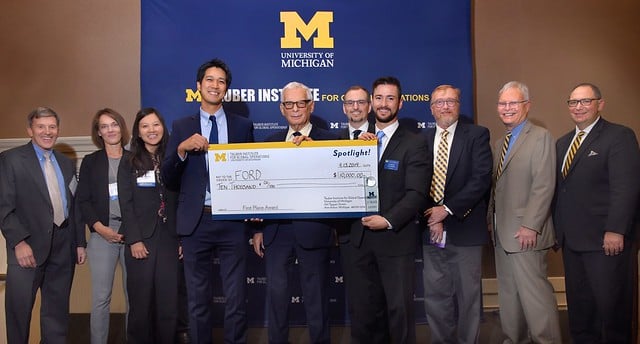 The Tauber Institute for Global Operations hosts an annual Team Project Showcase and Scholarship Competition at Michigan Ross.
The 2019 Spotlight! Competition brought together 16 top global companies and 21 student teams for 14-week team projects. The two- to three-person teams comprised of graduate business and engineering students aimed to "find solutions for substantive operations challenges." Solutions include everything from lean process design and implementation to inventory management, new product development, sourcing plans, and more.
This year, the 21 teams resulted in an average of $30 million per project savings over three years—a projected savings of $390.3 million total. These projects took place in a wide range of industries, from aerospace to internet commerce, automotive, high tech, retail, and energy. Sponsors included Dell, Boeing, Amazon, DTE Energy, Ford, GE, General Motors, Target, Pfizer, PepsiCo, Microsoft, AIP Canam Group, Dow, Stanley Black & Decker, Stoneridge, and Brose.
The winners of this year's Tauber Spotlight! Competition were:
First Place Team Ford: Charlie Manzoni (MBA) and Hiroki Tanaka (MBA)
Second Place Team General Electric: Federico Kulyckyj (EGL BSE/MSE Data Science), Mitali Linge (MSE-IOE), and Jacob Siddall (MBA)
Third Place Team Pfizer Clinical Manufacturing: Andres Fuentes-Afflick (MBA) and Jason Ji (EGL BSE-Che / MSE-IOE)
Learn more about the competition on the Michigan Ross website.
Dartmouth Tuck Breaks Down Admissions Criteria, "Smart"
Executive Director of Admissions and Financial Aid Luke Anthony Peña broke down what it takes to get accepted into Dartmouth's Tuck's MBA program in a recent admissions blog post. Peña specifically talked about "being smart."
"Being smart at Tuck means you have the necessary intellectual aptitude to succeed in a rigorous and demanding learning environment," explains Peña. "That said, being smart goes beyond your raw intellectual horsepower; it also matters how you use it."
Being "smart" is about both outcomes and behaviors. Yes, your grades and test scores are important factors that reflect your intellectual aptitude, but they're not the only criteria that the admissions committee reviews when it comes to being "smart." You also have to demonstrate that you're smart when it comes to your behavior.
What this means is that the Tuck admissions committee will look at your "smarts" in your reference letters and interviews. They want to see if you have an ability and desire to learn and if you demonstrate "curiosity, creativity, resourcefulness, growth mindset, and enthusiasm for challenges."
To get the full insight into what it means to be "smart," read Peña's full blog post here.
Advice on Attending MBA Fairs from Vanderbilt Owen
The Vanderbilt Business MBA admissions team offered four essential tips before you attend a Vanderbilt Owen MBA fair:
Only attend an MBA fair if you're ready to ask deeper questions about the program you can't find online. The fair is your chance to gain human contact and dive deeper into the culture, admissions criteria, and other subjective topics. According to Christie St-John, director of MBA recruiting and admissions, it's also a great chance to meet alumni and current students.
Choose the right MBA fair for you. There are fairs held at hotels in large metropolitan areas and fairs that offer on-site coffee chats and interviews with admissions officers. Then there are the MBA fairs on campus, where attendees can visit different booths to learn more information. Rob Schickler, associate director of recruiting and admissions, recommends choosing the fair and sessions that are most helpful for you.
It's never too late to attend an MBA fair, but it's best when you get a headstart about a year or so before you start applying to MBA programs. However, even if you're applying this year, MBA fairs are still valuable for learning about the programs out there.
Don't forget to attend MBA fairs that target certain candidates. For example, there are fairs for women such as the Forté MBA Forums as well as fairs for the LGBTQ+ community such as Reaching Out MBA. All of these are valuable.
To learn more about Vanderbilt Owen's fairs and to check out the School's calendar of events, visit the website here.