Each week we collect all the MBA news that's fit to print and provide a quick overview of the latest updates from top business schools around the world.
Here's your MBA News You Need digest for the week of September 30, 2019.
Record $25M Gift to Support Global Learning at Dartmouth Tuck
In the largest-ever gift in Dartmouth Tuck's history, the Bakala Foundation USA donated $25 million to support global learning opportunities. As part of The Tuck Difference campaign, which has a $250 million targets, the gift from Czech-born investors and philanthropists Michaela and Zdenek Bakala (T'89) will go toward the following initiatives:
TuckGO, a for-credit educational experience around the globe, strengthening its offerings and educational experiences.
Bakala Global Suite, the future location of the TuckGO offices and hub for students, faculty, and staff.
"Solving humankind's most complex challenges requires leaders who can work effectively across cultures," said Dartmouth President Philip J. Hanlon. "Through Michaela and Zdenek's inspiring investment, Tuck will remain at the forefront of developing such global business leaders. We are all tremendously grateful for their vision and commitment."
The historic gift builds upon the Bakalas' long-standing support of Dartmouth Tuck. Read more here.
How to Research MBA Programs from UCLA Anderson
It can be incredibly challenging to narrow down the MBA programs to which you want to apply. The key is how you research the various schools, what they offer, and how they fit your wants and needs. In an effort to lend a helping hand to prospective students, UCLA Anderson's admissions team has offered advice about how to research MBA programs:
Use Web Resources: School websites offer information on everything from the admissions process to curriculum plans, student life, career placement data, and more. Don't be afraid to read blogs and browse social media accounts.
Visit the School: Every MBA program offers on-campus experiences to help you get to know the school and program in person. Visiting campus is a great way to get a feel for the School's environment.
Attend an MBA Fair or School Event: If you can't visit campus

—

or even if you can

—

there are other ways to get to know the MBA program in person. Keep your eyes peeled for MBA Fairs or school events hosted in various cities across the globe; it will give you a chance to meet admissions officers, ask questions, network, and more.
Network. Network.: Learn about the MBA program by talking to your network and finding colleagues or friends who have gone through the specific programs that most interest you.
Read the full Application Insider blog here.
Inside a New Elective at Yale School of Management
At Yale SOM, when the business world changes, so does the MBA curriculum. This was the case when Professor Stefano Giglio, a finance scholar, joined the Yale SOM team. Giglio decided to create a new course focused on teaching MBA students how to manage financial risks.
The course, titled Speculation and Hedging in Financial Markets, teaches students how to identify and manage risks in fast-changing circumstances. It stresses both practical and theoretical learning and examines risk in currency exchange rates, market crashes, commodities prices, and other forms of uncertainty. Giglio plans to continually update his curriculum as the global market changes, which is why his course takes a comprehensive but flexible approach. So far, it's been highly successful.
"The class gave me a nuanced understanding of all sorts of exotic options and provided the building blocks to grasp how financial markets value assets and companies," said Aashna Mehre '19.
Learn more about the course via the Yale SOM website.
UVA Darden Expands Global Options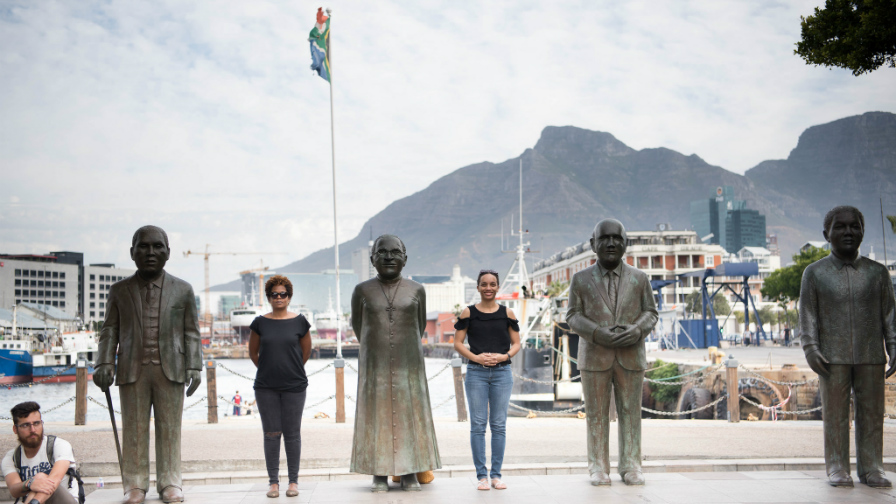 The UVA Darden School of Business has announced its set of 18 Darden Worldwide courses for the 2019-20 year, which include new opportunities in Australia, India, South Africa, and Kenya. Each year these courses take students to more than two dozen countries around the globe. The incredibly popular courses are categorized as either global topic, global immersion, or kaizen courses. Last year, a record 85 percent of full-time MBA students participated in one of Darden's Worldwide courses.
This year, students will have three more global immersion and one new global topic course from which to choose:
Australia: "Culture and International Business Expansion"
India: "Addressing Tough Problems in Business and Society"
Kenya: "Economic Growth and Opportunities in sub-Saharan Africa: The Influence of Education, Health Care, and Entrepreneurship."
South Africa: "The Business of Conservation"
Watch a short video about global learning at UVA Darden and learn more here.
7 New Faculty at Michigan Ross
Seven new professors will join the Michigan Ross faculty this fall. Two are in Management and Organizations, two are in Technology and Operations, one is in Strategy, Business Law, and one is in Business Economics & Public Policy.
Professor of Management and Organizations Scott Page comes to Michigan Ross with a Ph.D. in managerial economics and decision sciences from Northwestern Kellogg and brings his interest in making data work for you.
Associate Professor of Management and Organizations Lindy Greer comes to Ross from Stanford GSB, bringing her interest in leadership, team dynamics, and conflict management.
Associate Professor of Strategy Christopher Rider brings his interest in strategic management in entrepreneurship to Ross from Georgetown McDonough.
Assistant Professor of Technology and Operations Ekaterina (Kate) Astashkina brings her interest in sustainable operations management to Michigan Ross. She has a Ph.D. from INSEAD.
Assistant Professor of Technology and Operations Lennart Baardman is excited to bring his research interests in predictive and prescriptive analytics to Ross.
Assistant Professor of Business Economics and Public Policy Anant Nyshadham joins Ross from Boston College where he researched labor economics, personnel, and organization in developing countries. He's also the co-founder of the Good Business Lab.
Assistant Professor of Business Law William Thomas joins Michigan Ross from Harvard Law School with research interests spanning corporate and white-collar crime, organizational law and more.
Get to know the professors better on the Michigan Ross blog.