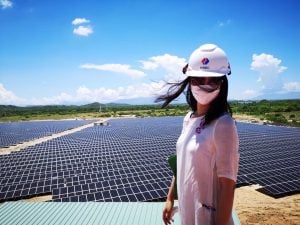 Hedan Liu, Darden's MBA Class of 2021
Age: 31
Hometown: Beijing,China
Undergraduate Institution and Major: Australia National University Sustainable Energy Engineering
Pre-MBA Work Experience (years, industry): 3 years consulting + 5 years clean energy (VC+ project investment + business development + NGO)
Why business school? Why now?
Having worked in the same industry and been surrounded by the same community makes me want to take on more challenges, make more friends, and listen to their stories.
Why Darden? What factors figured most prominently into your decision of where to attend?
Having worked 8 years, I find impact is about learning from all different perspectives and uniting forces to challenge the status quo, which is exactly what case studies are about.
What do you think is your most valuable or differentiating contribution to the Class of 2021?
My background in clean energy, with work and travel experience in many countries. My instinct to sense people's needs to connect people.
Fun fact that didn't get included on your application?
I did seven different internships, from waitress, nurse, tax preparer, solar system designer, energy building efficiency software engineer, to visiting scholar during college.
Post-MBA career interests?
Promote clean energy.
Advice to current prospective applicants:
–One thing you would absolutely do again as part of your application process?
Talk to more current students and alumni and get to know their story.
–One thing you would change or do differently?
I would talk to more alumni in China to help promote Darden in China. Also, dig deeper into my drive and passion.
–Part you would have skipped if you could—and what helped you get through it?
I would skip the part where I worry about my GMAT and procrastinate before essay writing.
What is your initial impression of Darden's students/culture/community?
Everyone is so passionate and friendly.
One thing you have learned about Darden that has surprised you?
The Abbott Dining Hall has the best lunch!
Thing you are most anxious about in your first year?
The career center did an excellent job to make us not anxious about landing an internship. Also, there is so much going on. We have to make choices every day.
Thing you are most excited about in your first year? 
Getting to know more about classmates, the energy industry in the United States, and introducing clean energy to classmates as I already know many classmates are interested in this sector.