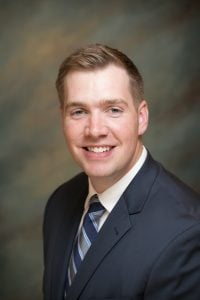 Mark Pohl, Darden's MBA Class of 2021
Age: 28
Hometown: Apple Valley, MN
Undergraduate Institution and Major: United States Military Academy (West Point), Civil Engineering
Pre-MBA Work Experience (years, industry): 6 years, Active Duty Army Engineer Officer
Why business school? Why now?
I was ready to move on from the Army and I was not entirely sure what I wanted to do with my career. During my research I found myself being drawn to business in all my networking calls. I love to work with teams to solve complex problems and business will give me an opportunity to do that in a variety of ways. In order to make my switch to business successful I felt I needed to increase my business knowledge. An MBA was a great way to build my business skill and a strong network.
Why Darden? What factors figured most prominently into your decision of where to attend?
First, Darden is well respected business program.  More importantly, when I was leaving the Army I was concerned with losing the sense of community that I had. Darden is ranked number 1 in student experience and goes out of its way to build community and connection among students and faculty. Additionally, Darden had a robust core curriculum that I knew would help me fill the gaps in my work experience and knowledge.
What do you think is your most valuable or differentiating contribution to the Class of 2021?
I think I have a unique perspective on leadership and the world in general. After 6 years of management including a deployment and leading a Platoon of 30+ Soldiers in Afghanistan I feel I have developed management and leadership experience that can be insightful to my peers.
Fun fact that didn't get included on your application?
Being from Minnesota (or Southern Canada as my friends joke), I learned to ice skate when I as 3 years old.
Post-MBA career interests?
Consulting and Corporate Strategy Roles.
Advice to current prospective applicants:
–One thing you would absolutely do again as part of your application process?
Reflect upon your experience and story prior to starting any applications. In the rush to get applications done you will want to fill everything out immediately. Taking the time to understand who you are, what you want, and what separates you from every other smart and qualified candidate will pay off.
–One thing you would change or do differently?
I would reach out to current students earlier in the application process. I reached out to the Darden Military Association (DMA) only after I had submitted my application. They were extremely helpful with my Darden interview and helped me translate my experience more effectively. I regret not having the DMA's input sooner in the process.
–Part you would have skipped if you could—and what helped you get through it?
The GMAT. Let's face it, the GMAT is not fun. That said, it wasn't the most natural test for me. I initially took the test and scored extremely low. I had to put months of studying in to get a score in the range I wanted. I think the knowledge that any improvement in my score would make me exponentially more competitive drove me to work at it.
What is your initial impression of Darden's students/culture/community?
The community at Darden is simply amazing. In only the first few weeks of classes the Darden faculty, Darden Student Association, and clubs on grounds have brought our class from 300+ individuals to a single group. There are social events and functions almost every day. It is an absolute blast getting to know everyone and learn about their experiences in addition to who they are as people
One thing you have learned about Darden that has surprised you?
I knew the core curriculum was going to be intense, but I don't think I truly understood how much work I would be doing for class. Even though it has been tough, I have learned an incredible amount with the case method and am looking forward to learning more.
Thing you are most anxious about in your first year?
Balancing the internship recruitment season this fall with the intense core curriculum.
Thing you are most excited about in your first year?
I am super excited about getting to know more of my classmates. My section (Section A – Alpha Lions!) has some extremely smart and fun people. I have loved getting to know them so far and can't wait to continue to go through the first-year journey with them. Just so everyone from Darden reading this knows, we will win the Darden Cup this year!