Each week we collect MBA news from leading business schools to give you a quick overview of the latest trending topics.
In this week's MBA News You Need digest: HBS highlights financial aid opportunities; Berkeley Haas offers advice for their new video essays; Georgetown McDonough discusses how its MBA program empowers women; Michigan Ross talks about its new Food, Friends, and Culture (FFC) series for cultural awareness; and UT Austin McCombs introduces new Dare to Lead program produced by Brene Brown.
HBS Manager of Financial Aid Explains Opportunities for Funding
The price tag for a Harvard Business School MBA can be daunting, but Katie Kelsall, manager of MBA financial aid at HBS, has a number of solutions to help candidates pay for the program. In a recent blog post, Kelsall outlined the options.
HBS Scholarships: 50 percent of students qualify for an $80,000 need-based scholarship over two years.  Need-based scholarships are funded by alumni.
Complementary Fellowship: In addition to scholarship funding, students can also apply for a complementary fellowship if they need additional help.  These include the Canadian, Forward, Goldsmith, Junior Achievement and Kaplan Fellowships.
Outside Scholarships: Students are eligible for up to $30,000 in outside funding to bolster their HBS scholarships.
"While our scholarships can cover a substantial portion of the cost, no one receives a full-ride scholarship from HBS. This is a shared investment in your future and we expect each student to contribute to their education…Every financial aid package is different, but by using a combination of resources, you can meet the cost of our MBA program," says Kelsall.  She recommends that students consider building a savings account and applying for federal and private student loans.  Harvard offers webinars, tips and more on managing finances and accumulating savings through their Financial Services department.
Berkeley Haas to Introduce Video Essays
Around 60 percent of hiring managers and recruiters now use video interviews. In response to this trend, the Berkeley Haas Evening & Weekend MBA  program recently announced that 1-2 minute video answers will replace in-person interviews in their application process. Applicants must answer two simple questions:
Why are you pursuing an MBA and why is Haas the best fit?
Please share a leadership experience.
To understand how to complete this new video essay format successfully, Jenny Clare, associate director of admissions at Berkeley Haas, shared some tips:
Don't be nervous; it's a relatively straightforward process as long as you practice with the technology ahead of time.
Make sure you have a reliable internet connection.
Think about your topics and answers ahead of time; practice speaking comfortably and naturally.
Remember: the video essay is just one part of the application.
The adcom will be looking for applicants' verbal communication skills, personality and more.  See more advice on video essays in our Admissions Tip.
Georgetown McDonough Empowers Women MBAs
Female representation in the upper echelons of finance is a persistent problem—just 26 percent of senior management and 15 percent of executives are women, according to Mercer.  Women also make up less than a tenth of senior management roles in VC and PE, and hedge funds see only three percent of senior management roles filled by women.  In light of these gaps, Georgetown McDonough is working to strengthen the career plans and outcomes of its female graduates through a number of key initiatives:
Offering rigorous finance classes such as Hedge Fund Investing and clubs such as Georgetown Women in Business
Employing accomplished female faculty
Bringing successful female alumnae into the classroom
Providing resources specifically for women MBAs
Hosting family-friendly events for women MBAs with children
Creating a nursing lounge for female MBAs with young children
Developing a strong network of male allies
"Georgetown offers an amazing network of strong, smart, and accomplished women," said Hanna Shum (MBA'19), assistant vice president of investor relations at State Street. "Through this network, I received valuable career advice, expanded my knowledge of financial topics, was encouraged throughout my MBA experience, and made genuine friendships."
You can read the full news story about women MBAs at Georgetown McDonough here.
Michigan Ross Launches New Program to Promote Cultural Awareness
The new Michigan Ross Food, Friends, and Culture (FFC) series provides a forum to build cultural understanding and awareness among the full-time MBA class.
"The motivation behind the Food, Friends, and Culture series was to create a space for MBA students to share stories about their cultural backgrounds with their classmates while also featuring food, trivia, and an interactive activity from their cultures," said Soojin Kwon, Ross's managing director of Full-Time MBA Admissions and Program.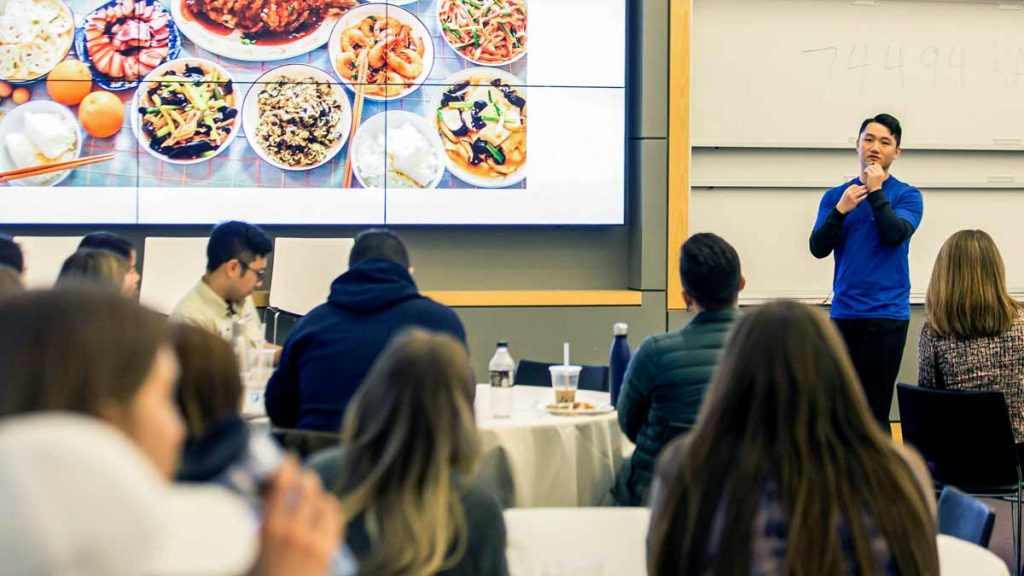 To date, three events have already taken place, each of which attracted around 200 students. The events featured students from the Hispanic Business Association, African Business Club, and several East and Southeast Asia clubs. The fourth and final event will take place in mid-February, which will highlight students from the Black Business Students Association.
"Many of us came to Ross to meet and learn from people different from ourselves and the people we have been exposed to. While we are constantly, implicitly learning from our classmates, FFC provides a platform to share stories with intention," explained Dorothy Yen (MBA '21). "The attendees come to learn about differences, but also benefit from realizing similarities."
UT Austin McCombs MBA Gets a Popular Guest Professor
Acclaimed author, speaker, researcher, and UT Austin alumna Brene Brown will join the McCombs School of Business as a visiting professor of management. She will help launch a new leadership training program focused on trust, courage, and vulnerability based on her #1 New York Times bestselling book, Dare to Lead.  The University of Texas is the first institution to transform her work into a university curriculum.
"Our curriculum is oriented to prepare leaders for increasingly dynamic and rapidly changing environments, and our Center for Leadership and Ethics fuels our efforts via powerful research. As she rolls out her program at the university, the opportunity for new collaborative research efforts with her faculty colleagues here at the business school is tremendous," said McCombs dean Jay Hartzell.
Read the full press release here.