Tsepo Serakalala, LBS MBA Class of 2022
Age: 30
Hometown: Makhado, South Africa
Undergraduate Institution and Major: University of Cape Town, Chemical Engineering
Pre-MBA Work Experience (years, industry): 7 years, Energy and Investment Banking (M&A)
Why business school? Why now? 
I believe that energy is the lifeblood of any successful society and economy. South Africa, and Africa in general, continues to struggle with access to sustainable, consistent power, a phenomenon that I believe is holding back our growth potential. As a future investor in the African energy industry, I feel that in order to achieve my career goals effectively, I'll need to build a more holistic set of business skills.  I've spent 7+ years honing my technical know-how and industry knowledge and now feels like the right time to go out and sharpen up my skills and all the other tools in my career toolbox.
Why LBS? What factors figured most prominently into your decision of where to attend?
The three most important factors in my business school decision process were location, programme rigour & structure, and alumni network. As someone who values diversity, I wanted to be in a cosmopolitan city, at a school with people from across locations, cultures, and backgrounds. Given the significant investment required, I also wanted a respected, two-year programme with world-class faculty and content that would challenge me. Lastly, I wanted to be part of a community with an extensive, active, and receptive alumni network that I could call on along my journey. LBS was one of the very few schools that ticked all three boxes. Furthermore, being selected as this year's Mo Ibrahim Foundation scholar reinforced my decision and my belief that I'd made the right choice.
What do you think is your most valuable or differentiating contribution to the Class of 2022?
The intersection of my journey and identity as a queer, black, African man, and my global career working in energy and investment banking, make for a unique set of perspectives that I believe enrich the experience for the community at large.
Fun fact that didn't get included on your application? 
In my spare time, I'm a budding pastry chef.
Post-MBA career interests? 
Africa Energy / Infrastructure focused Private Equity / Investment Management
Advice to current prospective applicants:
–One thing you would absolutely do again as part of your application process?
The essay-writing process was challenging but transformative. I knew many of the candidates I was competing with were using experienced admissions consultants and this was a source of anxiety for me. But, in retrospect, going through the process on my own helped me grow in ways I could have never imagined. The writing process forced me to spend time with myself, reflecting on what I wanted, where I wanted to be, and how I could get there. I believe that this is an exercise one should repeat every now and then, so I'd definitely go through that again.
–One thing you would change or do differently?             
I would spend less time stressing about an extra 20 points on the GMAT and focus my limited time on building a solid overall application.
–Part you would have skipped if you could—and what helped you get through it?
Definitely the GMAT. As someone who is bright, but sucks at taking standardised tests, preparing for the GMAT was a painful experience. Having access to online resources helped make the process easier.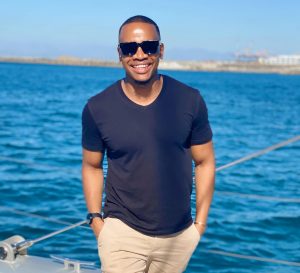 What is your initial impression of LBS's students/culture/community?
Kind, driven, and purposeful. The people, culture, and environment are the very definition of world-class.
One thing you have learned about LBS that has surprised you? 
People here are very open to listening to others. In an age where many are fixated on their own opinions, I've been pleasantly surprised at how open the school administration, faculty, and student communities are to actively listening to what one has to say. It's very empowering.
Thing you are most anxious about in your first year? 
Making sure I make I'm doing enough networking, enough socialising, and getting good grades.
Thing you are most excited about in your first year?
Making new friends, gaining new knowledge, and discovering more about myself.