Tinan Estelle-Aurelie Goli, LBS MBA Class of 2022
Age: 28
Hometown: Abidjan
Undergraduate Institution and Major: Institut National Felix Houphouet Boigny, Engineer ESCA
Pre-MBA Work Experience (years, industry): Connectivity specialist/Product developer (Fintech)
Why business school? Why now? 
I felt now was a great time to go to business school as I'm looking to make a career change and move more fully into the fintech industry as a founder; I felt it would be great to make that move with an MBA behind me.
My previous years' experience reinforced the belief that I have the right technical knowledge, and now I need the management, entrepreneurial, and leadership skills required as well. As a result, I felt an MBA would be the right step to transition to a VC role and level up to build my own company.
Why LBS? What factors figured most prominently into your decision of where to attend?
I did an on-campus visit and I fell in love with the diversity in the classrooms, and the organizational skills of the admission office, which was very responsive to my concerns. I was looking for the best schools in the world, but I also wanted a school with a very diverse cohort where I could contribute, and learn from different and newly discovered cultures.
For me, London Business School was the ideal place to get an MBA and prepare for my short and long-term goals. I wanted to stay in Europe in the short term post-MBA, so the London location was more attractive as I knew it would facilitate my connections with the European VC market, innovation hubs, and the global alumni network.
Furthermore, LBS's academic flexibility allows me to target specific subjects, improve my entrepreneurship potential and fintech knowledge, as well as allowing me to have greater options in terms of graduation timing.
What do you think is your most valuable or differentiating contribution to the Class of 2022?
That's a tough one after spending a few months here, as I think my classmates (Stream EXTRAA) are amazing and can contribute just as much.
The diversity of my experience from a finance student to a professional in technological innovations will offer a unique experience to the class and could be a practical example for my classmates that would like to switch from one industry to another. I could be an internal motivator and why not an advisor for some of my colleagues who would like to move into Fintech or tech in general?
Also, I bring diversity to the classroom as the first and only female full-time MBA from French-speaking West Africa. I specifically think that with my experience both in Europe and in Africa I can be an important pillar in understanding Africa from a woman's perspective; I can share my experience with others, discuss the challenges facing Africa, especially the French-speaking part, and its development at all levels. By taking a few leadership roles, I am currently spearheading crucial initiatives and helping adapt the activities and events to people like me, so that we can attract more diverse and smart people, and make more impact in my community and other minorities.
Fun fact that didn't get included on your application? 
I make the best brownies.
Post-MBA career interests? 
Venture capital, entrepreneurship
Advice to current prospective applicants:
–One thing you would absolutely do again as part of your application process?
Visit the campus and take part in a class.
–One thing you would change or do differently?             
Study and take the test early to have better time management during the application process.
–Part you would have skipped if you could—and what helped you get through it?
The test (GRE/GMAT). It was difficult to study correctly while managing my office workload and running a side business/ NGO. I had to take a step back from the business for a few weeks and focus on the test.
What is your initial impression of LBS's students/culture/community?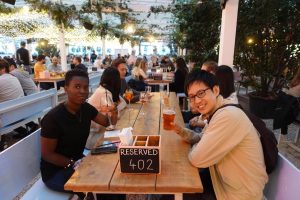 It is a very diverse community in a collaborative environment. Students are smart, supportive towards each other and everyone is available and willing to help each other. You'll always find an expert on something in the cohort.
Even with the COVID-19 environment, we found safe ways to bond and make the experience worth it.
One thing you have learned about LBS that has surprised you? 
To have a busy calendar almost every night of the week – from doing career events to participating in our 70+ clubs, activities, and hanging out with friends.
Thing you are most anxious about in your first year? 
Time management, fear of missing out. In particular, how to be able to do everything from career and club events to MBA trips.
Thing you are most excited about in your first year?
Meeting new people and making memories.