Ben Lewis, LBS MBA Class of 2022
Age: 25
Hometown: Chicago
Undergraduate Institution and Major: Northwestern University, Chemical Engineer/Math/Integrated Science
Pre-MBA Work Experience (years, industry): Consulting, 3 years
Why business school? Why now? 
After three years in consulting, I'd finally figured out what I wanted to do next.  However, I still lacked a really rigorous background in business and finance so wanted to go for the education.  Plus, being able to meet people who'd done the work previously would help me be absolutely certain of what I want to do.
Why LBS? What factors figured most prominently into your decision of where to attend?
For me, I'd already been fortunate enough to meet a lot of US MBAs in my prior work.  LBS represented a whole new group of people for me to meet – students from roughly 70 different countries meant there was a lot more to learn.
What do you think is your most valuable or differentiating contribution to the Class of 2022?
Being an American management consultant is about as bland as you can get, but I like to think the other parts in my background have been useful.  Whether it's my experience in healthcare or my background as an aspiring scientist, it's been nice to be able to translate things between the science and the business reality when working with my teams.
Fun fact that didn't get included on your application? 
I'm sure I undersold my nerdiness on the application – one thing I left off is that my friends and I attend a board game convention every year (well not this year) to test out and pick up new games.  Hoping to fly back for it if COVID-19 allows next summer!
Post-MBA career interests? 
I'm aiming to work in healthcare, but where within that is currently up in the air.  I'm currently with a diagnostics startup, but also exploring healthcare from the VC/PE side as opportunities arise.
Advice to current prospective applicants:
–One thing you would absolutely do again as part of your application process?
Talking to current students was incredibly helpful.  I reached out to ambassadors who had similar backgrounds as well as ones with similar aspirations.  All the pros and cons they told me fit in very well; the pros were what I really needed and the cons were things I was already willing to sacrifice.
–One thing you would change or do differently?             
I wish I'd done more research early on in the process. To be quite honest, LBS popped up very coincidentally as I'd just gone off the schools everyone at school talked about and recommend to me.  Some of the other applications I wasn't very sold on and I feel like I wasted a lot of time on places I wasn't excited about.
–Part you would have skipped if you could—and what helped you get through it?
I think I spent far too much time agonizing over my essays.  Ultimately changing one word isn't going to impact the result of your application, but I made my friends read them incessantly.  I think once I hit the point where I was happy I was telling my story correctly I should have stopped!
What is your initial impression of LBS's students/culture/community?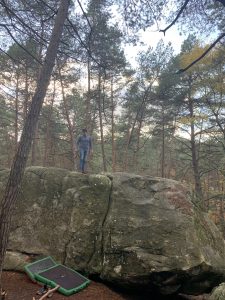 It's amazingly tight-knit.  Obviously, in the COVID-19 era, it's hard to form a connection, but the students did an incredible job setting up zoom calls throughout the summer.  It also keeps going now that we're on campus; people are always down for everything.  Just this weekend alone there's a handful of dinners being planned, game nights, a rugby scrimmage, several hikes, and rock climbing trips.  And those are just the things I know about!
One thing you have learned about LBS that has surprised you? 
It honestly didn't sink in until I was here how diverse the class is.  Geographically, professionally, it's all over the place.  My study group is a Ukrainian, Singaporean, Italian, Uruguayan, Indian, and me.  And we all have different backgrounds and all have different post-MBA plans.
Thing you are most anxious about in your first year? 
The FOMO is very real for me here.  I worry about the things I choose not to do, whether that's clubs or trips or classes or internships. With only two years (or less), there's a lot of choices to be made and I hope I'm making the right ones.
Thing you are most excited about in your first year?
So many great things coming up this year, but I think the thing I'm most excited about (assuming COVID-19 comes back under control) is the LBS snow trek.  It'll be a great way to spend time with classmates after we've almost finished our first year.