Naveen Kler, LBS MBA Class of 2022
Age: 29
Hometown: Leicester, United Kingdom 
Undergraduate Institution and Major: Law, London School of Economics and Political Science
Pre-MBA Work Experience (years, industry): Four years in law, two years in philanthropy and impact investing
Why business school? Why now? 
Prior to the MBA, I was working for the Children's Investment Fund Foundation, the world's largest foundation focused on improving children's lives, helping to develop their commercial solutions and impact investing portfolios. My legal background was helpful in understanding how to structure impact investments, however, I lacked key quantitative skills (i.e. how to value an investment, understanding finance theory and economic factors), which I needed to be equipped to lead and make investments. I felt the MBA was the perfect opportunity as the programme would provide me with these key quantitative skills, but, in addition, propel me further in my industry of choice. LBS has strong ties to key impact investing firms such as CDC Group and Bridges Fund, a growing focus on social impact, and a flexible programme structure that I could tailor to my needs.
Why LBS? What factors figured most prominently into your decision of where to attend?
LBS stood out as a business school from the beginning of my research. Firstly, I wanted a European-based school as I saw my career continuing in Europe or Asia – I felt LBS had a truly international outlook, which is evident from its class makeup and the global reach of its Careers Centre.  As I was applying during the COVID-19 pandemic, I wanted a school with a strong sense of community – LBS has generated this through its active student clubs, which really have been a highlight of my experience to date. Most of all, I wanted an MBA that I could provide me with flexibility and wide opportunities to tailor the programme to my needs – the three exit points and the range of electives make LBS's MBA stand out as a programme. My classmates are in different stages of life and each has their unique goals, but to date, we have all been able to make the MBA work for our own paths because of this inherent flexibility.
What do you think is your most valuable or differentiating contribution to the Class of 2022?
During my career, I worked as an M&A lawyer for an international law firm working with FTSE 100 and 250 clients and then transitioned into philanthropy and impact investing with a driving passion for gender empowerment. I appreciate the entire spectrum from investing solely for financial gain to investing for only positive social impact. As we move to a world where businesses focus on doing good as well as enhancing shareholder value, in my cohort I can offer experiences of models and investments which I have worked on to balance financial returns and social impact. Furthermore, I can bring in my emerging market experience working across South East Asia, India, and Africa to teach my classmates about how their impactful businesses will work in these markets.
Fun fact that didn't get included on your application? 
I spent six months living in Singapore on secondment and only spent two weekends in Singapore itself – I just loved traveling around South East Asia and exploring!
Post-MBA career interests? 
Impact Investing and Strategy Consulting
Advice to current prospective applicants:
–One thing you would absolutely do again as part of your application process?
I really enjoyed my interview. LBS really thought about the experience of my interviewer and how they could challenge me and my experiences to date. I found the interview stretching whilst still feeling like a conversation.
–One thing you would change or do differently?             
I wished I had applied in an earlier round – this gives you a little more time if you receive an offer to make plans with your current employer, take some time off and be in the right mindset to hit the MBA running.
–Part you would have skipped if you could—and what helped you get through it?
The GMAT! It is not an easy experience, particularly when you are working and studying at the same time. I would suggest giving yourself as much time as possible (at least 4 months) and allow for plenty of practice tests.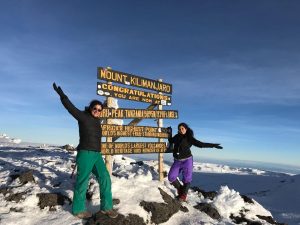 What is your initial impression of LBS's students/culture/community?
I have only been on the MBA for six weeks but I think it is one of the best choices I have ever made.  It has already been challenging, experimental and so much fun. During my research of business schools, every school claimed that it was international but, at LBS, it is palpable.  Every lecture or zoom call, I am in a room with classmates who have entirely different cultures and career paths to my own. Most importantly, LBS doesn't recruit one personality type either and this only adds to the diversity of the classroom.
One thing you have learned about LBS that has surprised you? 
The focus on making a positive social difference in business. LBS has a strong focus on making us conscientious, socially impactful, and ethical future business leaders. The school is genuinely setting us up to be future leaders who are adaptable to the realizations that face our generation from climate change to staff engagement and mental health and navigating the impacts of globalization.
Thing you are most anxious about in your first year? 
Balancing all the commitments. The MBA is fast-paced from the first week and you have such a wide range of opportunities; it is important to stay focused and to be careful about how many commitments you take on!
Thing you are most excited about in your first year?
Seeing how I progress as a person. You are continuously learning about your own abilities – I have learned about strengths that I didn't think were strengths.  I have also enjoyed working on my 'weaknesses' in a structured and considered environment – the MBA gives you ample opportunity to self-reflect and build on your foundation to date.