Sponsored Content
Admissions, B-school & Children – we cover the ABC's of pursuing an MBA while raising a family in this special podcast feature. Graham Richmond welcomes someone who not only earned an MBA, but who did it while raising a family and working full time.  She is also the associate dean of admissions and marketing for a leading MBA program!  Our special guest today is Shelly Heinrich from the Georgetown McDonough School of Business.
Heinrich leads the MBA Admissions team in both its marketing and operational strategy to build awareness, recruit, yield, and retain the Full-time and Flex MBA programs. She also develops the integrated marketing strategy for the team and manages the internal marketing team and external marketing firm in its execution. In addition to a master's degree in education from the University of Texas at Austin and a bachelor's degree in business administration from Texas Christian University, Heinrich earned an Executive MBA from the McDonough School of Business.
Tune into the podcast feature below as Heinrich discusses juggling work, school and family; the benefits of her EMBA; how MBA options can vary and more. Get insights into MBA admissions as well as business school life.
Happy listening!
This episode was recorded in coordination with
Georgetown's McDonough School of Business.
To learn more about Georgetown, listen to the episode below and check out the links here:
Register for an Event
Request More Info
Visit our Blog
Download our Viewbook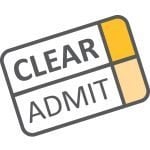 If You Like What You've Been Hearing, Please Subscribe and Rate Us on Apple Podcasts!
It's been wonderful seeing the audience for our podcast series continue to grow! Please, if you have enjoyed what you've heard, could you rank the Clear Admit MBA Admissions Podcast in Apple Podcasts? That can really help even more listeners find us. To ensure that you never miss an episode, you could even subscribe.
This episode was hosted by Graham Richmond and produced by Dennis Crowley. Thanks to all of you who've been joining us! One more time: Ranking us in Apple Podcasts can help others find us, too, and subscribing means you'll never miss a podcast.
While you're here, check out some other recent Georgetown News:
Why a Strong Career Office is Essential to Your MBA Success
Georgetown MBA Employment Report: Alumni and Technology Support Career Outcomes
Location? Location… Location! Where Is Your B-school and Does It Matter?
Episode 91: A Flex MBA Could be Your Perfect Fit
Why a Flexible MBA Program is Essential for Working Professionals