Beatriz Hortelano Garvayo, Esade MBA Class of 2021
Age: 27
Hometown: Marbella
Undergraduate Institution and Major: CUNEF University, Bachelor in Economics and Business Administration
Pre-MBA Work Experience (years, industry): Business development at Santander Bank (Frankfurt, Germany – two years), financial & strategic planner at Santander Asset Management (Frankfurt, Germany – three years)
Why business school? Why now? 
In my last role, I worked with decision-makers, CEOs, and funds, in both finance and strategy projects, using the outcomes of key financial metrics to develop adequate solutions for challenges faced by the organization.  Knowing that my work has been key in influencing the direction of a company is highly rewarding, and I quickly realized the need to gain more business acumen to complement my financial background. That is one of the main factors leading me to pursue an MBA programme. I believe the MBA will give me the opportunity to gain more global experience, broaden my horizon, and improve my managerial skills.
Are you on the 12-, 15-, or 18-month track at Esade?
15-month track.
Why Esade? What factors figured most prominently into your decision of where to attend?
I believe Esade is the perfect partner for this journey. Its track record of providing support to women to become the leaders of tomorrow is really what brought me here and is crucial to ensure my way forward.
Furthermore, Esade is a unique hub that joins intellectuals, researchers, and a diverse set of students with challenging questions and creative ideas. I saw Esade as a place where I would be challenged to grow and supported on my personal journey, and as a business school to develop myself professionally.
What do you think is your most valuable or differentiating contribution to the Class of 2021/2022?
I want to contribute to making a difference in people's lives by extending my curiosity, passion, and gratitude to my surrounding environment. Everyone has something unique and you can always learn from the simplest things: a conversation, a movie, or a walk. I am innately curious about people and life – and I want everyone to feel the same interest that I feel for them.
I believe in 'normal', in your average Joe, in the people who fight to be a better version of themselves – not the best manager or entrepreneur – but their best version. This is what encourages me to put my heart into everything I do and maintain enthusiasm while pursuing ambitious goals.
Furthermore, a common characteristic among those who have made the most significant impact on my professional and personal career is gratitude. People who value others are able to create a prosperous and positive human environment. I place great emphasis on this value – and which I have learned from my mentors.
With this in mind, when thinking what I could add to Esade's MBA classroom if it is inspiring others to put their heart into everything they do while being grateful – then that, in my opinion, beats the rest. I want to be that person above all – demonstrating these values to others, whether it be the people, businesses, or societies that surround me. I believe that a balance of these is the secret to success.
Fun fact that didn't get included on your application?
For the past ten years, I have been buying a plate in every city I have visited. My collection consists of over 60 plates so far.
Post-MBA career interests? 
In the long term, after my MBA, I want to keep working in asset management and contribute to the evolution of new business models. With new sustainability standards arising, and continuous requirements for solid corporate strategy pillars, I want to become an essential member of the strategy department with the long-term goal of leading the development of new business models for new market trends.
Advice to current prospective applicants:
–One thing you would absolutely do again as part of your application process?
Get involved as much as possible with students and alumni. Also, try to attend different MBA events. It really gives you additional information on the various programs and schools. Take advantage of any scheduled events and witness the excitement and pride of Esade Alumni.
–One thing you would change or do differently?
Prioritizing GMAT over my final target, which was getting into Esade. During the GMAT preparation, you easily forget about the actual goal, which might derail you from achieving it.
–Something you would have skipped if you could—and what helped you get through it?
GMAT. Preparing for the GMAT while working full time and trying to give 150% to both is overwhelming. I was lucky enough to count on the advice and support of my friends and family and finally recognized the urge to focus on one of both aspects. And it seems to have paid off!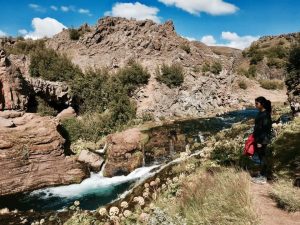 What is your initial impression of Esade's students/culture/community?
Amazing. The people are just unbelievable, and I wonder how I got in when I hear about the things that other people are doing/have done in their careers and lives. Diversity of thought is appreciated here! I'm so lucky to be able to spend the next 15 months getting to know so many diverse and inspiring people. Being a little removed from the outside world also helps because it allows us to stay focused on school and creates true friendships.
One thing you have learned about Esade that has surprised you? 
I have been surprised to see how much emphasis is placed on the human side of my education. After a few weeks, I have already taken several courses that focus on leadership and personal development. I have also had the opportunity to participate in extracurricular activities that aim to provide a space for everyone to share topics that they care about, even if those topics are not often discussed.
Thing you are most anxious about in your first year? 
FOMO. I do not want to miss out on anything, but I know part of the MBA process is making decisions on what you can and cannot do. This will be a tough thing to handle because it seems that there are always great things going on.
Also, figuring out how to balance readings, assignments, learning, recruiting events, social events, and my mental health!
Thing you are most excited about in your first year?
I am most excited about continuing to get to know classmates. In the month I have been here so far, I have developed close relationships with people far more quickly than I expected, and I can't wait to continue to do so throughout the year. More to come!