Piotr Opacki, Esade MBA Class of 2022
Age: 28
Hometown: Piekary Slaskie, Poland
Undergraduate Institution University and Major: University of Birmingham (UK) – Masters in Engineering
Pre-MBA Work Experience (years, industry): Mainly design engineering roles (combined five years) in construction, aerospace, and marine industries. I also got involved in the start-up world. I founded an online talent marketplace platform, as well as worked as an operations exec for a London food-tech business.
Why business school? Why now? 
I heard about an MBA around four years ago when I was on a business trip to Italy with a number of senior individuals. I then learned about a range of impactful career paths available with this type of master's. Fast forward to early 2020 and I simply felt it was the right moment to apply to a business school and acquire new knowledge to open doors to further chapters in my life. Being 28 means I still have that window of time for one more degree before I start a family.
 Are you on the 12-, 15-, or 18-month track at Esade?
Originally, I wanted to wrap things up in one year, but now I want to make the most out of internship and student exchange opportunities. Definitely 18 months!
Why Esade? What factors figured most prominently into your decision of where to attend?
Having lived in the UK for 12 years, I really wanted to experience adulthood in continental Europe. I came to Barcelona for a weekend break a few years ago, and when I found that this amazing city is also home to a top-tier B-School, the decision was a no-brainer.
What do you think is your most valuable or differentiating contribution to the Class of 2021/2022?
Adding fresh ideas to the table and bringing people together. As an engineer, I also have a technical mind, but at the same time, I am a creative visionary, which yields interesting results!
Fun fact that didn't get included on your application? 
I used to deliver pizza as a teenager!
Post-MBA career interests? 
The plan is to progress towards a general manager role, where I can use my design & innovation skillset for improving processes across an organization and contribute to shaping the overall strategy.
Advice to current prospective applicants:
–One thing you would absolutely do again as part of your application process?
Attend an MBA fair in your local city to meet with an admissions director. Getting to know each other in person helps both parties.
–One thing you would change or do differently?       
Attend an open day in person (hopefully next year there won't be travel restrictions!)
–Part you would have skipped if you could—and what helped you get through it?
I'm not a big essay writer, and I wish the application process was less time-consuming. To finalise my submission, I dedicated a specific day, when I worked on the essays from early morning until they were all completed.
What is your initial impression of Esade's students/culture/community?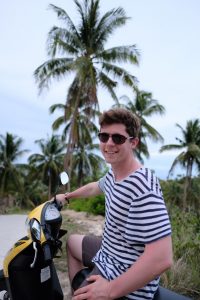 Everyone is willing to help each other, and people cheer each other on, which helps a lot with boosting one's confidence. Many people, like myself, do an MBA because they want to accelerate their career in business without having a business background. Strong comradeship is crucial in navigating across this new environment. Students at Esade are willing to share their contacts and job postings, which means there is no individual race, but rather a joint effort to ensure the entire class wins.
One thing you have learned about Esade that has surprised you? 
How approachable the alumni community is! I reached out to some previous students on LinkedIn and the majority were happy to give me top tips on making the most out of my time at a B-School, and then effectively navigating around a global careers market.
Thing you are most anxious about in your first year? 
Having to juggle too many balls! Cases, group assignments, career fairs, job applications, networking, business clubs…
Thing you are most excited about in your first year?
Making new friends, obtaining a strong business acumen, securing an internship in a creative and innovative company.