Diana Carolina Méndez Martínez, Esade MBA Class of 2021
Age: 28
Hometown: Colombia – Bogotá
Undergraduate Institution and Major: Universidad de Los Andes – Psychology and Law
Pre-MBA Work Experience (years, industry): PwC HR consultancy (2½ years); Human resources – construction (1½ years)
Why business school? Why now? 
I decided to do the Esade Full-time MBA programme for two reasons. The first is that I love to challenge myself. I have worked in human resources for four years, which is an area that I am really passionate about, but at the same time, I felt I wanted to get out of my comfort zone, learn new things, and challenge myself more.
The second reason is that since I was a child, my father and eventually my sisters and brother, made me fall in love with our family business. Working in our business became my goal, but as I got older, I realized that my real goal was not just working in the company. I wanted to add some value to the business, and give my family, our company, and our teams the best of me. As a psychologist and a lawyer, I have been able to contribute to our family and the company in different ways, but that was not enough for me. As a family business owner, it is essential for me to understand the business as a whole and not just the departments I manage. The MBA is giving me the tools I need to contribute in a broader way.
Are you on the 12-, 15-, or 18-month track at Esade?
15 months
Why Esade? What factors figured most prominently into your decision of where to attend?
When I started my search about three years ago, I talked to people from different universities, listened to their experiences, and began to understand why they chose their school. I stopped my search the moment I talked to an Esade Alumni. She had just described the perfect school for me.
Talking to her, other alumni, and finally talking to my admissions director from Colombia, I fell in love with Esade. In fact, it was the only school that I applied to. I found out that Esade's goal was not just to train future managers, but future real leaders who definitely care about things like profitability, cash flow, and investments, but just as much about their teams, employees, and brand. This education will touch on every factor related to the business in order to build a company that endures.
The collaborative spirit that is part of Esade's brand is not just a marketing strategy but is something that every person that goes to Esade talks about, and just by being here a few weeks, I can see that it is something you perceive everywhere.
What do you think is your most valuable or differentiating contribution to the Class of 2021/2022?
Being the only psychologist in the class, having had the opportunity to work as a consultant and as an owner in our family business has helped me contribute to my team and the class as a whole with different perspectives and a knowledge base to nurture the discussions, assignments, and projects we work on.
Fun fact that didn't get included on your application? 
I had no idea how to cook before arriving in Barcelona!
Post-MBA career interests? 
Pursuing a higher management role within my family's business.
Advice to current prospective applicants:
One thing you would absolutely do again as part of your application process?
Talk with graduates from different universities. Think deeply about why you are pursuing an MBA. Look at a school that is aligned with your purpose and personality, and take into account the city in which the school is located.
–One thing you would change or do differently?   
RELAX! You will get into the school that is right for you!
–Part you would have skipped if you could—and what helped you get through it?
The TAE (admissions test). I had to keep telling myself that it was difficult because that was what I was looking for; learning something different and getting out of my comfort zone. I just had to keep remembering that Esade was the only school that I was applying to, as it was my dream, so I had no choice but to nail it!
What is your initial impression of Esade's students/culture/community?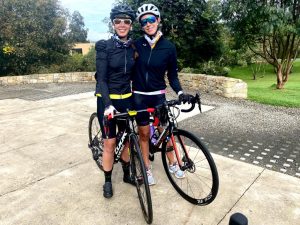 The collaborative spirit is real! So many people with different backgrounds and personalities that I'm sure are going to have a huge impact on my development process as a professional, leader, and person during the MBA.
With the COVID crisis, Esade has proven to have the ability to adapt to unexpected situations, and to strike a balance between our safety and the typical experience that every MBA student wants to have.
One thing you have learned about Esade that has surprised you? 
The closeness they make you feel with the school from the first moment of the admission process.
The importance given to team building, leadership, and career sessions even before we formally started classes. It's a fact that they don't want just 'managers' to graduate from their business school – but the best leaders and professionals.
Thing you are most anxious about in your first year? 
Getting through accounting and finance!
Thing you are most excited about in your first year?
Keep proving to myself that I chose the right challenge for my professional and personal development. Getting to have the whole MBA experience, learning, having fun, traveling, and getting to know lots of people! Finally, having the opportunity to live in my favorite city, Barcelona!