Hakan Hacioglu, Esade MBA Class of 2022
Age: 34
Hometown: Istanbul, Turkey
Undergraduate university and Major: BA in International Relations at Uludag University.
Pre-MBA Work Experience (years, industry):  I have worked in Event management for three years, and I was part of an award-winning in-flight team in one of the world's biggest airlines for eight years.
Why business school? Why now?
Having worked for 11 years combined in tourism and aviation, I realized that it was time for me to reinvent myself. I wanted to explore the corporate side of businesses, learn about other industries, meet peers from different professional backgrounds, and expand my horizons. I found that the best way to achieve all these goals was to attend a business school. Following two years of research, I decided that 2020 was my year to go!
Are you on the 12-, 15-, or 18-month track at Esade?
18 months! As a career switcher, I am looking to make the most of my MBA. The 18-month track will allow me to explore the business world from different angles, maximize my personal and professional development, and enjoy everything that Esade offers for more time.
Why Esade? What factors figured most prominently in your decision of where to attend?
There are four main reasons why I chose Esade:
Working in diverse teams is important to me, and I believe in the power of teamwork. At Esade, collaboration is not just another buzzword to attract students but a reality, and the moment you get in touch with a student or alumni, you can feel it.
From the first contact, my admission director has been there for me. She was genuinely happy to answer my questions, she put me in touch with current students, and made me feel welcomed in the community even before my admittance. I was able to compare several business schools by dealing with the admissions team, as I think this very much reflects the school's culture and vibe, and Esade had a huge win there.
While researching top business schools in Europe, I realized that I wanted my MBA experience to be innovative and creative, rather than traditional. Esade clearly stands out with its Innovation Lab, Entrepreneurship Track, and strong network in the tech industry.
 To me, Barcelona is not only a fantastic city with so many opportunities but also my wife's hometown. I have always wanted to live here with her at one point in my life, and I feel fortunate for having accomplished this goal with a top-notch MBA.
What do you think is your most valuable or differentiating contribution to the Class of 2021/2022? 
My professional background is quite unusual in any MBA cohort. I come from the under-represented tourism and aviation industries. I have led more than 450 different multinational teams in my career and travelled to 95 countries. As a result of these experiences, I bring a unique perspective to any matter we discuss in and out of the classroom. Additionally, I am passionate about organizing events. As the President of the Hospitality and Travel Club at Esade, I look forward to working with my board to organize unforgettable events for my peers.
Fun fact that didn't get included in your application?
I have spent about 9000 hours on airplanes; that is 375 days of flying!
Post-MBA career interests?
I'm looking to break into the tech industry to gain experience and leverage to contribute to greener aviation in the future.
Advice to current prospective applicants:
–One thing you would absolutely do again as part of your application process?
Visiting the campus and connecting with current students and alumni. Even if the traveling is not possible, I would recommend applicants take the time to reach out to people from their dream school.
–One thing you would change or do differently? 
If I could change one thing, that would be starting my application process much earlier. This strategy would reduce stress and increase admission chances, especially this year, as the 2020 deferrals have already reserved some of the seats.
–Part you would have skipped if you could—and what helped you get through it?
My job required flying around the world. Focusing on the GMAT with constant jetlag was not easy! My wife was my most significant support in the process: she adjusted my social plans accordingly, and also became a pep talk expert. Additionally, when the airlines stopped operations due to Covid-19, I happened to have all the time in the world, which helped me get through the GMAT.
What is your initial impression of Esade's students/culture/community?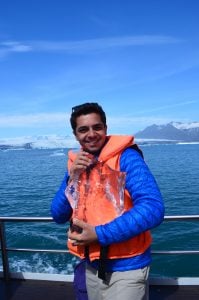 Although we started meeting our professors, program managers, and peers online, we bonded and quickly became a family. There is a remarkable sense of pride and belonging here, which creates a safe learning environment for everyone to be challenged, grow, and thrive.
One thing you have learned about Esade that has surprised you? 
Esade has creativity and innovation at its core; however, I was not expecting to see a robot talking to us in our welcome presentation!
Thing you are most anxious about in your first year? 
Fear of missing out! Every single day there is so much going on. In the beginning, I did not want to miss anything; hence I signed up for every event. Until the harsh reality hit me: there is not enough time for everything, and I have to choose what's beneficial and learn to let go of the rest. Despite doing so, my calendar has been packed like never before.
Thing you are most excited about in your first year?
I am excited about the opportunity to develop a solid business foundation, learn from my peers' experiences, delve into different industries and functions, and become the best version of myself. I also look forward to the career acceleration programme I joined in technology and disruption.