Gerardo Ortiz, Esade MBA Class of 2022
Age: 31
Hometown: Guadalajara, Mexico 
Undergraduate Institution and Major: ITESO, Jesuit University of Guadalajara (MEX), Electronic Engineering BSc.
Pre-MBA Work Experience (years, industry): Eight years in the technology industry with the last five years in leadership and management roles.
Why business school? Why now? 
The first time I thought about an MBA was during my bachelor studies. My major in electronics was very technical and I realized that I had to learn more about business, strategy, finance. But I first wanted to get some experience and discover if I wanted to pursue an MBA. After a few years, I decided to go to business school so I could boost my career and have a holistic vision of business.
Are you on the 12-, 15-, or 18-month track at Esade?
I am currently thinking about the 15-month track, but is important to say this is one of the great features that the Esade MBA offers. You can choose the length of the course and your final decision is not until the end of Term 3! Only Esade offers this flexibility.
Why Esade? What factors figured most prominently in your decision where to attend?
First, by taking a full-time MBA you are leaving your comfort zone, but Esade takes it even further by pushing yourself to try new things with high-impact activities. Moreover, the cultural diversity is attractive, we are 47 nationalities in the Class of 2022, the enrichment becomes vital and important for everyone's growth. In the same way, there is a wide contribution from the class from every industry you can imagine. Finally, as a bonus, you get to live in Barcelona — one of the best cities in the world to live and study in.
What do you think is your most valuable or differentiating contribution to the Class of 2021/2022?
There are two things, firstly the academic aspect, where everyone is united with this collaborative spirit that characterizes Esade. Secondly, coming from Latin America, I will contribute a different vision when contributing to the class and society.
Fun fact that didn't get included on your application? 
My passion is skiing. I haven't had the chance to do it frequently, but it is something I enjoy doing.
Post-MBA career interests? 
Business development, strategy, and digital transformation.
Advice to current prospective applicants:
–One thing you would absolutely do again as part of your application process?
Reach out to people, alumni, candidates, and prospects, because it's the very first opportunity to get immersed in the Esade environment.
–One thing you would change or do differently?       
Nothing. Be confident and be yourself.
–Part you would have skipped if you could—and what helped you get through it?
Of course, the GMAT is extremely demanding. On the other hand, prepare all the paperwork for visas, legalization of documents, or whatever document might be needed. This could save a lot of stress, especially during these times of Covid.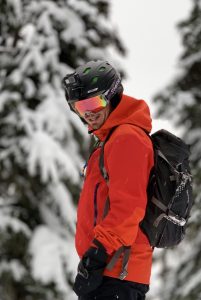 What is your initial impression of Esade's students/culture/community?
There is always someone who will help you, support you, challenge you to be better. Everyone is excited to meet people, and share ideas and visions with everyone. Esade culture is rooted in 'Do Good, Do Better.'
One thing you have learned about Esade that has surprised you? 
Esade Creapolis Technology and Innovation Park — part of the ESADE Sant Cugat campus— is home to more than 60 startups, which is an amazing and unique opportunity for everyone to be surrounded by an entrepreneurial ecosystem.
Thing you are most anxious about in your first year? 
Definitely C-19 and how it will affect all the processes and activities we have during our studies. Esade has done very well with a hybrid model and provided us with plenty of tools to lessen the impact, but in the end, everything is subject to government regulations.
Thing you are most excited about in your first year?
The fact of constantly challenging myself, building long-lasting relationships, and studying at one of the top business schools in Europe and the world.