Loris Vernier, Esade MBA Class of 2021
Age: 30
Hometown: Lissone (MB) – Italy
Undergraduate Institution and Major: Politecnico di Milano – MSc Chemical Engineering
Pre-MBA Work Experience (years, industry): five years in operations, mostly in manufacturing. I have three years of experience in the chemical industry, while in the last two years I worked in an FMCG company.
Why business school? Why now? 
One year ago, I felt like I needed a new challenge. I felt the urge to make a radical change that would help me grow personally and professionally. I wanted to broaden my knowledge, learn more about the business world and the strategic choices I was only seeing as a spectator, and be a leader who takes those decisions. Attending a business school will enable me to make that switch and to start a new chapter in my life where I can fully exploit my skills and can further thrive. I feel this is the right time for me to be an MBA student, as I have now acquired the knowledge and experience to be able to fully exploit what Esade is offering me, realize my potential, and at the same time give back to the school and the class.
Are you on the 12-, 15-, or 18-month track at Esade?
I am currently leaning towards the 15-month track.
Why Esade? What factors figured most prominently into your decision of where to attend?
A collaborative and cooperative environment
The personal feeling throughout all the application process
Class diversity and location
Academic excellence
What do you think is your most valuable or differentiating contribution to the Class of 2021/2022?
I am going to be a key element in class and group works, leading with my enthusiasm and motivating my mates to do their best. I am going to enhance the experience of my peers, not only in class but also outside of it. I am an outgoing and sociable person who is always up for spending quality time with company. I firmly believe that having some fun with your mates outside of the academic environment helps relieve the burden of such a strict business schedule, and also creates really meaningful connections and a strong network that will last after the end of the MBA journey.
Fun fact that didn't get included on your application? 
I did not mention that I am a huge sports fan; I love both watching events and playing football and tennis. My biggest passion is skiing in the Alps, nothing gives me a bigger adrenaline boost.
Post-MBA career interests? 
I would love to work in operational excellence or operational strategy departments of a big FMCG or healthcare multinational company. As an alternative, I would also love to participate in an MBA structured programme in a firm in one of those two fields.
Advice to current prospective applicants:
–One thing you would absolutely do again as part of your application process?
I would visit again the campus, in order to have a first impression of the environment and of the people and see how I would fit in there.
–One thing you would change, or do differently?      
To be honest, there is not much that I would change about my application process, I really enjoyed it from the beginning till the end. I recommend current prospective applicants start as soon as they can and dedicate enough time to GMAT preparation and essay writing.
–Part you would have skipped if you could—and what helped you get through it?
Nothing, all the steps I went through tested my willingness and made me even more confident about my decision to attend a business school, and in particular Esade.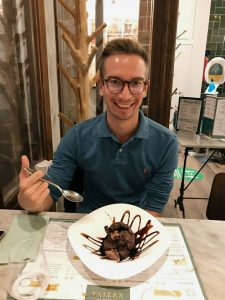 What is your initial impression of Esade's students/culture/community?
I really love the famous Esade collaborative spirit, which I immediately noticed among school colleagues, as well as lecturers and staff.
One thing you have learned about Esade that has surprised you? 
I already knew about Esade's class diversity, but I was not expecting such a variety, not only in terms of country of origin but also of previous job functions and cultural backgrounds.
Thing you are most anxious about in your first year? 
To be able to keep up with everything (classes, assignments, jobs research, clubs, sports, and social activities, etc.) and not be overwhelmed.
Thing you are most excited about in your first year?
I have just been elected as President of Esade's Operations and Supply Chain Business Club, and I am looking forward to organizing activities, such as conferences, expert talks, seminars, and training sessions, through which the club members and myself are going to learn and expand our knowledge on the sector and become more attractive to companies.