Welcome back to WireTaps, our weekly podcast covering all things MBA Admissions!  Round 2 application deadlines continue in the week ahead; Alex and Graham discussed Chicago Booth moving its deadline to this week, January 11, speculating on the reason why. Graham highlighted the Real Humans pieces from Rochester / Simon and Washington U./ Olin. Graham also covered the employment reports from Columbia and Duke / Fuqua, and your hosts noted that Columbia does not break out the geographic spread of its graduates, while Fuqua is sending 28% of its class to the west coast, a high number.
As to the candidates profiled this week, first up, Alex and Graham look at an ApplyWire entry from a candidate with great numbers (760 / 3.74) who appears to have some strong tech experience in consulting and then the VC space. Your hosts discussed the specifics of the role in VC, noting that it isn't "front facing" and the implications of that. Nevertheless, it's clear that this is a 'wicked smart' candidate with a good focus on tech. Next, Alex and Graham look at another ApplyWire entry from a female Indian candidate who appears to have very solid work experience, a strong undergraduate record, but a relatively weak GRE score of 323 (given her target schools). Alex wondered whether it would be worthwhile to plan to reschedule the test, even if it was for after the deadline. Finally, from DecisionWire, this week features a look at a candidate who is weighing up offers from Dartmouth / Tuck, Northwestern / Kellogg and UVA / Darden. The Darden offer comes with a generous scholarship, and also appears to be more appealing from a 'fit' standpoint with the candidate…leading to a bit of a dilemma!
Tech candidate with super numbers:

Female Indian candidate with a lower GRE score:

Darden with money versus Tuck and Kellogg:

Happy listening!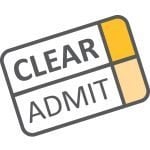 Be sure to post to MBA ApplyWire, MBA DecisionWire or MBA RankingsWire if you'd like Graham and Alex to offer admissions advice.
If You Like What You've Been Hearing, Please Subscribe and Rate Us on Apple Podcasts!
It's been wonderful seeing the audience for our podcast series continue to grow! Please, if you have enjoyed what you've heard, could you rate and review the Clear Admit MBA Admissions Podcast in Apple Podcasts? This is the best way to help more listeners find us. Also, to ensure that you never miss an episode, please subscribe to the podcast on whatever platform you use.
This episode was hosted by Graham Richmond and Alex Brown, and produced by Dennis Crowley. Thanks to all of you who've been joining us!